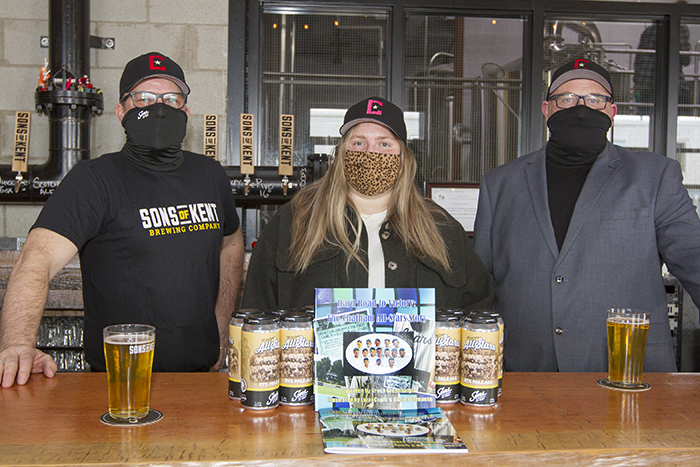 By Bruce Corcoran
Mere days before opening up to once again book tours, the Chatham-Kent Black Historical Society and the Black Mecca Museum received a boost.
Proceeds from the sale of books and beer commemorating the 1934 Chatham Coloured All-Star baseball team that won a provincial championship were handed over to the society's executive director Friday.
Samantha Meredith said the $7,000 in funding is greatly appreciated.
"This is absolutely fantastic. We've been closed for most of the past year. We've missed out on so much money from tours and tour buses. Our admissions haven't been coming in for a year. And normally when visitors come, they often leave donations. We've been hurting financially," she said. "This will help us do a couple of projects that we've had on our mind for some time."
The society and Black Mecca Museum reopened Monday to book tours, Meredith said.
Brock Greenhalgh, a Chatham-Kent native who lives in Kitchener, is the author of the illustrated children's book, "Hard Road To Victory: The Chatham All-Stars Story." He said book sales to date have totalled $4,000, short of a goal of $5,000 he set for himself. The pandemic has been a hindrance, but at times it has also been a help, he said.
"It's been a bit of a challenge to sell the book remotely here from there (Kitchener), but I have done some virtual author visits with elementary schools. That can be anywhere," he said. "I've done some in Nova Scotia, some in Kitchener-Waterloo and a number locally."
Speaking to children in Chatham-Kent has its rewards, he added.
"When you do them locally, it's a different feel. The kids will relate to the story. They'll say, 'That's my grandfather,' or, 'That's my great uncle.' There's a connection there," Greenhalgh said. "People in other parts of the country will recognize it as a great story, but they don't have the connection."
Doug Hunter, one of the owners of Sons of Kent, said the team at the craft brewery jumped at the chance to get involved in the project. In short order, they had produced about 6,000 cans of beer, donating $3,000 to the museum and society.
"We've got about 20 cases left. When it's gone, it's gone," he said of the rye IPA. "We love doing this stuff for the community, pairing up with Brock and giving back to the Chatham-Kent Black Historical Society and the Black Mecca Museum."
Meredith said while the funds from the donations are appreciated, it cannot be forgotten the trailblazing the players on the 1934 team did, becoming the first all-Black team to win a provincial title.
"These men did something great for our community. It's a fantastic story, but it's only just a small story out of Chatham-Kent's Black history. There are so many more," she said.
Greenhalgh agreed there are two prongs to the fundraising and awareness push.
"The museum's been closed for almost a year. There has been no real income. If there's something we can do to help them out, that's great," he said of the donation. "But I'd love to see this team get inducted into the Canadian Baseball Hall of Fame. This promotes baseball and promotes history."
Greenhalgh said the book is available locally at the Sons of Kent and at the Black Mecca Museum.