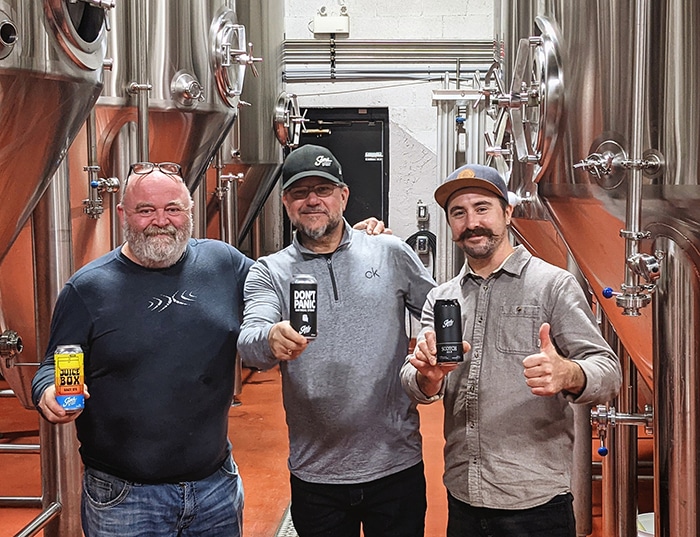 3 Sons of Kent beers medal at provincial awards
By Bruce Corcoran
The owners of Sons of Kent Brewing Co. in Chatham like to let their beer do the talking, and their beverages were all but yelling at the recent Ontario Brewing Awards.
Three Sons of Kent offerings won medals, with their Scotch Ale taking a gold medal, Juice Box garnering a silver, and Don't Panic capturing a bronze.
Colin Chrysler, one of the four founding members of the brewery, said he thinks their beer exceeded their own expectations.
"We tried to enter a little bit of everything. We've submitted beers before. It's tough, though, as it is kind of subjective," he said.
Scotch Ale took top honours in the Strong British Ale category.
For Chrysler, getting a gold for the Scotch Ale is incredible.
"We're really proud of that beer. It's out again too. It's a very traditional style. We've been brewing that every winter season since the first year we opened," he said. "For us, if we could get an award for any beer, that would be the one."
The strong offering is brewed using ingredients grown in Scotland. It's aged in oak barrels as well.
"We try to make it as authentic as we can while maintaining our modern influence," Chrysler said.
The Scotch Ale will also be available in LCBO stores across the province starting in early December.
While the Scotch Ale took the gold, Juice Box earning a silver in the New England IPA grouping is another proud accomplishment, Chrysler said.
"The hazy IPA style is probably the most popular in the craft beer scene across the world. It is in the LCBO and we do really well with it too," he said. "To win a silver in that, we were blown away.
Juice Box has more than its share of fans.
"I love that beer. It's one of my personal favourites. Chatham people love that beer," Chrysler said.
As popular as it is locally, Chrysler said it is even more sought after in the Kitchener, Guelph and Greater Toronto Area markets.
Don't Panic took bronze in the Dark British Beer category.
Don't Panic Oatmeal Stout is actually a product of the COVID-19 pandemic. Chrysler said the name is a tribute to author Douglas Adams and his Hitchhiker's Guide to the Galaxy series.
"When COVID hit in March, we really didn't know what was going to happen. We were hoping to stay open. Then we realized our beer to go and curbside pickup was taking off like crazy," Chrysler said. "We needed more beer. We started throwing some stuff together. I always wanted to make a traditional oatmeal stout."
The beer was brewing, but it didn't have a name.
"We were trying to come up with a name. It was during the second week of the pandemic restrictions. The toilet paper panic has set in. And we just love the Douglas Adams mindset," Chrysler said.
Don't Panic, is the name of a compendium to The Hitchhiker's Guide to the Galaxy Series, and to the Sons, it was a perfect fit.
As for entering it in the awards, that came together about as quickly as brewing the first batch did.
"We threw that into the competition as a gamble. We thought it was a great beer," he said. "It was a COVID-influenced product, but we're going to keep making it."
Entering the competition can be a challenge for brewers, despite the fact there are 36 categories.
"As a brewer, you really want to brew to style. But some beers we brew just don't fit into a category. We had to be smart in what we picked to submit," Chrysler said.
Overall, the Sons entered six beers. Aside from the medal beers, they also entered their 1792 English Ale, Patio Pils German-style pilsner, and Festbier, their Oktoberfest offering.
Chrysler said there are other beers they brew that they are extremely proud of, but didn't think they'd win anything for.
"For me, I have to pick things I think have a chance. Our 8-Track is probably one of my favourites, but it's not quite an IPA and not quite a pale ale per the (Ontario Brewing Awards) style guide," he said. "The judges might say it's fantastic beer, but still give it a zero as it doesn't fit into the style."
Sons of Kent management has gone from wondering how COVID-19 would impact its business to adapting to today's realities. When watering holes all over the province were shut down at the start of the pandemic, Sons of Kent put more energy and resources into canning and bottling to sell in LCBOs and Beer Stores, as well as out of their own retail store on site on King Street East.
"That beer-to-go model was the way to go. We're packing more beer now than we have in the past. We've more than doubled our canning this year compared to last," Chrysler said. "We've been able to pivot and make it work. And we are super thankful for the support from the community."
As for what the future holds, Chrysler said the next thing on their radar is seasonal beer.
Mammoth, another strong, dark beer, will resurface in the near future. Ponyboy Gold, an ale from the early days of Sons of Kent will be back for sale. And the popular Coco B-Ware coconut porter will be back as well.
"We try to have new beers coming out all the time. Either fruity and sour or big and bold. We try to have a beer in our brewery that is a taste for everyone," he said.