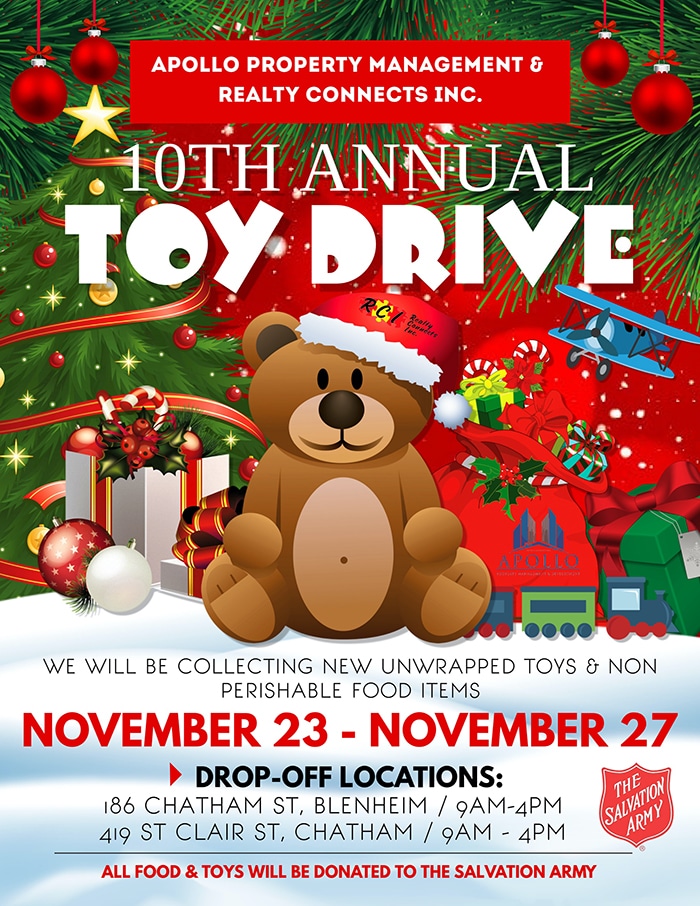 By Bruce Corcoran
The folks at Apollo Property Management are celebrating a milestone, and ask that you help them make it particularly special.
The milestone? This is the 10th year of the organization's annual toy drive, where toys and non-perishable food items are gathered and donated to the Salvation Army.
Samantha McFadden, spokesperson for Apollo, said she predicts with the impact of the COVID-19 pandemic, this will be an especially challenging year for even more local families.
"I would say the need has increased this year. A lot of people have been hit, with their jobs temporarily lost to them," she said. "We just don't want any family to go without at Christmas."
Between Nov. 23-Nov. 27, you can drop off toys and food to 419 St. Clair St. in Chatham, 186 Chatham St. in Blenheim, or at 78 McNaughton Ave. in Wallaceburg.
"This is just another way of giving back, especially during the holiday season," McFadden said of the toy drive.
She added they are taking extra precautions this year due to COVID.
"Just drop items in the bin at those locations and we'll pick them up, sort them and drop them off to the Salvation Army," she said. "Whatever anyone can give this year would be greatly appreciated."
Comments
comments