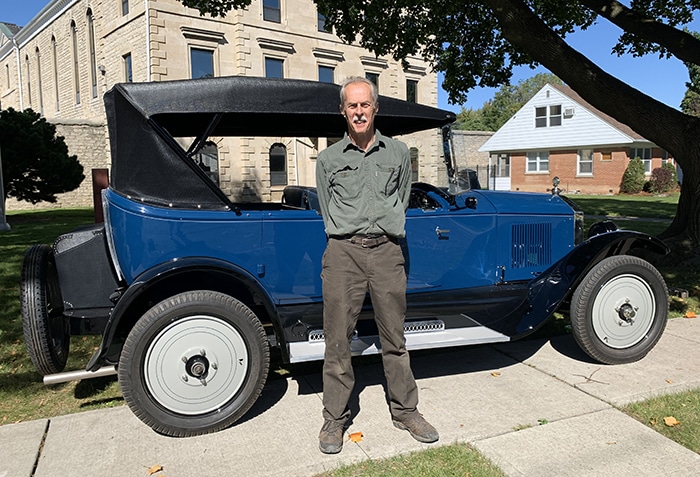 By Bruce Corcoran
Blenheim's Stan Uher had a Thursday afternoon that would make most of us jealous.
On a beautiful sunny fall day, Uher got to take a 97-year-old automobile for a casual cruise and then stage it for photographs. And when he was done, it was time for another cruise home.
We should mention, however, prior to the pleasurable afternoon, Uher put in an estimated 1,500 man hours restoring the 1923 Gray Dort sport touring model, a made-in-Chatham classic car.
And it's not even his. It is the property of a Manitoba doctor, originally from Ontario, who shipped the vehicle to Uher to restore it.
Uher, who began work on the vehicle about five years ago, said he worked on it off and on when he had time and the parts, and is proud to now showcase the finished product.
He spent Thursday afternoon trying to recreate a photograph taken in 1923 of the same model car in front of the Chatham Courthouse/Jail on Stanley Avenue.
Despite the photo being in black and white, Uher said the car in the photo was the same colour as the restored Gray Dort – Lake Louise Blue.
But it's not the same vehicle, he added. Different disc wheels, Uher said.
He is particularly proud of the recently restored Gray Dort
"That (1923) was the final year of production. Among the surviving Gray Dorts, which I keep a pretty close track of, it has the highest serial number known to exist," he said. "So it is likely one of the last ones built."
He estimated there were at most 200 of the model ever made.
Uher said the sport touring model also had a six-cylinder engine.
The model featured a leather trunk, trunk bars, and toe plates along the running boards, he said.
Uher, who has restored countless vehicles over the years, said Gray Dorts are near and dear to him.
"I kind of made the Gray Dort history and restoration and procurement of parts and that sort of thing my life project," he admitted. "Because they were built right here in Chatham and only in Chatham, they hold a special spot for me. We have a 1915 model that we drive all the time."
But looking at the car he just recently restored, Uher can only smile.
"This, of course, the evolution of the Gray Dort peaked with this. This was the ultimate Gray Dort ever produced. I think it is just dazzling," he said.
Uher refused to even attempt to put a price tag on the vehicle.
"It's a priceless automobile, but he (the owner) didn't do it (buy it and have it restored) to sell it," he said. "If it does get sold, we have to figure out what it's worth. I guess it's worth what the next guy is willing to pay for it."
One day, that "dazzling" car will leave his care. But Uher's not sure when it will be returned to its owner.
"With all this COVID, it's just all sideways. The whole world is crazy, so I don't know what we're going to do here," he said of the possibility of shipping the car west.
In the meantime, Uher will enjoy afternoons such as Thursday, cruising along at upwards of 70 km/h in a 97-year-old vintage vehicle, made right here in Chatham.
Comments
comments