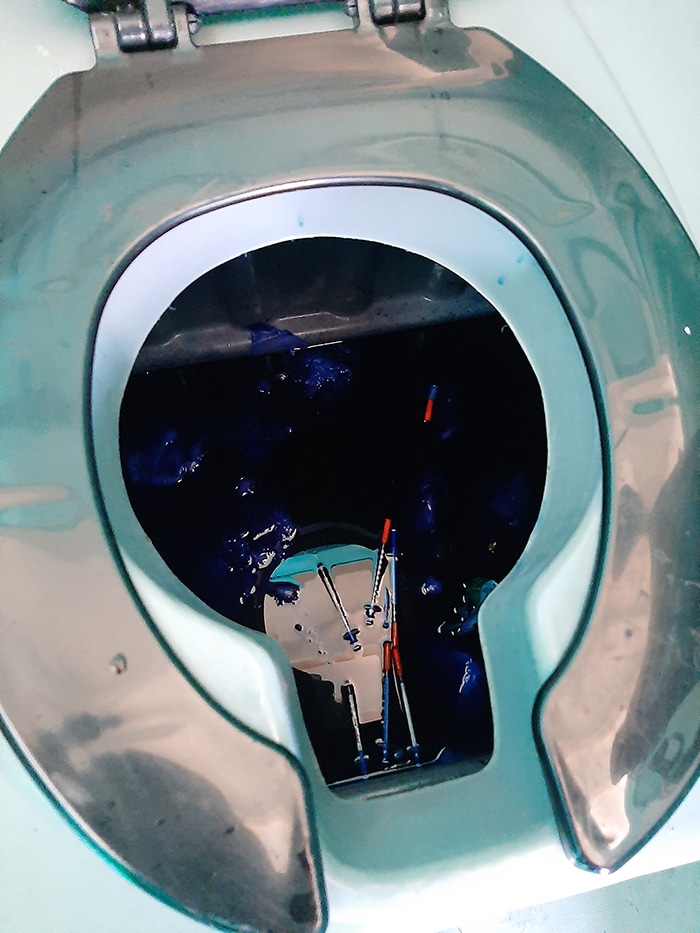 By Bruce Corcoran
Following the recent discovery of a cache of discarded syringes near the Chatham Skate Park, CK Public Health officials remind parents to talk to their children about what to do if they come across needles.
The Chatham Voice learned of the needles thrown into the Port-A-John at the Skate Park on Oct. 8 thanks to a concerned resident. We in turn forwarded the information to Public Health.
Officials declined to comment on how often needles are found at the park, as various municipal departments can receive calls when syringes are found.
"We do know that sharps are not always disposed of properly, therefore, on occasion sharps are found on public property, such as sidewalks, streets, parks, trails, alleys, etc.," Stephanie Egleton, part of the chronic disease and well-being team at Public Health, said in an e-mail to The Voice. "When a sharps is found on public property, we ask that a person call the Municipality of Chatham-Kent at 519-360-1998, so that the appropriate department can be notified to go out and safely pick up and dispose of the sharps.
There is actually a safe sharps deposit point at the side of the Chatham-Kent Courthouse, beside the CK Public Health offices in the building, which is perhaps 200 metres away from where the needles were dumped.
While Public Health officials say they don't keep data on particular hot spots for needle dumping, referring again to the fact various public departments could be contacted, it is of concern when needles are discovered near areas frequented by children.
"It is important to talk to children about this. Children must be told not to touch any sharps that they may find, and to tell an adult right away, so that the adult can either safely pick up and dispose of the sharp if they have the appropriate resources/tools, and/or to contact the Municipality of Chatham-Kent at 519-360-1998," Egleton stated.
CK Public Health's Needle Syringe Program is in place to help mitigate improper needle disposal.
"When clients access the Needle Syringe Program through either a satellite site or mobile outreach, they are provided with a small sharps disposal container for personal use and are provided with education regarding safe sharps disposal practices," Egleton said.
It doesn't always work and not every needle user is part of the program.
To learn more about the Needle Syringe Program, take a look at https://ckphu.com/needle-syringe-program/