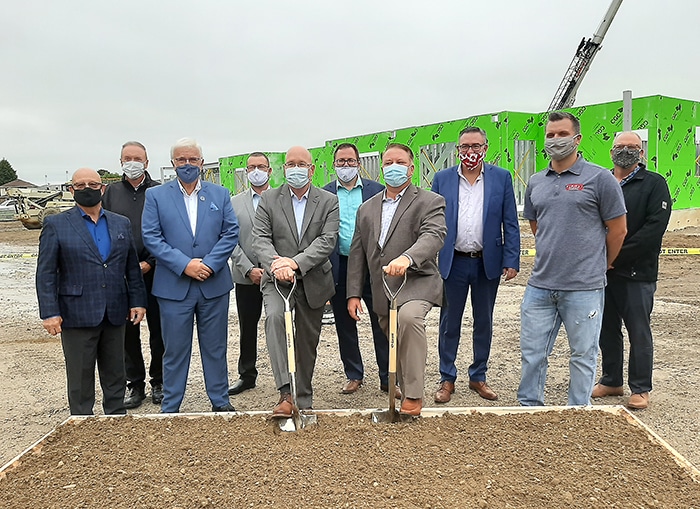 By Jenna Cocullo, Local Journalism Initiative
Two six-storey apartment complexes will soon join the southwest Chatham skyline.
On Thursday afternoon, a groundbreaking ceremony was held for the Park Place apartments with Mayor Darrin Canniff, Chatham-Kent Leamington MPP Rick Nicholls and Minister of Municipal Affairs and Housing Steve Clark all in attendance.
In April, municipal council voted to move forward with the housing project located on 530 Park Ave. West.
At the groundbreaking ceremony, developer Rob Piroli, owner of Piroli Group Developments, said that he has not seen the level of co-operation and eagerness to develop that Chatham-Kent displayed in any other municipality.
"It's been literally a dream for us to work with the planning department, administration, engineering and the mayor. They have absolutely done everything to make this project work under our timelines that we require. It's a really fresh feeling," he said.
The apartment complexes are the first to be built in 28 years, excluding the Boardwalk of Thames in downtown Chatham which originally started off as condominiums.
Canniff said the project fills a huge need in Chatham-Kent which has only a one-per-cent vacancy rate in apartment buildings.
"We need these in a big way," he said. "When I look at our market demand, we need hundreds of more apartments built in Chatham-Kent."
READ MORE: Council paving the way for new high density apartments in southwest Chatham
Residents have already been calling in to inquire about the building. Some are seniors eager to switch from their homes to a smaller unit, and others are young families looking to get started, according to the mayor.
Each complex, 22,433 sq. ft. respectively, will house 122 units, intended to be run at market rates and not geared to social or affordable housing.
Clark said the government wants to encourage more rural communities to have a mix of housing.
"As a government, we want more purpose-built housing," he said. "It's something we've got to keep up with."
The apartment buildings are expected to free up smaller start-up homes in the municipality.
"The more housing stock in the market, the better. People are starting to realize how affordable Chatham-Kent is," Canniff said.
Piroli also gave thanks to Nicholls who introduced the developer to Chatham-Kent and helped him circumvent "red tape" for his Windsor projects. The provincial government also helped the developers speed up construction during the pandemic.
Piroli said he plans to continue developing in the municipality over the course of the next decade.