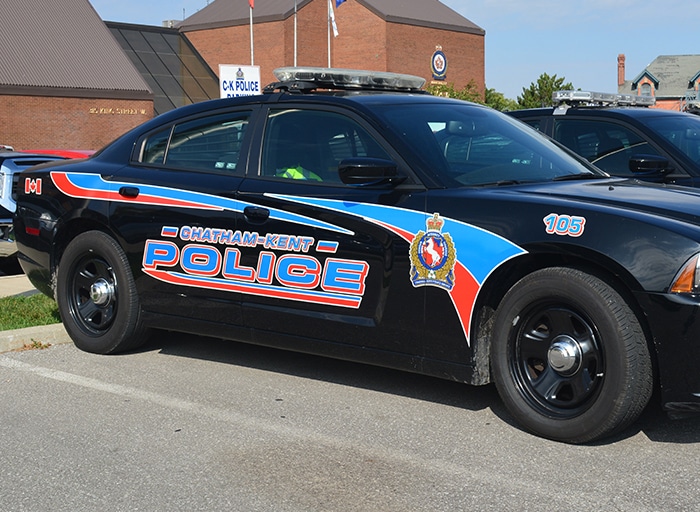 Man tosses bike at car
Yesterday afternoon, Chatham-Kent police responded to the report of a suspicious man in the parking lot of St. Agnes Church on Croydon Street in Chatham.
Through investigation, police learned that the man took his bicycle and threw it onto the hood of a parked Ford Mustang GT, causing about $2,000 damage.
Officers located the man a short distance away and he was taken into custody. Michael Danuk, 37, of Chatham, is charged with mischief under $5,000.
Released, and right back into the system
Yesterday, the man was released from Court with several conditions. One of those conditions stated that he was not to communicate with a specific Blenheim woman.
The man was also bound by a Probation Order with the same condition.
Last night, police responded to a report of a suspicious man around Wal-Mart in Chatham.
Officers located the man in a vehicle as it left the area.
A traffic stop was initiated and through investigation, the officer learned that the driver was the woman in which the man was not to communicate with.
A 28-year-old Ridgetown man was arrested and found to be in possession of suspected fentanyl, upon being searched incident to arrest.
The man was charged with failing to comply with his release conditions, breach of probation and drug possession. He has been held in custody pending a bail hearing.
Warrant arrest
Yesterday afternoon, police located a man walking on Sandys Street in Chatham who was wanted for stealing a vehicle, being in possession of property obtained by a crime, and failing to attend court to provide a DNA sample.
Michael McIntyre, 40, of Chatham, was arrested and released pending a future court date.
Collision in Bothwell
Around 5:30 p.m. last night, police responded to a two-vehicle collision on Macewan Street near Peter Street in Bothwell.
No one was injured.
Total damage was estimated at $15,000.
A 72-year-old Bothwell man is charged with making a turn not in safety.
Comments
comments