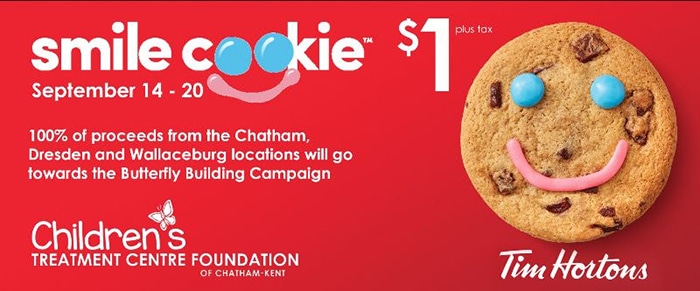 Area Tim Hortons are gearing up for another Smile Cookie campaign, with the Children's Treatment Centre of Chatham-Kent Foundation as the charity of choice.
Last year, Tim Hortons restaurant owners and guests across the country raised a record $9.8 million to support local charities through the annual Smile Cookie campaign.
Back again for its 24th year, the campaign in Tim's locations in Chatham, Dresden, and Wallaceburg will sell cookies and send the proceeds to the foundation, one of 550 Canadian charities, hospitals and community programs supported through the annual campaign.
Starting Sept. 14 and running through Sept. 20, stop by a Tim Hortons in these communities to get a treat, and to help the Children's Treatment Centre of Chatham-Kent Foundation.
You can also pre-order in bulk if you want to bring cookies to the office. Just drop off a bulk order form ahead of time to have your cookies ready for pick up.
Every cookie purchased will help ensure that the centre and foundation can continue providing therapy and services to the children and families throughout our community. Visit the centre's website to learn more about how funds raised directly help the Centre and details about the Butterfly Building Campaign.