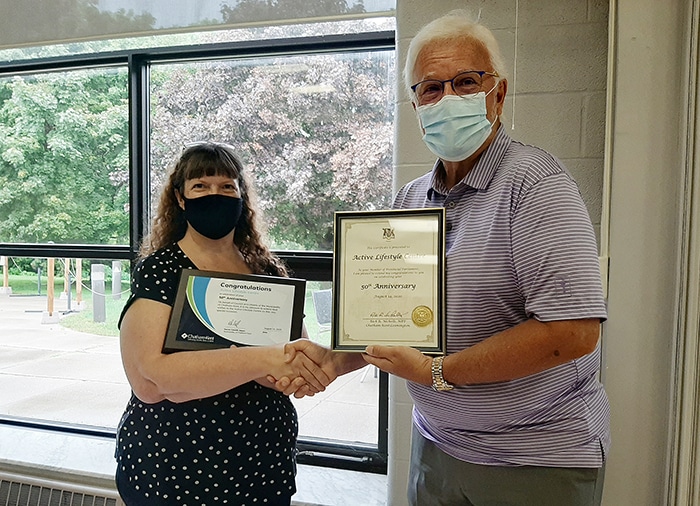 Pandemic rains on revenues
By Jenna Cocullo, Local Journalism Initiative
The Active Lifestyle Centre (ALC) has caught up to its members.
On Friday the non-profit senior centre celebrated its 50th birthday, with a cozy yet socially distant luncheon for members.
The celebration kicked off with a reading from the town crier. 
A walk was organized prior to the afternoon festivities, and raised $450. 
Chatham-Kent- Leamington MPP Rick Nicholls then presented ALC executive director, Linda Lucas, with a plaque.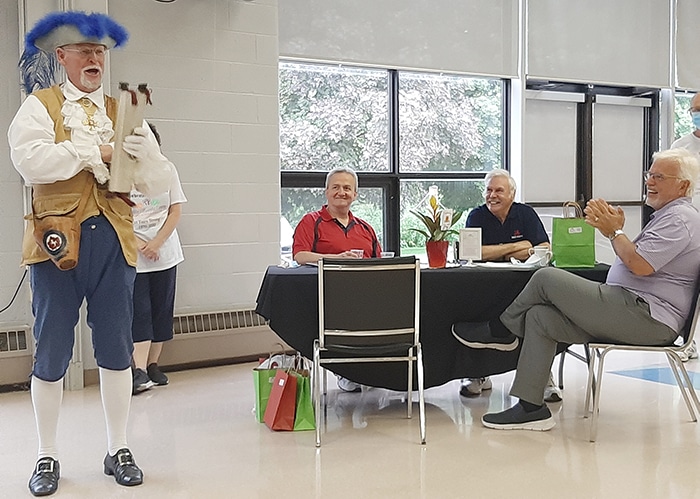 "It started with a vision and here we are now, 50 years later, celebrating. When I look at seniors, they are wealth and knowledge for younger generations on how to deal with life. And of course the complex itself is an opportunity for seniors to come and socialize with others without being shut in. I appreciate all the work the staff and volunteers do here. It means everything to the community," he said.
Members Joy and Brad Long described the ALC as a place that has made a huge difference for them. The couple moved to Chatham-Kent a year and a half ago.
"When we first came here, the first three months we didn't know anybody. We just stayed home, unpacked boxes and wondered if we made a mistake," Joy Long said. "Then we came here (ALC) and met people and started to do things. The best thing is it helped us get into the community. People told us places to go and what to do." 
ALC staff also took the time to celebrate their members by giving them individual gift baskets.
"I love this place. I really do because I have so many people I met over the years and everybody was nice to me," said long-time member Frederica Polak, 95, who has been volunteering for the ALC for 20 years.
READ MORE: Holocaust survivor finds home as ALC volunteer
In 1970, the Maple City Centre for older adults was established on Queen Street in Chatham. What started off as a small storefront facility quickly grew into a full organization developed to offer programs and services for the adults of Chatham aged 50 years plus. 
The centre had to eventually move to the Chatham Cultural Centre to keep up with its demand. The Cultural Centre housed the organization until 1990.
That year, with donations of the land and the hydro servicing from John Bradley and Joe O'Neil, and support from members and the municipality, the Maple City Centre got its own facility on Merritt Avenue, and has remained there ever since.
The Maple City Centre is now operating and known as the Active Lifestyle Centre.
The ALC offers more than 60 programs for its 1,500 members. Most of its revenue comes from the membership and fundraising activities. But COVID-19 has made income hard to sustain.
"We can't offer programs right now but we're offering services. We're trying to save our organization," Lucas said.
ALC is not at risk of closing yet, Lucas added. However, it is only getting 20 per cent of its normal revenues which comes from membership, user fees and rentals.
The centre usually sees more than 300 people. Because of the COVID-19 restrictions they are only allowed 50.
"We truly miss all our members and hope to be back together soon," Lucas said.
Nicholls said ALC has applied for the Ontario Trillium Foundation grant, which awards funding to develop and sustain communities.
Residents in Chatham-Kent can continue to support ALC through their Take-Out Thursday meal program.