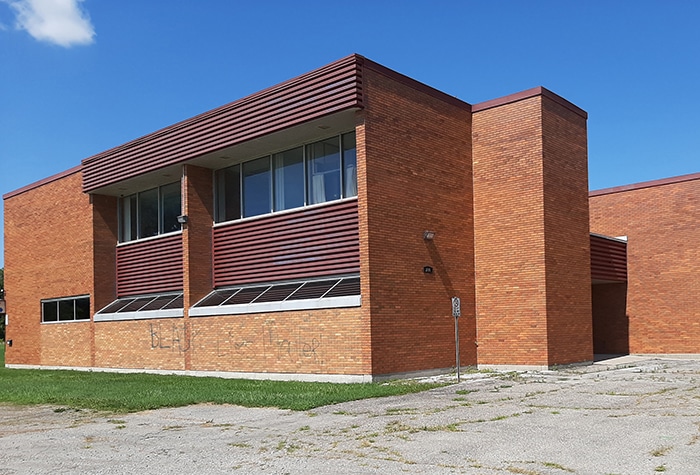 By Jenna Cocullo, Local Journalism Initiative
Residents on Merritt Avenue are already plotting to flood council with deputations rejecting the proposed long-term temporary homeless shelter.
At Monday night's upcoming virtual council meeting, Chatham-Kent councillors will be asked to consider the Chatham Banquet and Conference Centre to be the new location for the temporary shelter.
The municipality has been using the Bradley Convention Centre to house the homeless during the COVID-19 pandemic. 
A report to council stated that the 280 Merritt Ave. location was the best fit, out of nine other recommended locations because of its "ample square footage and amenities," location to bus routes, kitchen facilities, separate spaces for offices, and move-in ready condition. 
The only issue is the need to bring in portable showers, however, that was the case with all the facilities, according to the report.
When The Chatham Voice went to take a photo of the facilities, one woman residing in the neighbouring apartment building was already going door to door asking homeowners to write council to oppose the decision. She declined to be interviewed. 
Neighbours who declined to give their name stated they were concerned for the safety of their children who live down the street. 
"There's obviously a need for a home, but not in a residential area. Absolutely not, especially with young families," a man said. 
His other main concern were people walking down the street shirtless.
Business owner Steve Tuinstra of Toonstra's Car Tunes, said he'd gladly welcome a homeless shelter.
"People aren't coming here to steal or anything. They're coming to the homeless shelter to get help," he said. "No human should be sleeping under bridges and the neighbours won't get me to say anything negative about it."
The lease will cost $125,000 per year, for a total of $250,000 for the entire duration. The costs include the rental, maintenance and utilities and will be funded by provincial social assistance programs.
Comments
comments