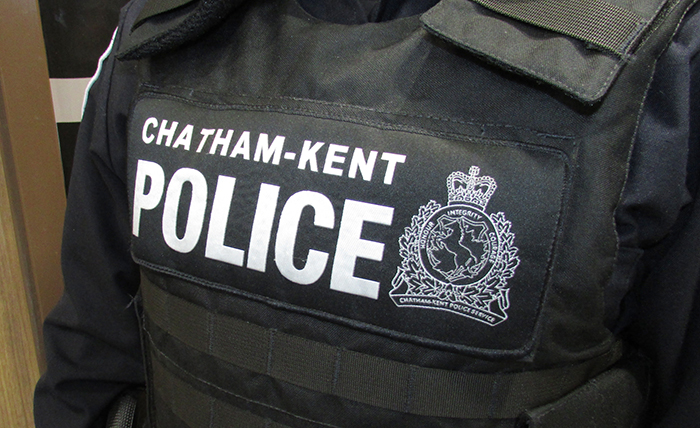 Bear spray incident leads to charges
Two men face weapons offences after Chatham-Kent police say someone sprayed a minor with bear spray – and then another man sprayed the first guy yesterday.
Police say officers responded to a disturbance call and learned what happened.
They found their suspect and charged him with assault and weapons offences.
Police say the officers also learned another man had disarmed the suspect and sprayed him with the red pepper oil concoction.
As a result, officers charged a second man with assault and weapons offences.
Arson attempt
Police say a homeowner found burn marks and the strong smell of gasoline beside her side door yesterday, and damage to a water hose from a fire. 
Anyone with information is asked to contact police headquarters.
Break-ins galore
Someone got into a business on Mill Street in Tilbury last night, but didn't get very far.
Police report the person slipped in via an open window, took various vehicle keys and fled in a stolen Chevy Cobalt, taken from the business.
The suspect was located a short time later, police say, and arrested for break and enter and possession of stolen property.
—
On Whitebirch Trail in Chatham, someone got into a garage and stole a bike, saw, helmet and sunglasses.
Anyone with information is asked to contact police.
—
Someone broke into a business on Richmond Street in Chatham Aug. 3.
Stolen were a gym bag, shoes, and a wallet that contained $80 cash.
Thanks to surveillance video, police identified their suspect and laid charges.
—
A Victoria Street resident in Thamesville reported that sometime between 1 a.m. and 5 a.m. Wednesday morning, someone broke into his garage and took $200 worth of booze.
The investigation is ongoing and police ask anyone with information to reach out to them.
—
Sometime of the past couple of days, someone broke into a shed of a vacant home on Otter Line in Wallaceburg.
Police say the investigation is ongoing  and ask anyone with information to reach out to them.
Ooops, fentanyl
C-K police say officers pulled a man over yesterday and was in the process of making an arrest due to an outstanding warrant when they discovered a small amount of fentanyl.
A man faces warrant-related charges and now a drug charge.
Comments
comments