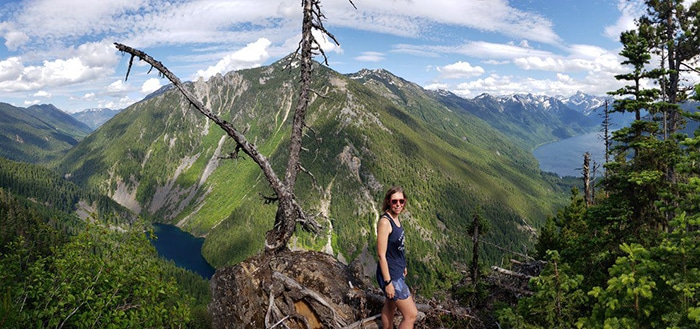 Some people run on treadmills.
Some run in their neighbourhoods.
Some even run marathons.
But not Nancy Hildebrand.
You can find her in Abbotsford, British Columbia, way up in the mountains. This isn't your normal terrain, however. Steep, muddy hills, covered in branches amongst the highest mountains are the norm for Nancy. Constantly battling the rugged terrain, every five kilometres feels like 10 kilometres of road. While it's not for everyone, Nancy lives for this. It's all part of trail running elevation challenges.
As part of the Abbotsford Trail Running Club, Nancy often finds herself pushing herself and striving to go higher in the mountains and further than ever before. The club offers many challenges each month for trail runners. These runs are tracked via smartphone or smartwatch and uploaded to a website all to see how others are doing and track results on a leaderboard. There is only one requirement to participate — runners must eclipse 5,000 meters of elevation per month.
While it's an achievable task, it's a difficult one. Many often find themselves battling rain, mud, slopes, rugged terrain and much more to complete this minimal requirement. For many, the challenge of balancing time is difficult enough.
Nancy says despite how easy it is to make friends, the competition is stiff. She admits the dedication to run around four to five hours a day requires a lot of planning. Nevertheless, she kept finding herself among the top of the leaderboard.
"People kept encouraging me, telling me I could win," said Nancy.
She was motivated by her support system, went beyond her goal of 10,000 meters of elevation, and tripled it on her way to eclipsing 35,000 meters.
"I was in good shape, but after a week, I thought I could do 1,000 meters of elevation a week," said Nancy. "I quickly thought this was not practical at all with three children."
Nancy said she would often look for the steepest trails where she could achieve 100 meters of elevation per kilometre.
She found herself planning every minute of every day.
"I would wake up every morning at 5:30 a.m. and reach 500 meters of elevation before I started work at 8 a.m.," said Nancy.
While it was difficult balancing work, life at home and sneaking in time to run, she had constant support from her son.
"My 11 year old kept pushing me and wanted me to win so bad," said Nancy. "I even started taking him with me on runs."
Nancy ran 2,000 kilometres and reached 80,000 meters of elevation in 2019.
But just like she always does, Nancy pushed herself to go further and higher in June 2020.
It was a historic month for Nancy. She averaged more than 1,000 meters of elevation per day and was ranked the top Canadian in the "climbing challenge".
"I was leading by 4,000 meters on the last day of June," said Nancy. " It was so muddy and rainy, so I had to find a new trail. I ran until 11:30 at night, which is the cutoff."
But Nancy wasn't always this successful.
While growing up in Morpeth, Nancy was not a runner. In fact, she was never a fan of sports. However, she always found herself having a great time hiking.
Now working and living in British Columbia, Nancy is taking advantage of nature's beauty. During her last maternity leave, she and a friend would take their kids for hikes in the mountains with their baby carriers.
In 2017, she and her friend signed up for a beginner's trail running clinic where there were 20 to 30 people with a leader. Nancy's passion for hiking and adventures quickly got her hooked. Soon she would go to drop-in runs with the local running club once a month. This became a regular routine. By 2018, Nancy found herself working as a leader of "Newbie Tuesday" for the Abbotsford Trail Running Club. Today, Nancy sits on the Board of Directors.
"I definitely was not a runner until I was in my 30s," said Nancy. "I went from couch to 30 kilometres."
Nancy is the daughter of Allan and Norine Duck of Morpeth.