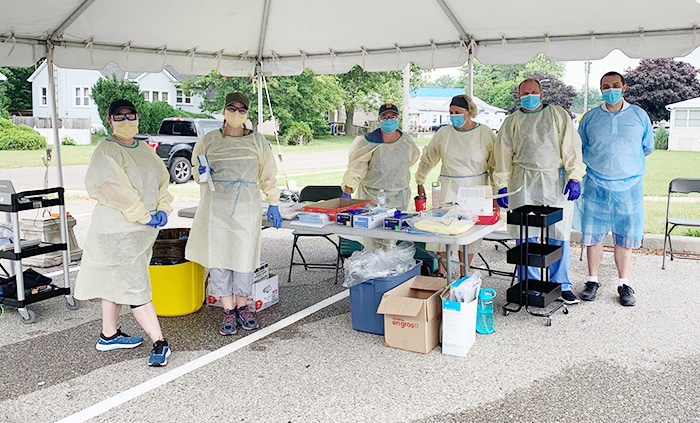 By Jenna Cocullo, Local Journalism Initiative
Roughly 10 per cent of Chatham-Kent's population, 10,559 residents, have been tested for COVID-19.
Thanks to Chatham-Kent Health Alliance's (CKHA) mobile clinics, 1,290 of those individuals did not have to make the drive to Chatham's assessment centre to get care.
"We were quite busy," said Fannie Vavoulis, community engagement officer, CKHA. "Everyone is really happy about the turnout."
Last week's two-day clinic in Blenheim managed to swab 397 individuals. 
The clinic in Tilbury has so far set the record with 457 residents rolling through the mobile testing units earlier this month.
A three-day clinic in Wallaceburg saw 436 residents swabbed. 
Some residents are getting tested because of COVID-19 symptoms or close contact, others because they require proof that they are not infected before entering long-term care homes.
Scorching heat was present during both July clinics, but Vavoulis said this did not present a major issue for staff who were well equipped with on-site water and an air conditioned mobile transport unit.
Lori Marshall, president and CEO, CKHA, said the additional clinics will come at very little cost, if none, to the health alliance.
The cost  of the staffing is shared between CKHA and the paramedics (Chatham-Kent EMS), who also provide the mobile vehicle. 
"It would be our understanding and expectation that these are expenses over and above normal hospital ones. And that we would receive industry support (Ministry of Health) for COVID-related expenses related to the assessment centre and drive-thru clinics," she said.
The mobile clinics are done in partnership with Chatham-Kent EMS, CK Public Health, Family Health Teams (Chatham-Kent, Thamesview and Tilbury) and the Chatham-Kent Community Health Centres.
READ MORE: ACTIVE COVID-19 CASES CLIMBING IN C-K
Thamesville is next in line, with a drive-thru clinic set for Thursday and Friday. The clinic will be located in the Thamesville Area Public School parking lot, and operate from 10 a.m. to 6 p.m.  
Residents are asked to line up on Mary Street East for the clinic entrance at Lamila Street.  No appointment is needed. 
Anyone who believes they require a COVID-19 swab test can go to the clinic and receive a test.  CKHA is reminding everyone to bring a valid Ontario health card.
This testing initiative will also be available to residents who do not arrive in a vehicle. Signage will direct patients where to go.
For those arriving in their vehicle, they will be registered and swabbed while in their car.
CK Public Health will call all patients who are swabbed at these clinics, regardless of their test results. Patients will also receive information on how to access their results online.
If heat warnings are in effect on clinic days, out of precaution, do not bring children and frail adults in cars who are not being tested, as well as pets.
CKHA is looking at adding more drive-thru clinics in August although nothing has been confirmed yet.
READ MORE: UROLOGY TO RETURN TO CKHA