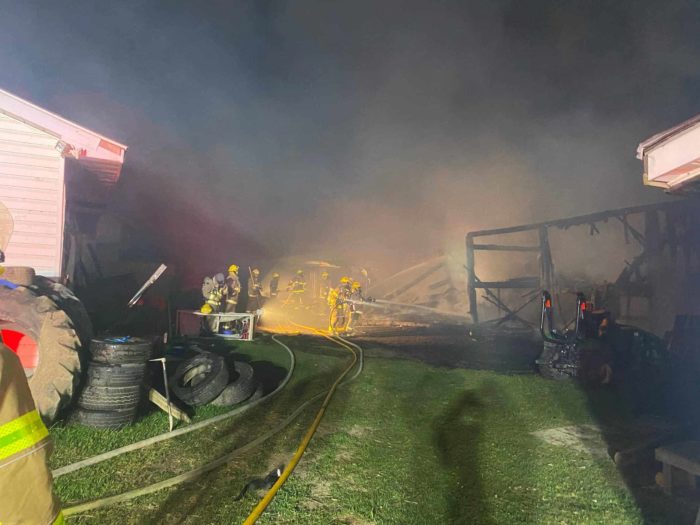 Jenna Cocullo, Local Journalism Initiative
A local animal sanctuary is recovering from a devastating fire with the support of volunteers and donations across the country and the U.S.
On Thursday, the barn at Charlotte Freedom Farm on Brook Line caught on fire, killing a pony, five cats, a dog and several ducks.
"Yesterday was hectic. Volunteers were on the scene ensuring animals are cared for and the police were there. Today the tragedy will set in," said sanctuary volunteer Meaghan Marton. 
Marton said the barn faced significant destruction. Full-time animal caretaker, Christine Rettig, was alerted to the fire when a donkey started braying loudly, usually known as a sign of danger.
"Donkeys are considered protectors of farms; they make a distinct "neigh" sound to alert you when predators or wildlife are around them," Marton said.
Rettig was able to open the barn doors on time for many animals to escape before they suffered from smoke inhalation. She rescued the rest. 
The farm is currently looking for chickens and several small animals that escaped the fire. One pig is being transferred to veterinary care in Guelph after suffering severe burns.
Marton said the loss was a small fraction of their animals "although it is still an immense loss." 
The damage to the farm is estimated at $400,000. Along with the barn, hay, feed, buckets rakes and other necessary supplies for the day-to-day operations were lost to the fire.
Marton said foul play and electrical issues have been ruled out as the cause of the fire. The rest is still under investigation.
Since the devastating incident, Marton said they have received an outpouring of support from not only the Chatham-Kent community, but also from sanctuary farms across America and Canada.
"Animals activists from across the continent have shared our story and asked people to donate while also donating on behalf of their own organizations," she said. 
Charlotte Freedom Farm is accepting electronic donations, with instructions posted on their social media page. In 24 hours, they received around $10,000 Marton estimates.
People really do come together in times of tragedy," Marton said.
Even in Ottawa, sanctuaries are finding ways to help out.
Sarah Hogg, founder of Sweet Sanctuary Animal Rescue, is donating all the earnings from her weekly fundraiser to Charlotte Farms. Hogg and her husband also decided to match the donations.
"It is our worst fear in the world that this can happen. We just felt for them, that they are going through this. Even though we can't come over  we want to do as much as we can during this difficult time for them," Hogg said.
Every week Hogg's mom bakes cookies, which Ottawa residents can buy online and get delivered to their doorstep. Their hope is raising $500 with a similar match for the sanctuary.
Hogg said caring for animals in sanctuaries is a 24/7 job and a labour of love. So while a loss of an animal is devastating for anyone, it is even more heightened for caregivers.
"You're at the barn pretty much all day … doing daily feedings three times a day and animal cleaning. We're saving animals that have come out of neglect and a past that is not ideal for them," she said. "We work on these rescues and try so hard to protect animals for the rest of their lives. We try to advocate for them. Our sole purpose is to protect animals. It's the most heartbreaking thing."
The financial costs to Charlotte's Farm also add on to some loss of revenue from the COVID-19 pandemic. While much of the farm is personally sponsored by founder Lauren Edwards, the inability to host events or tours has decreased income. Fewer individuals have participated in the monthly sponsorship program since the onset of the pandemic.