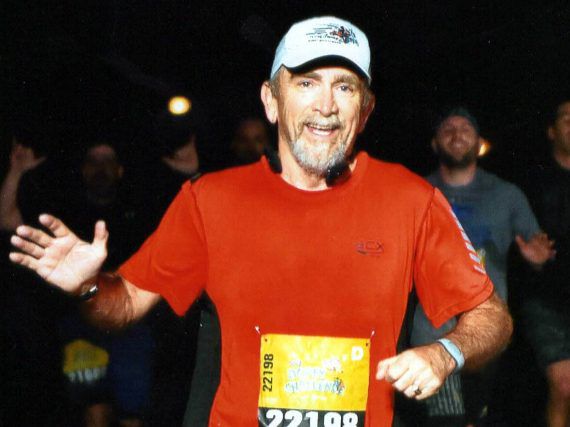 Jenna Cocullo, Local Journalism Initiative 
Const. Rob Herder, a Chatham-Kent police officer and beloved community treasure, passed away Monday from cancer. He was 64.
Herder will be remembered as one of the longest serving members on the police force, with 43 years of experience under his belt. 
"He spent his entire career on the road serving the community," said his son, Const. Jason Herder.
He will also be remembered for his quirky love of Disney; driving around town with a vanity plate that reads "Disney Fan." His back tattoo of castles at odds with his shaved head and goatee "mean guy" look (as Jason playfully describes it).
If you ask Jason which Disney character best describes his dad, he will tell you, without hesitation, Mickey Mouse. Not just because the Disney character got his dad through tough times as a kid, but also because Rob Herder took Mickey's cheerfulness into his everyday life.
Tim Baker, president of the Chatham-Kent Tennis Club and former vice-president  David McKeon, described Herder as a rarity of kindness and thoughtfulness.
"He's such a nice person, we don't get enough of that in the world today," McKeon said.
"If everybody could be as calm, reasonable and reflective as Rob, everything would be better," Baker added.
Baker said Herder, who joined the club a decade ago,  is to credit for bringing the first Pop Tennis Club to Canada (a sport like Pickle Ball but on steroids, as he describes it). Herder would also travel to London twice a week to help McKeon teach beginners how to play.
"When he saw things that needed to be done he jumped in to do them. He was always a part of doing stuff and a real people person," McKeon said.
While Herder was the get-it-done kind of person, his wife, Mary Ellen Herder added the "style and flare," making them the perfect couple, said Baker. 
The duo was inseparable. Jason describes his dad as a devoted loving husband. He was also a devoted dad who never missed a single ball game or practice.
He is survived by his wife, son, daughter (Justine Herder), and three grand-children, Hailey, 12, Sinéad, 5, and Finley, 3. 
"His love was for everyone that he knew and he gave so much to everyone that he knew. He's the most genuine person you'll ever meet," said Justine Herder. 
Jason described Herder as "so cool" that he wanted to do everything his dad did growing up, including his career.
Rob Herder's policing career began on Nov. 24, 1977 at the old Chatham Police Force, before amalgamation. 
Staff Sgt. Mike Thompson, who worked with Herder on B-Platoon, said that he respected Herder for his many years of service and the fact that he worked weekends, holidays and nights without complaint.
"I never heard him grumble or gripe about being senior guy having to do that," he said.
Thompson said one of the qualities he loves most about Herder is his work in community patrol as a direct link between the police and the community.
Most importantly, Herder served as a mentor to the entire force, Thompson said.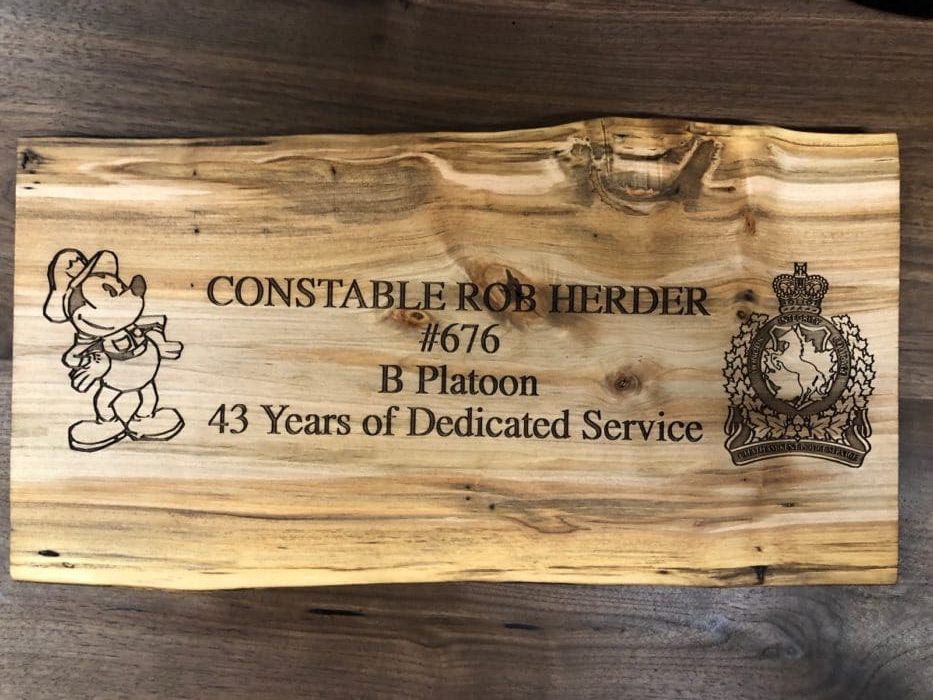 Const. Kyle Wright, relatively new to the police force, recalled his year serving in Wallceburg with Herder as his partner.
"We had become brothers over the course of that year, partners and friends," he wrote in a social media post adding a recollection of their last day together "We walked up to each other, hugged, and told each other that we loved each other."
Herder was famous for out running young rookies when on a foot chase. In fact, just before he passed away he ran the Dopey Challenge, a four day marathon at Disney World, Florida. Starting with a 5K run and ending in a full marathon, Herder came Top 10 in his age category.
Thompson said during Herder's career, he was one of the main organizers for the 1997 Special Olympics Provincial Summer Games, hosted in Chatham. In 1998 he received a commendation after rescuing a boy who fell through ice on McGregor's Creek. Herder was also an active member of the community theater scene, volunteered for drug awareness and kid safety initiative, Ontario Torch Run, and a whole cornucopia of other work and community initiatives.
While Mickey Mouse might be the best Disney character to describe Herder by, one phrase from a classic Disney movie probably sums up his life best: "A true hero isn't measured by the size of his strength, but by the strength of his heart."
Visitation will take place from 1 p.m. – 9 p.m. on Friday, July 3 at Alexander & Houle Funeral Home. Those wishing to attend are asked to register online first due to COVID-19 restrictions. Funeral services will take place the following day and can be streamed online.
Comments
comments