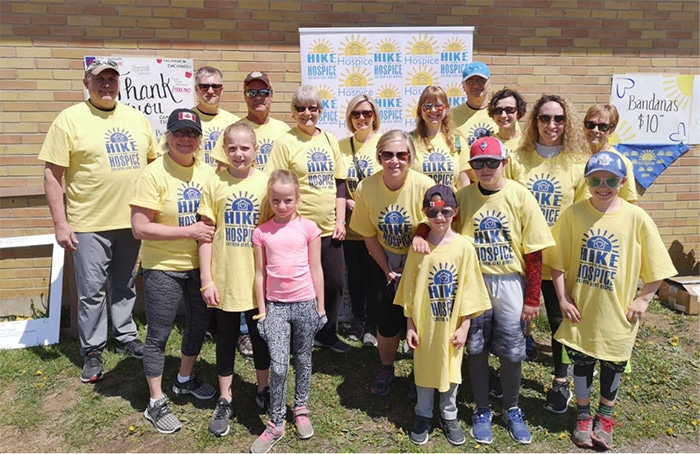 As was the case with so many other charity events, COVID-19 threw this year's Hike for Hospice a curveball.
Organizers may not have hit a grand slam, but it's pretty clear they homered, raising more than $79,000.
The annual fundraiser for the Chatham-Kent Hospice was at first delayed due to COVID-19, and then altered to a virtual format.
It was coming off a previous year of raising $145,000. Event co-chair Nathan McKinlay told The Chatham Voice earlier this year it would be hard to top last year's event, which he said had more than 900 people show up.
"We had a lot of day-of support. The sheer number of people wasn't predicted by us. We were obviously very impressed and very surprised," he said. 
The Hike raised $58,000 its first year in 2017 and $60,000 the next year, before the massive uptick last year.
Taking the 2019 aberration out of the equation, this year's hike raised nearly $20,000 more than the 2018 hike, despite the fact it was a virtual event.
Participants were asked to get active in an activity of their choice anytime between June 1-14, while collecting pledges to support local hospice families. Many families shared their activity, as well as honoured a loved one they were walking in memory of, through a social media post or video.
"It was amazing to see so many people getting active over the last few weeks in very creative ways. Even though there is so much uncertainty in our everyday lives, the participants and sponsors were unwavering in their support of Hospice and we are very grateful" said Amanda McKinlay, Hike for Hospice co-chair. 
"We were unsure what to expect with the changes to this year's event but we are extremely happy with the results. Through this COVID-19 crisis, Hospice continues to support local families through their end-of-life journey. These funds will help ensure this care continues to be available at no cost to residents and their families when they need it most." Nathan McKinlay added.
As part of the event, businesses were invited to participate in the Corporate Challenge and this year's winner was MBI Financial of Blenheim. Their team wins bragging rights as well as a catered coffee break. 
The funds raised from the hike support the ongoing operational needs of the local hospice. 
To view the Hike for Hospice participant posts, visit Chatham-Kent Hospice's Facebook page or search #Hike4HospiceCK
Comments
comments