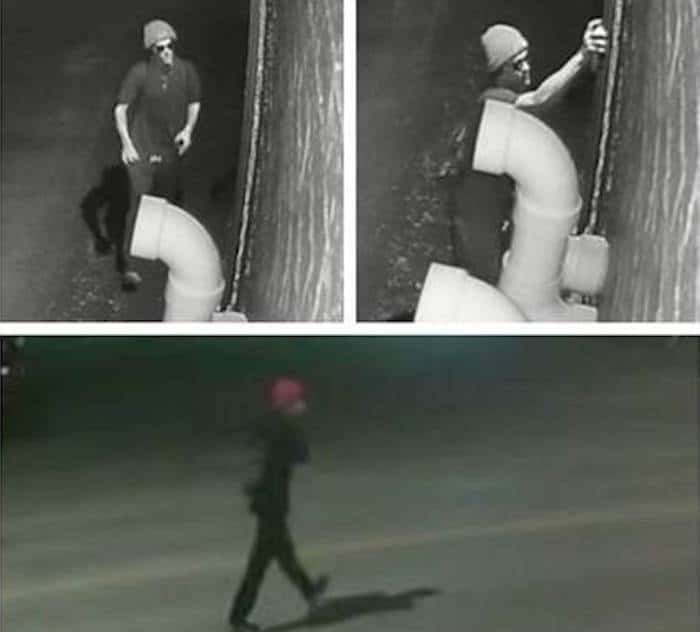 The Chatham-Kent Police Service are asking for the public's assistance in identifying a man in connection with a mischief investigation at Heritage Credit Union on Merritt Ave. in Chatham earlier this month.
The man was captured on video spray painting the acronyms BLM and FTP on the side of the building.  He was last seen wearing a red touque, black shirt, black pants, sunglasses  and carrying a grey backpack.
Anyone with information is asked to contact Constable Lynette Hodder at lynetteh@chatham-kent.ca or 519-682-1411.  Anonymous callers may call Crime Stoppers at 1-800-222-TIPS (8477) and may be eligible for a cash reward.
Man Charged with Forcible Confinement of Woman
Tuesday night, police responded to a disturbance at a residence just outside of Wallaceburg.
Through investigation, police learned that a verbal argument over a bottle of vodka escalated into a physical altercation. The woman tried to leave the home several times, however the man would not allow her too. The woman was finally able to grab her phone and call 911 while running from the home. The woman sustained non-life-threatening injuries.
The 51-year-old Wallaceburg man was arrested and charged with assault and forcible confinement. He has been held in custody pending a bail hearing.
We would like to remind everyone that you are not alone during this pandemic. If you are navigating isolation and feeling vulnerable, help is available at https://ckwc.ca/ or 519-354-6360.
Man Charged with Uttering Threats
Tuesday night, police responded to a mischief complaint at an apartment complex in Ridgetown.
Through investigation, police learned that the man 'keyed' his neighbours truck, causing about $2000 damage. When confronted, the man further threatened his neighbour.
The 23-year-old Ridgetown man was arrested and charged with mischief and uttering threats. He has been held in custody pending a bail hearing.
Shoplifting leads to Impaired Driving Charges 
Tuesday night, police responded to a shoplifting complaint at Shopper's Drug Mart in Wallaceburg.
The woman fled the store with several items, making no attempt to pay them. Physical descriptors of the woman and her vehicle were provided to police.
Officers located the vehicle on Dufferin Ave. and a traffic stop was initiated. Through investigation, the pair were arrested and found to be in possession of suspected methamphetamine.
The officer also believed the woman was driving while under the influence of drugs. She was transported to police headquarters for a drug recognition evaluation test.
Industrial Accident in Ridgetown
Tuesday morning, emergency crews responded to an industrial accident at a business on Marsh St. A 21-year-old Chatham man was transported to the hospital for medical attention.
The Ministry of Labour was notified and has taken over the investigation.
Books and Badges
With the school year coming to an end, so too is C-K Police's 'Books and Badges' series.
On Wednesday, Const. Brandon Grellmore will be reading the last book for this school year 'Pat the Chat' – a French book with the goal of catching the attention of all bilingual children  in Chatham-Kent. https://ckpolice.com/video/
"Although we encourage our local youth to continue reading and to never stop learning, it's time to enjoy the summer – you've earned it."
Comments
comments