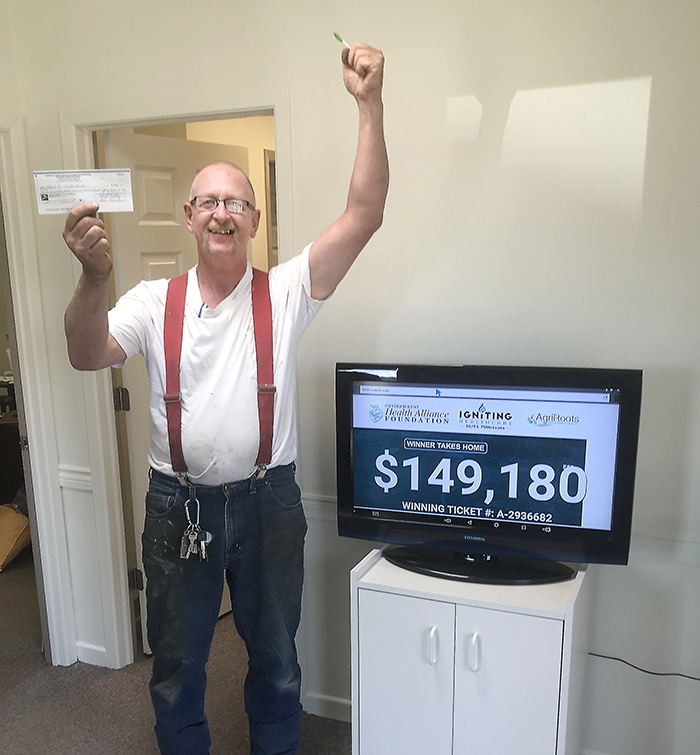 Last year's winner took home $149,000
By Bruce Corcoran
The Foundation of the Chatham-Kent Health Alliance lit the proverbial match this morning to ignite its second annual 50/50 lottery.
Last year's Igniting Healthcare lottery raised more than $298,000, with raffle winner Bert Vanderheide of Blenheim taking home in excess of $149,000 as a result.
The 2019 jackpot payout set the record for the largest online charitable lottery in Southwestern Ontario.
It also set a very high bar for which the foundation is striving to approach again. That won't be easy, considering we are currently under COVID-19 restrictions, and large community events, where the 2019 draw enjoyed great ticket sales, are not taking place this year.
RM's 40th anniversary celebrations are in the rearview mirror, while annual community summer events across C-K that saw volunteers selling the foundation's 50/50 tickets last year, are cancelled this year.
This time around, the lottery is online only, Mary Lou Crowley, president and CEO of the CKHA Foundation, said.
"As we know, with COVID and the restrictions in place, this is entirely online at the moment. We are ensuring we are physically distancing ourselves to ensure the safety of all of our community," she said.
Despite that fact, the lottery shot out of the gate, seeing more than $11,000 in ticket sales in the first few hours this morning.
"That is incredible," Crowley said. "The big thing with Chatham-Kent is people want to support the hospital. It's what we've seen over the past three or four months with us being socially isolated."
Crowley said the momentum is already building.
"The success we had really got the wheel turning. Once that jackpot gets to a certain amount, people want to be a part of it."
Anyone looking to purchase tickets can go to www.igniting5050.ca and follow the instructions to take part.
Crowley said buyers must have a valid credit card.
Proceeds from this year's fundraiser will once again support CKHA's returning urology program, through the purchase of a new C-Arm – a piece of advanced medical imaging equipment that uses X-ray technology.
The funds raised from last year were almost enough to fully fund the new $226,000 Holmium Laser, which has now been purchased and delivered to CKHA.
"We are really excited to get back out with another 50/50 raffle and raise as much as we can for the new C-Arm," Gaye Thompson, the foundation's board chair, said in a media release. "We are so grateful for the support of our sponsors and everyone who contributes to this fundraiser. Regardless of who walks away with the prize, it really is a win-win any time we are able to further advance health care in our community."
This year's draw will take place on Aug. 26 at 1 pm at the Foundation office.
Tickets can be purchased by Ontario residents over 18 years of age. The secure, online portal where supporters can purchase tickets can also be found on the foundation's website at ckhaf.ca, along with real-time tracking of the constantly growing jackpot.
Crowley said the giving nature of the residents of Chatham-Kent is humbling.
"This community, the generosity and commitment and goodwill, for me, is overwhelming," she said. "Health care and well being is front and centre."