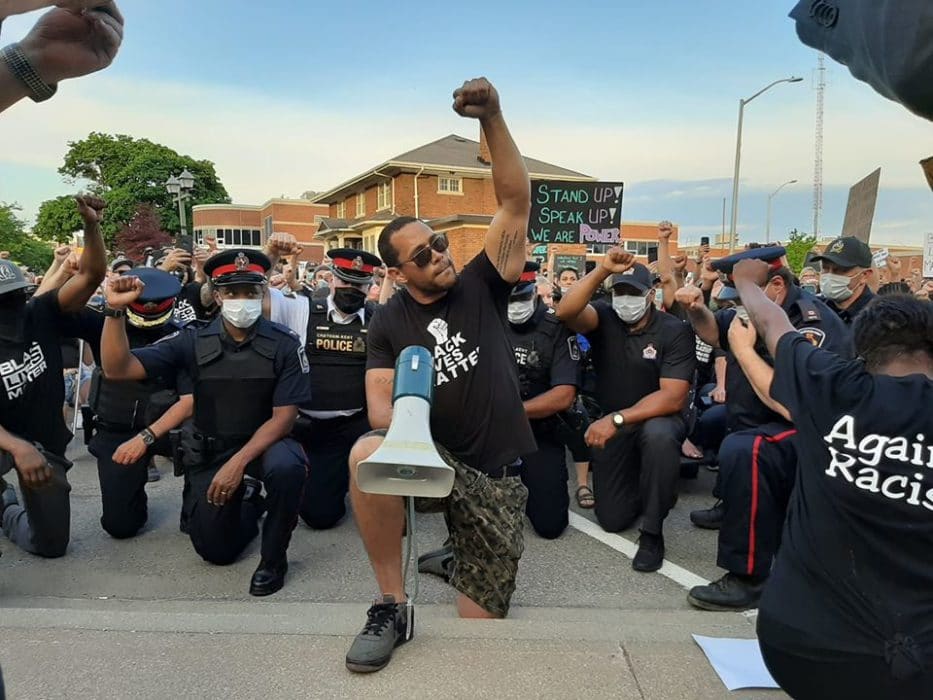 Jenna Cocullo, Local Journalism Initiative
Approximately 500 plus residents marched the streets of Chatham-Kent to support Black Lives Matter Friday evening.
King Street was blocked off as hundreds walked from the W.I.S.H. Centre to city hall on Friday. Along the way, police officers working traffic control could be seen raising their fists in support of the movement.
The Chatham-Kent demonstration was one of many marches and protests in Canada following week-long rallies against racism, police brutality and George Floyd's death in the United States.
"This is really important. This is the demonstration of what being an ally is in action. This is an example of a community coming together to support a cause, to support one another," Thador Tekhli, one of the main organizers said.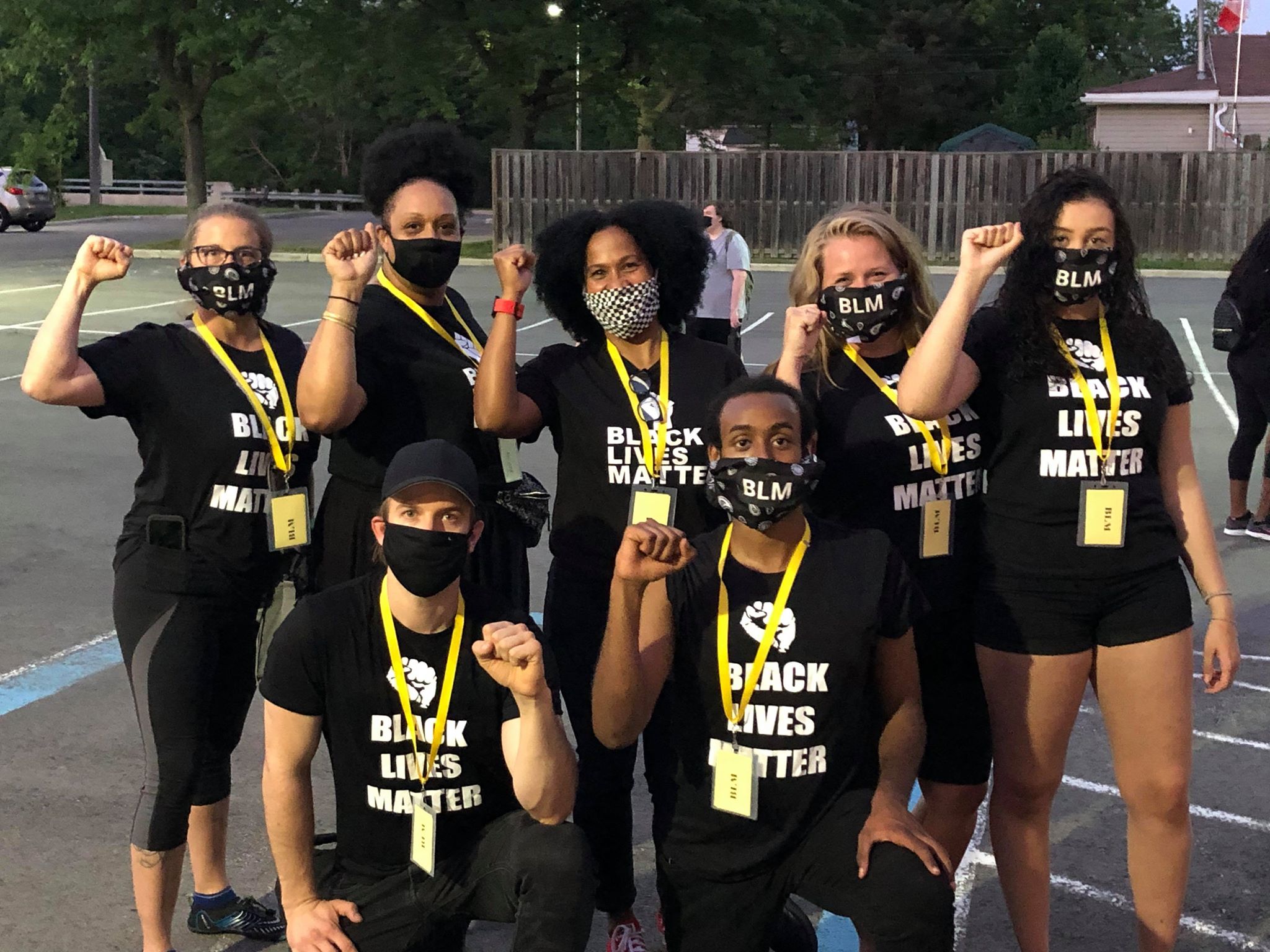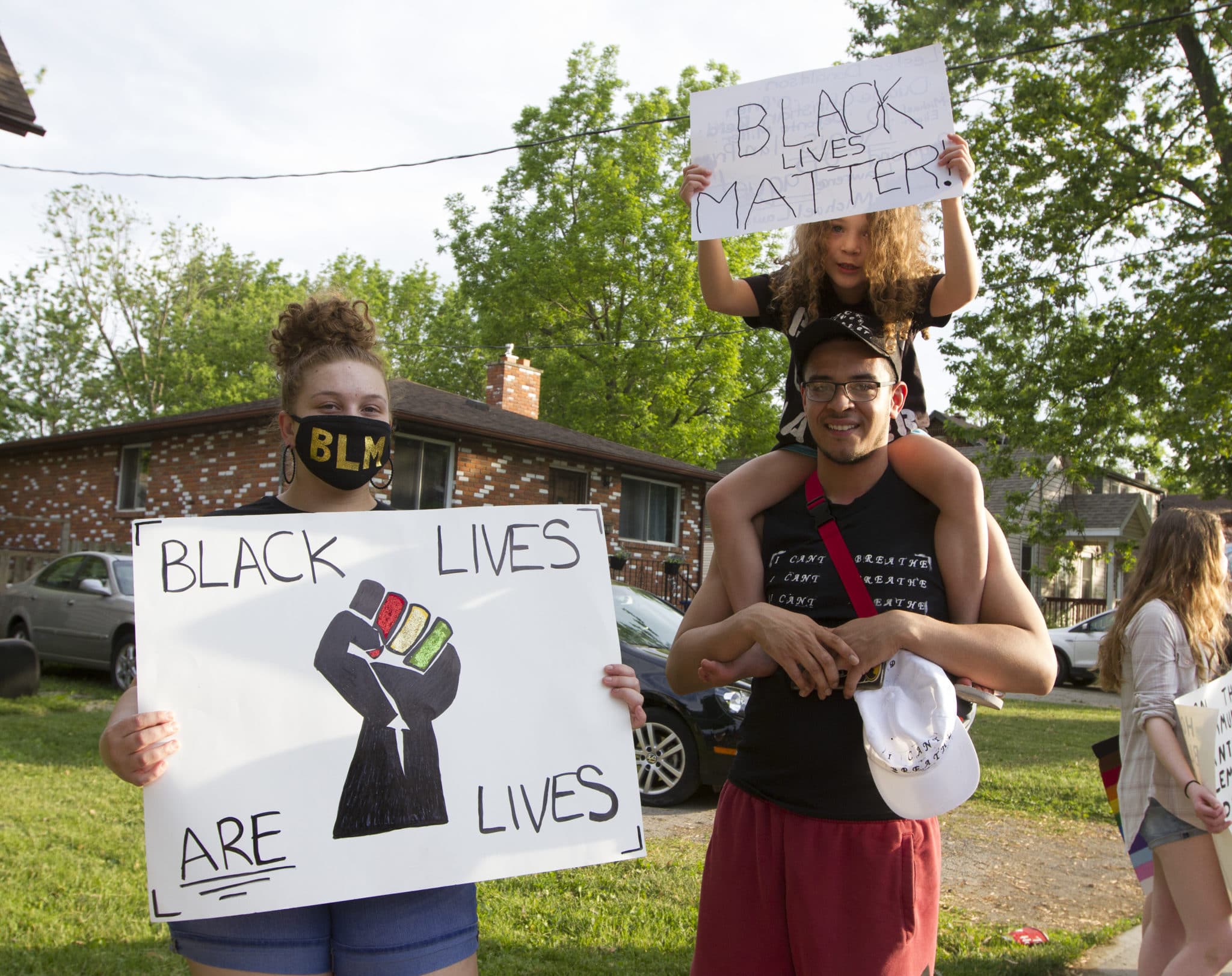 Kamryn Whiteye, a youth Lunaapeew leader for the Delaware Nation, kicked the march off with a traditional territory land acknowledgement, that the land on which residents were gathered on is the traditional territory of the Chippewa, Odawa, Potawatomi and Delaware Nations. She also gave an address in solidarity of the black community.
"It's disheartening, to say the least. This land of which we gather was once Indigenous land. It was taken from us just as you were taken from the land. I will not compare traumas but I will voice our perspective as nations to shine the light on the oppressive systems of our everyday lives," Whiteye said.
"They will not kill anymore of the people and we continue to say their names until we, as a society, get justice."
Tekhli said it is important for the black community to stand up with the Indigenous people to shed light on the history both groups have faced with colonialism and violence. 
"Times have not changed and they will continue to be that way unless we hold this society and these colonial constructs accountable," Whiteye said.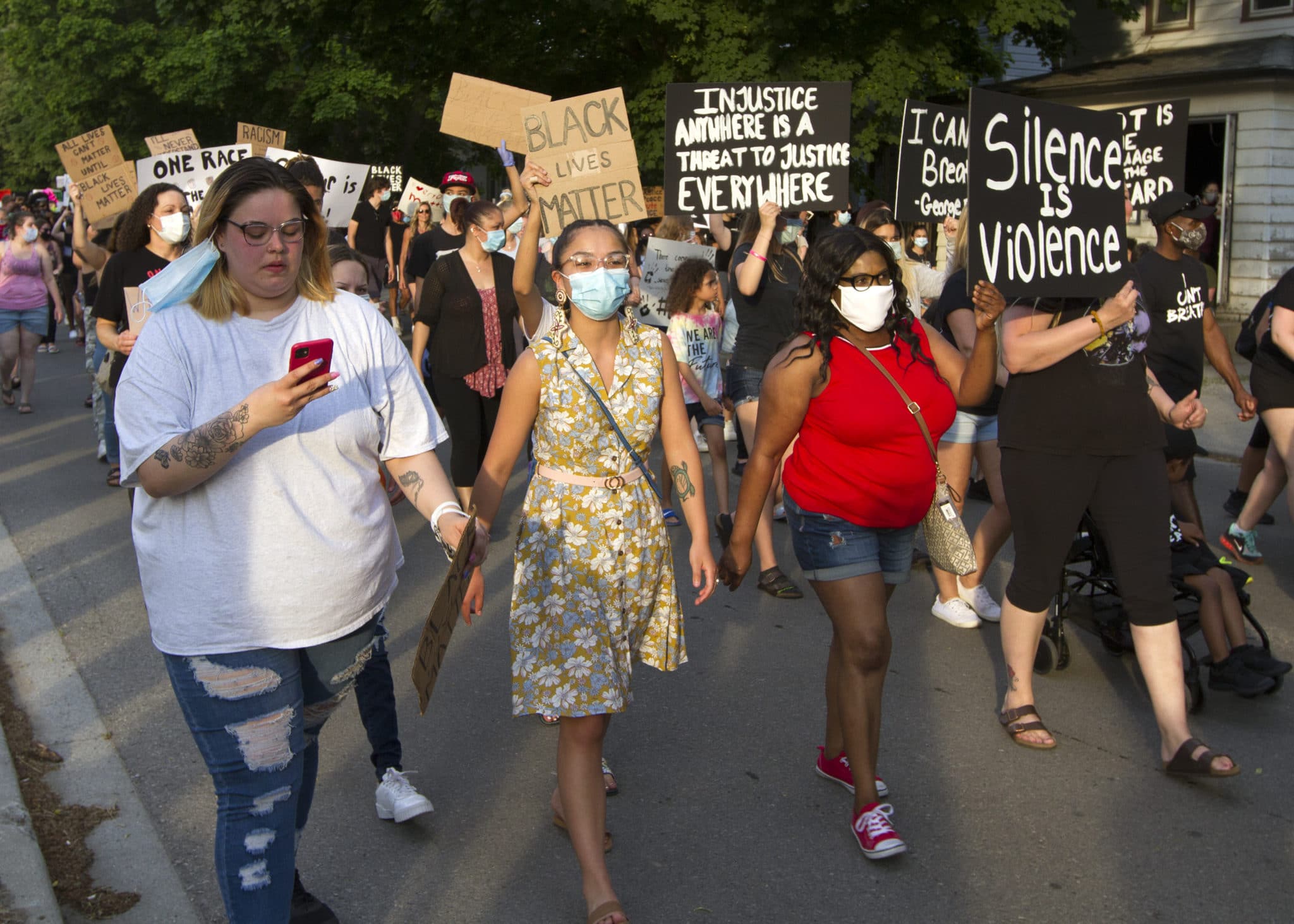 "Institutions deeply rooted in racism need to be taken down. We will do that by resisting and speaking our truth. The world is watching. As First Nations, we know what it's like to be ignored since time immemorial. We will hold that space for you. We will amplify your voice because you are who needs to be heard right now." 
One black Chatham-Kent woman, Camryn Dudley, sang a song from artist Emeli Sandé called Read All About It, a message about finding courage to speak one's truth.
Even those who could not march showed support. Reidun Garapick and her friends who are medical students with patients, at Schulich School, Western University, made signs for the community and watched the opening speeches from afar.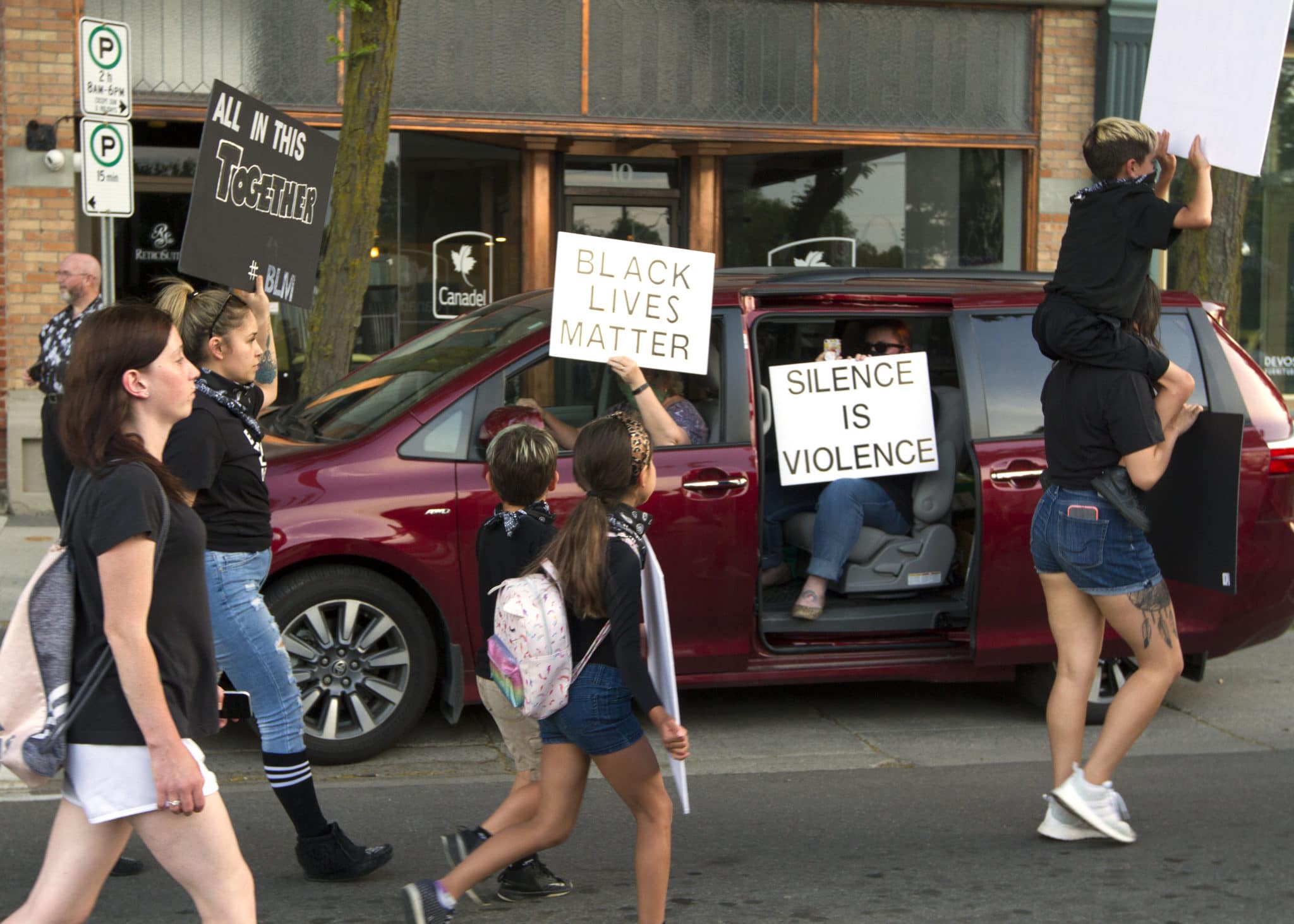 Dorthy Wallace, president of Chatham-Kent Black Historical Society, was acknowledged by organizers at the march. Wallace's granddaughter, Deirdre McCorkindale, spoke on her behalf due to the higher COVID-19 risks for seniors.
McCorkindale said although Chatham-Kent is rooted in hundreds of years of activism with the Underground Railroad, that pride does not mean residents can forget their own contributions to colonialism and institutional racism. The first black person known in Chatham in the 18th century was a slave. 
"It is important to understand our common narrative of Canada being a country without racism is simply not true. It is not true historically and it is not true now," she said.
Flagged lowered, police take a knee
When marchers reached the Civic Centre, they were greeted by the remainder of the police service, Mayor Darrin Canniff and city staff.
"It was my family's privilege to show support for residents taking part in the Black Lives Matter march this evening," Canniff said in a media release.
Canniff said if it were not for COVID-19 he would have spoken publicly.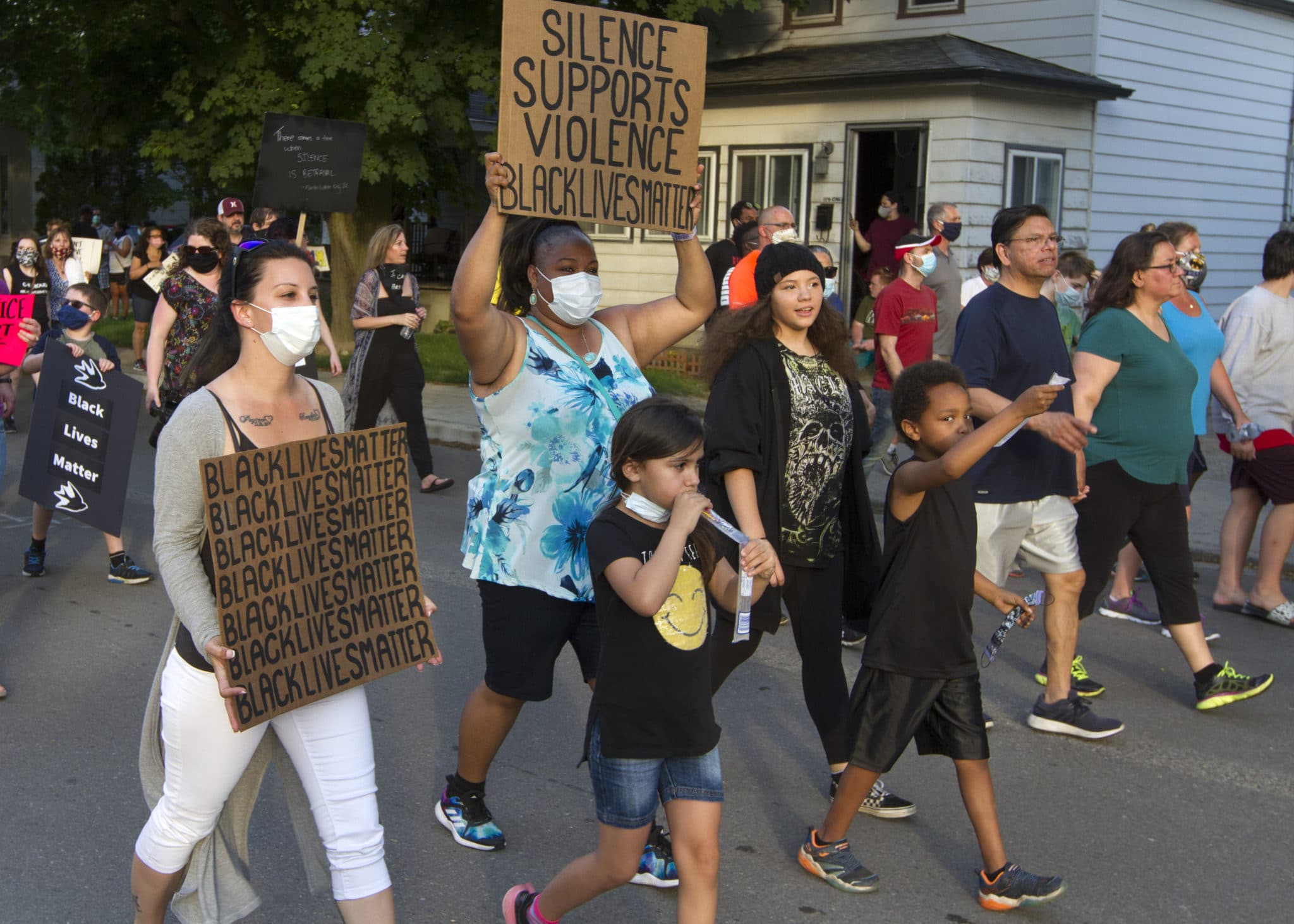 Police Chief Gary Conn, who was out of town according to police officials, issued an anti-racism statement earlier on behalf of the police service on Thursday, calling for continued work breaking systemic barriers that exist for the black community and stating there is no place for racism in the community.
Officers who were not dispatched on duty showed their support for anti-black racism by taking a knee when called upon by the community.
The municipal flag was lowered during the marchers' pause outside the Civic Centre to demonstrate Chatham-Kent's commitment to the cause of racial equality.
"We stand in solidarity with the Black community. Our local history as a destination of refuge from those fleeing slavery and oppression, as important as it is, does not make Chatham-Kent immune to the racism that plagues society," Canniff stated.
"We can and we must do better. The protests around the world show that the time has arrived for everyone to work toward that goal."
READ MORE: C-K's time to dismantle systemic racism is now, say residents
Comments
comments