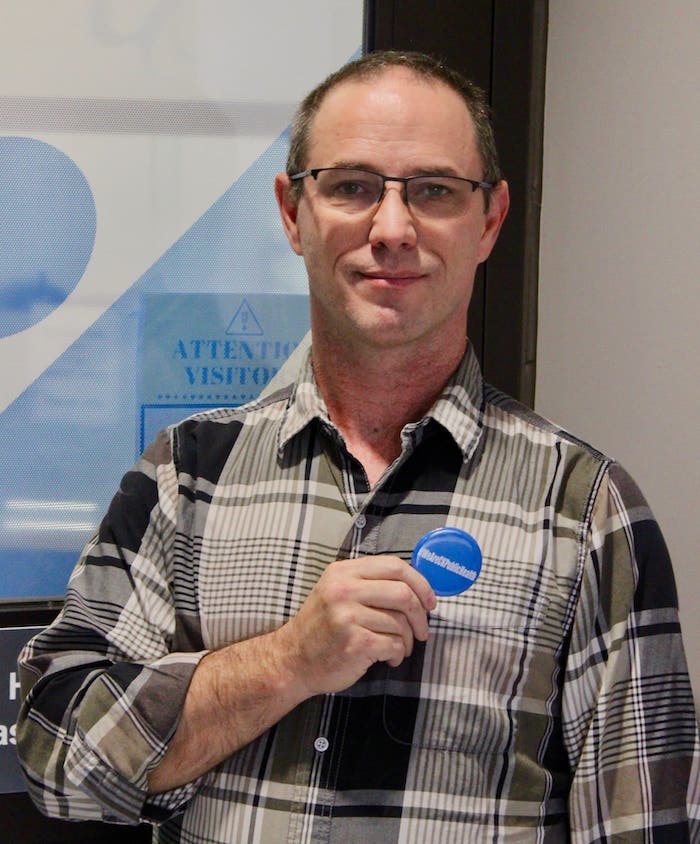 Jenna Cocullo, Local Journalism Initiative
The first Chatham-Kent resident to be confirmed with COVID-19 is giving back to the medical community by donating plasma for research purposes.
Wayne Authier, 52, went on what he thought was a harmless cruise in late February, only to come back to Chatham-Kent with COVID-19. Although he cannot prove it for sure, he suspects it was on a Saturday afternoon at a layover in JFK Airport, New York, where he contracted the virus.
In the days that followed his return home, the World Health Organization declared a pandemic and soon after Chatham-Kent was announcing its first case (Authier).
It took 17 days for Authier to fully recover. His biggest symptom was a really bad cough, and he said he was lucky not to have symptoms as bad as other COVID-19 patients describe.
During the following weeks, he was scouring the internet, reading articles, and saw an advertisement from the  Canadian Blood Services — a non-profit organization established as the country's blood authority — for the convalescent plasma donation program, targeted specifically for those who had recovered from COVID-19.
Donating plasma as a former COVID-19 patient is beneficial to public health, as plasma contains antibodies used to fight the virus. Researchers can use these antibodies to help develop a potential treatment or vaccination for COVID-19, according to Chatham-Kent Public Health.
"During my illness, I experienced outrage and anger towards me from strangers. I'm not a bad person and wanted to turn my bad experience into something good," Authier said. "If I can help with a cure or vaccine, then I would like to help."  
When the first confirmed case of COVID-19 was announced by Public Health and the media, comments started flowing in saying "the patient" — only Authier's age and gender was released to the public — was intentionally going out and about in the community to get people sick.
READ MORE: ONLY 9 ACTIVE CASES REMAIN, NO PLANS FOR REGIONAL REOPENING APPROACH
Others were saying Authier should be thrown in jail, asking how he could be so careless, and one went so far as to say he should have stayed on the ship and committed suicide. 
Authier wanted to keep his identity quiet out of fear that people would vandalize his property, or worse. Later it came out that "the patient" was a contractor at the Windsor jail. If anyone put two and two together, nobody confronted him personally.
Because Authier works at a jail, where inmates are in close proximity, he was very diligent in self-isolating and getting tested as soon as symptoms surfaced. Once he was tested positive, CK Public Health assisted in contact tracing, health monitoring and updates. Authier didn't spread the virus to any of his contacts, he said.
He believes that the hurtful comments people unknowingly directed toward him was the result of ignorance fuelling fear.
"As the first one, I think there was a lot of misconception (about COVID-19). But once people understood it more, they relaxed. A lot has changed since the beginning of March," he said.
READ MORE: SHOULD COVID-19 INFECTED WORKPLACE BE DISCLOSED TO THE PUBLIC?
Now he is not afraid to share his identity to the public and wants to do the socially responsible thing by giving back to the medical community.
"I'm trying to make a better situation out of what is not so fun," he said, adding that he is grateful to CK Public Health for looking after him the way they did. 
"They have done, and remain to do, a good job during the COVID-19 pandemic. I realize one case was a handful. I have sympathy and respect for the time and effort."
Once Authier was confirmed to be a successful candidate for the donation, it was explained to him that plasma is taken out through a machine, similar to dialysis. The plasma is separated from the red blood cells and what is left is put back into the body.  As a result, he will be travelling to the Canadian Red Cross in London on Saturday for the donation.