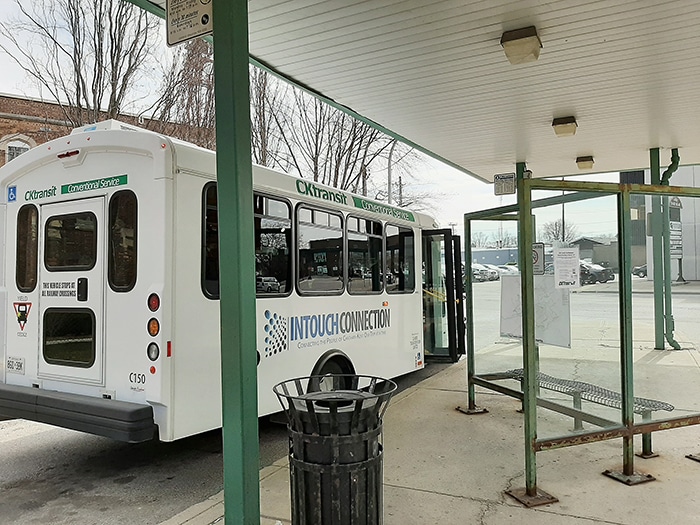 CKTransit is reminding ridership that public transit remains in operation for essential travel only, and there will be changes taking effect June 1.
Essential travel means riders requiring transit service to get to and from work, or to secure essential goods and services.
The following service changes come into effect Monday:
CKTransit On-Request Evening Service will resume with reduced capacity and hours between 7:30 p.m. and 10:30 p.m., Monday to Friday in Chatham. Passengers can visit ca/onrequestfor information on how to request trips;
Inter-Urban Routes A, C, and D will return to full service including the 6:45 p.m. departure from the Chatham terminal;
Chatham Accessiblewill return to regular hours of 6:15 a.m. to 7:15 p.m., Monday to Saturday. Sunday service remains suspended;
Wallaceburg Accessiblewill return to its regular hours of 8 a.m. to 7 p.m., Monday to Saturday. Sunday service remains suspended;
Clean Air Day Transit – Cancelled.  Free transit rides will not be offered for Clean Air Day on June 3 this year. With social distancing restrictions in place and only half of seats available on all buses, the transit services do not have the capacity to allow for additional riders;
Seasonal Beach Bus remains suspended.
Bus operators will be enforcing social distancing measures by limiting capacity. Riders are recommended to wear facemasks.
Do not make trips into the community unless it is essential. If you are experiencing any cold or flu-like symptoms, stay home. Hand sanitizer dispensers are being installed on vehicles for the use of riders.
Future notices will be issued through the media, CKTransit.ca, at the Downtown Chatham terminal, and on transit vehicles. Up-to-date information may not be available at every shelter.