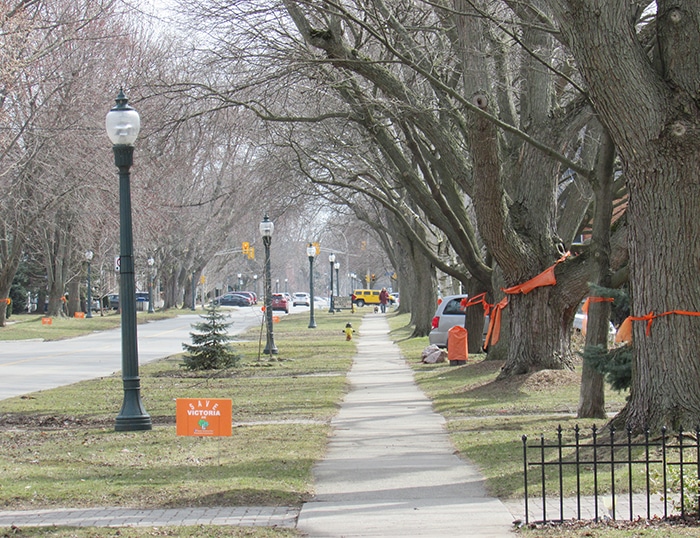 Jenna Cocullo, Local Journalism Initiative
Bondy, Voices of Victoria vow to continue to oppose changes
Bikes lanes on Victoria Avenue will promote a more active and carbon-free lifestyle, but it does not mean more people will use them, said Chatham-Kent councillor adamant on preserving the historical street.
At a heated virtual municipal council meeting on Monday night, councillors voted down a motion by Chatham Coun. Michael Bondy requesting that the majority of the redesign work be halted on the historical street, with only the underground sewer repairs to move forward.
Instead council voted in favour of modified suggestions brought forward by Chatham Coun. Brock McGregor.
The contentious recommendations, which passed, are to widen Victoria Avenue at Grand Avenue and McNaughton Avenue to include left-turn lanes (passed 10-8) and include on-street bike lanes (11-7).
Bondy, who lives on the street and is an active cyclist, believes the bike lanes are counter intuitive to promoting carbon reductions, as three healthy trees will have to be removed, along with grass, to make way for asphalt, which is made of oil, he said. He added safety is not a major issue because there have been no accidents along the road, and during the winter months they will rarely be in use.
READ MORE: Historic street renewal project proposed for 2022
Patti McPhail, resident and spokesperson of Voices of Victoria, a group aimed at preserving the street as is, said the decision to install bike lanes is not one that they will accept.
"The cons far outweigh the pros. The bike lanes they want to install do not connect to other bike lanes. It's a luxury that will cost an estimated $225,000 which we believe is a very modest estimate compared to what the true cost would actually be," she said.
In regards to the left-turn lanes, the group said they are not needed.
"There are other more cost-effective options that should be looked at such as an advanced green light. Installing those turn lanes will only increase traffic which is not the desired effect," said McPhail.
READ MORE: Residents work to preserve Vic Ave streetscape
The non-contentious stipulations from McGregor's motion which also passed included that there be no roundabout at Stephenson and Victoria avenues; that the municipality develop a street tree cover policy; to maintain and encourage tree coverage; and that heritage light posts be maintained; and to retain the sidewalks in their current location.
"These decisions were common-sense decisions that will save the citizens of Chatham-Kent much-needed funds during these uncertain times," McPhail said.
While the group got some wins, McPhail and Bondy said the fight is not over.
"Voices for Victoria is just getting started. Last night was round one and we are in this for the long haul," McPhail said.
Bondy said residents could go to the Ontario Municipal Board to appeal the decision, and he has already heard talk that that may be the next step. Bondy said as a councillor he cannot file an appeal, but would support any constituents who would choose to do so.
Advocates to save the street are also concerned with the costs that will come with such a divisive project, especially during the COVID-19 pandemic.
"Council needs to wrap their minds around the fact that we are living in times where we can't be spending millions of dollars like pocket change on wants that are not only unnecessary but will also destroy the beauty of Victoria Avenue," McPhail said.
According to the municipality's staff report, "project cost estimates will be calculated once the project design is finalized." The goal of approving the project and setting aside municipal funds is so it could be shovel ready should provincial or federal funding become available.
McGregor said he wanted to make it clear that the Victoria Avenue trees will continue to be preserved during the construction of the bike lanes.
Comments
comments