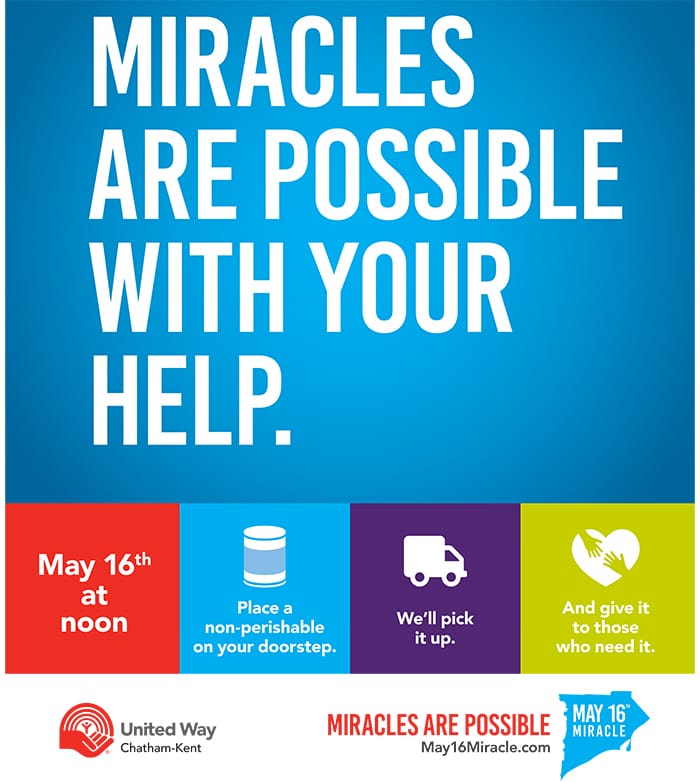 By Bruce Corcoran
Thursday night's online meeting to discuss plans for the May 16 Miracle in Chatham-Kent got Zoombombed.
The event, where upwards of 240 people connected online via the Zoom virtual meeting app, got hacked less than 30 minutes in, according to one of the organizers, James Rasmussen.
The Miracle effort is to see residents of Chatham-Kent all put out one non-perishable food item on their front porches for collection May 16. The food will be distributed to local food banks.
And as discussions ramped up online last night, the hack took place.
"We had 240 people join us for the town hall meeting. We had some guest speakers on it. It was such an inspirational meeting," Rasmussen explained. "When we were reaching the height of inspiration and passion, about 8:30 p.m., we had a hack take over."
He described the takeover as "a grotesque act of hacking" and declined to go into details.
"We shut the meeting down and got off as quickly as we could," Rasmussen said. "And we immediately went into action and connected with the Chatham-Kent police. We sent out to the attendees, and anyone who has been in contact with us, a (phone) number for Chatham-Kent Victim Services. We acted efficiently."
The May 16 Miracle meeting's hacking is not an isolated incident. Zoom is being used by many businesses for virtual meetings, and it is also popular with schools around the world during the COVID-19 social-distancing requirements.
Hacking of the app is so frequent it has a moniker: Zoombombing.
In an interview with ABC News, Zoom founder Eric Yuan said there are security options in his software.
"You need to understand the security features about how to use Zoom. We take data privacy very, very seriously," he said.
Such features allow Zoom users to create a password for each Zoom meeting, establish a "waiting room of sorts where users are placed until an organizer approves their entrance into the meeting, or you can lock down a Zoom meeting once it starts to prevent others from joining.
The hacking of the May 16 Miracle meeting has only served to increase the resolve of organizers to pull off the Miracle in two weeks' time.
"The response has been efficient, collaborative and appreciative. E-mails back from the community – we've been inspired by the response from the community. We can do this," Rasmussen said.
He added the Miracle effort is taking place in phases, with the now-completed first phase being the cultivation of the passion in the community.
"It's been fantastic. Now that we have the support, phase two is about creating local teams in communities across Chatham-Kent. We have community captains in place," he said. "We're moving forward and persevering. We have to rally together and keep pushing forward. The more good we can do, the better."