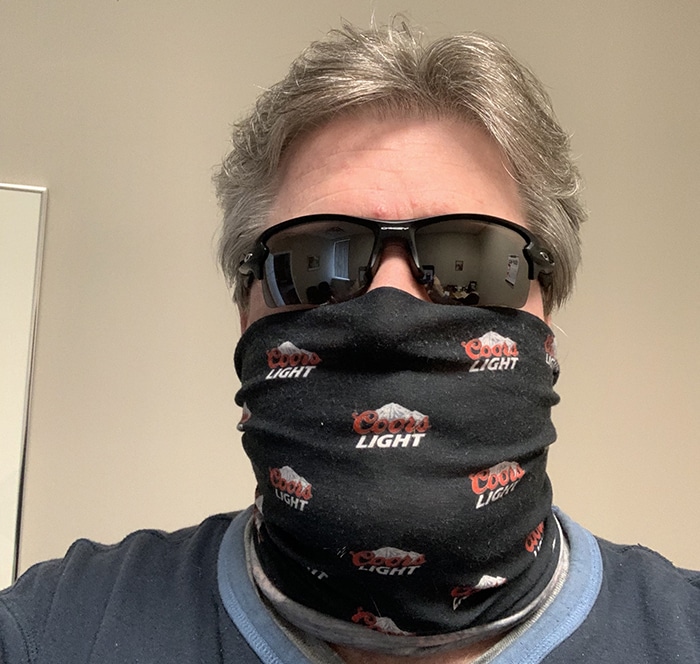 Baby steps, people.
That's what you need to focus on to continue to be productive during the COVID-19 self-distancing/self-isolation reality we are facing.
An expert on self-isolation, astronaut Chris Hadfield – you know, that cool dude from Sarnia – suggests you to break down your days into bite-sized pieces.
Each item addressed on your mental to-do list for the day shouldn't be too big. In fact, try making them smaller than what you'd normally put/get on a Honey-Do list.
And be happy with each accomplishment.
Slot time to get these things done.
Don't stare at the top of the mountain and question why you should even bother trying to climb it. Focus on the route directly in front of you and start moving.
I am trying the same format. I've been spinning my wheels. I plan what I want to accomplish, but then, like a dog that spots a squirrel, I become distracted. Next thing you know, after replying to some comments on our social media pages, I forget why I was even in the web browser to begin with.
Backpedal, review, find my starting point, and try again.
Efficiency is not what it normally is for me, that's for sure.
For our devoted readers, I thank you for putting up with our human elements. We are still delivering important information to you – along with some needed, feel-good stories of those going above and beyond to help others – in these rather strange times.
Yes, there maybe a few more typos here and there, but we are doing the best we can.
And for the constant critics, I say thank you for pointing out any errors, or to give us advice on what questions to ask.
But I implore everyone who sees our content on Facebook to do one thing: click through and read the story before commenting on it.
Haters gonna hate, I get that. Just be informed before you scold. Immediately disliking something is too easy.
Just look at the Doug Ford haters. Some can't fathom he's being a good leader for the province during this time. Heck, I was surprised, but he continues to follow through day after day.
Ditto for Justin Trudeau. There are folks who hate everything he does. Not running a full Parliament right now makes sense health-wise, yet some don't see it that way.
As for Mother Nature, it's OK to hate on her right now. We're all stuck in a new situation that basically forced so many of us to alter our daily habits, and she gives us lingering cold weather.
But we in Chatham-Kent shouldn't be surprised. A switch will turn and we'll be in hot weather, wondering what happened to spring…again. The Witch of the Seasons robs us of one of my favourites.
But I digress. As I'm shaking my fist at the clouds, railing against Mother Nature, you should be accomplishing something, anything. Even if it's a jigsaw puzzle to keep you mind active, or the cleaning out of your cupboards. Or, one cupboard. Heck, a junk drawer.
Just remember, don't take too big a bite.
Dress for success
Business casual is much more casual these days for those of us who trudge to the office day after day, even though it is closed to the public.
And then there are the trips to the grocery store or pharmacy. I now have a mask plan, but admittedly I have yet to don it while going into a store. I look like I'm robbing the place, honestly.
I do cough into my sleeve when I have to, and practise safe distancing, however.
And I use tap now. No touching cash, no touching the debit machine either.
Plus, I've learned new ways to open doors, especially automatic doors. Elbows are a great option. So too is a hand inside a jacket pocket. Fabric, not flesh, makes contact.
And then there's the old, reliable option of hip-checking a door open on the way out. Don't try this on a pull door, however.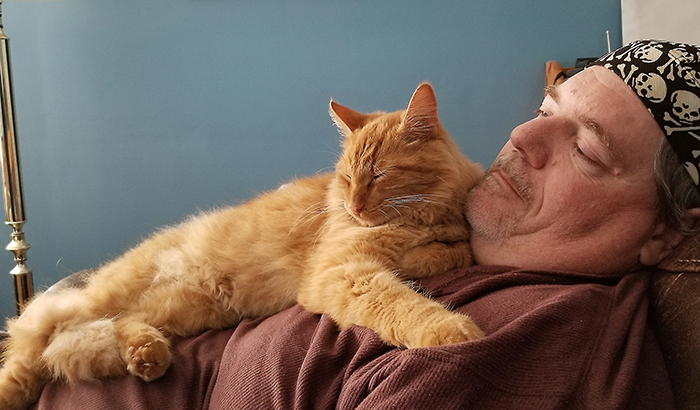 Finn the indifferent
Our cat has shown he's not concerned about COVID-19, even though a couple of kitties have tested positive in New York (OK, not enough test kits to go around and someone tested cats?).
He's up to his old trick, while adding in a few new ones.
Sleep all day, for a while on the nearest human's lap, but for the rest of the time in one of 100 favourite sleeping spots. Beds, shoe cupboard, office chair, laundry pile –all good options.
Go outside just before dark. Demand to come back inside. Demand to go back out. Want back in. Lather, rinse, repeat.
Finally stay out for a few hours, coming back in usually before midnight. Hang out with Mary Beth and Brenna until they go to bed.
Loudly come down the stairs to wake up snoozing Bruce, making sure to emit some strange sound on each stair.
Hop onto Bruce's chest and bash face into his chin repeatedly. Once he's wide awake, settle down and fall asleep on his chest, looking all cute and innocent (I know better, pal).
When Bruce drifts off again, get up, stretch on his chest and shift down to the footrest of the recliner.
Wait a couple of hours, wake up, whine a lot, or scratch something, get kicked outdoors.
And this is where Finn is now adding some oddball new tactics. It's 4 a.m. I feel a sharp sting on my right heel. The cat has his claw in my sock, jolting me awake. Strange way to say "hi."
Time: 3:35 a.m. Claws are now in the cover of Bruce's left stereo speaker. Get kicked outside.
It's 2:55 a.m. Run up Bruce's body, hop off the top of the headrest in the recliner and attack the sectional behind him. Get kicked outside.
Time is 3:18 a.m. Jump onto recliner with a cute little fuzzy red mouse play toy. Way too close to Bruce's crotch for his comfort, considering how you are clawing at that toy. Get kicked outside.
It's 2:42 a.m. Bring the toy mouse back into play (the scared look on Bruce's face showed what a hit it was), then claw up the other recliner, hang upside down, and play with toy, with wild look in eyes. Receive a chuckle from Bruce. Get kicked outside.
At least Finn changes things up a bit. Sheesh.
Comments
comments