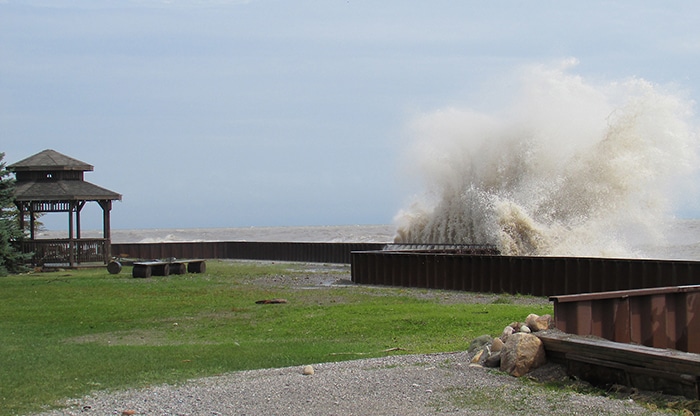 Flood watch along the Lake Erie Shoreline throughout Chatham-Kent and Elgin County is continuing this week as lake levels remain high.
The Lower Thames Valley Conservation Authority is predicting waves of one to 1.5 metres on Lake Erie and 0.5 to one metre on Lake St. Clair during times of peak winds until April 22.
Flooding is likely along Erie Shore Drive given the predicted wind speeds and direction.
Southwest winds are predicted to rise above 30 km/hour at times with gusts over 50 km/hour for Monday night.
Tuesday morning winds are predicted to shift to the northwest and remain between 30 and 40 km/hour until the evening. Wind gusts can rise between 50 and 65 km/hour with the winds.
Throughout Tuesday, when winds are out of the northwest, there could be impacts on Lake St. Clair. Winds will be pushing water into the southeast corner of the lake around Lighthouse Cove which could raise water levels in the area and cause water to spill out of the canals causing flooding.
There is a risk that wave action could damage shoreline protection works and cause erosion, all along the Lake St. Clair shoreline around Lighthouse Cove and areas in Chatham-Kent.
READ MORE: Erie Shore Drive to reopen to residents