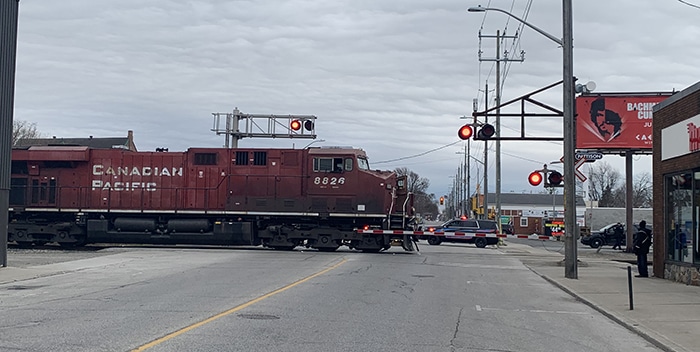 Fatal train collision still under investigation
Just before 6 a.m. Tuesday morning, emergency crews responded to a serious collision involving a train in the downtown Chatham area.
Through investigation, police learned that the train collided with a pedestrian who entered the tracks near the King Street and William Street crossing.
The pedestrian, a 40-year-old Chatham man, was pronounced deceased at the scene.
The Traffic Unit has taken over the investigation. Anyone with information is asked to contact Const. Josh Flikweert at joshuaf@chatham-kent.ca or 519-355-1092.
You can try to get away, but…
Yesterday morning, an officer on general patrol observed a vehicle travelling eastbound on Grand Avenue in Chatham with only one license plate.
A query of the license plate revealed that it was not registered to that vehicle.
The driver made a quick turn into a nearby parking lot, executed a U-turn and proceeded back onto Grand Avenue, now travelling westbound, in what appeared to be an attempt to evade police.
The officer flipped on his flashing lights and the driver failed to stop for approximately one kilometre, when he pulled into a residential driveway.
A 37-year-old Chatham man is charged with using a license plate not authorized for the vehicle, driving while suspended and failing to stop for police. He was released and will be required to attend Provincial Offences Court on July 8.
Afternoon walk, afternoon charges
Yesterday afternoon, police located a man and woman, who were both wanted on outstanding warrants, walking on the Third Street Bridge in Chatham.
Bradley Hardy, 35, of no fixed address, was arrested for mischief and two counts of failing to comply with his release conditions. He was released pending a future court date of July 14.
Crystal McGee, 37, of no fixed address, was arrested for two counts of failing to comply with her release conditions.  She was released pending a future court date of July 14.
Breach of probation
Last September, a man entered into a Probation Order with several conditions, one of which was that he was not to attend the apartment complex of a specific woman in Wallaceburg.
Guess what he did yesterday?
Police say officers located the man at this address on Tuesday, putting him in breach of his Probation Order.
A 29-year-old Wallaceburg man is charged with failing to comply.
Assault
Last night, police responded to a disturbance between a man and woman in a parking lot in Chatham.
The 51-year-old man was arrested and charged with two counts of assault.
Books and Badges
Today, C-K police are launching a new series called Books and Badges designed to encourage kids to read more while they're social distancing at home to prevent the spread of COVID-19.
Once a week, a member of the police service will read a children's book in an effort to engage and interact with our local youth.
Today, Const. Renee Cowell will be reading "A Pirate Ship" – one of her son's favourite books growing up https://www.youtube.com/watch?v=VetmIJzJUBA