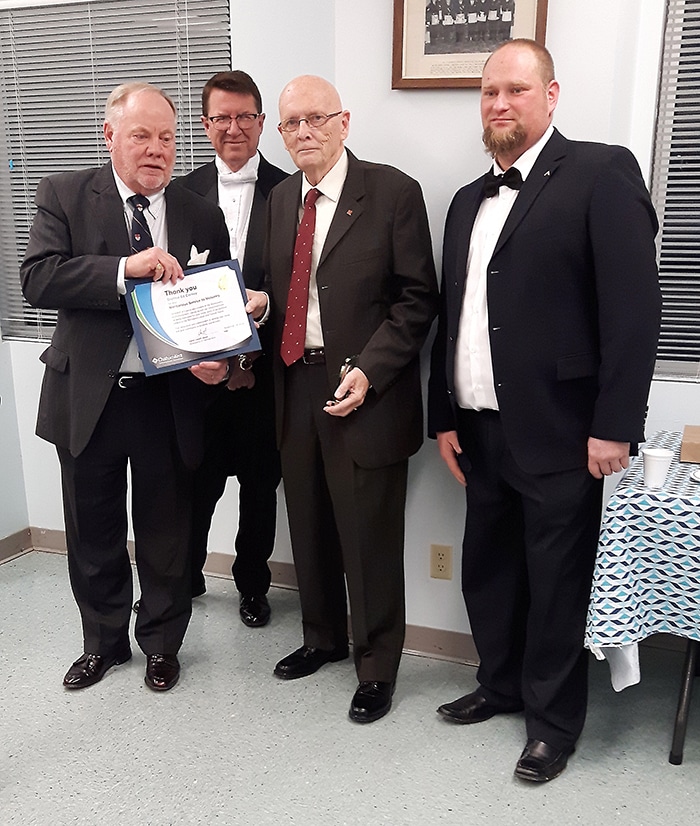 The Parthenon Lodge recently gave Chatham-Kent's Ed Carney a lifetime achievement award.
Carney joined Parthenon Lodge, Chatham #267 in February 1982. He progressed through the three degrees in that year, entered apprentice, fellowcraft and master mason.
But he was only getting started.
In 1983, Carney joined the Scottish Rite in Chatham and earned his 32nd degree in 1984 (the highest honour) and is still a member of that order.
Three years later, Carney joined Eastern Star with his wife Sheila and they became Worthy Patrons for 1990 to 1991; they are still members.
Carney served the lodge in many ways. He rarely misses a meeting except when he is down south. He has served as one of the auditors for 15 years and is a keyholder for the lodge.
During the last several years, Carney noticed that the Ladies Luncheon was becoming stale. There were fewer couples and widows coming out. He partnered with the late John Newman and found a new venue. Together they refreshed the format and the luncheon has been a roaring success ever since.
Five years ago, Carney saw a need with the lodge's White Gift Night and got involved by processing thousands of paper numbers which are put into envelopes and sold at the event. White Gift Night is the lodge's biggest fundraiser and a popular family evening.
The Chatham Masonic Temple consists of 13 separate orders. There are two blue lodges, Parthenon and Wellington Victory, seven York Rite orders, two Scottish Rite orders and one Shrine group as well as the Eastern Star. As you can imagine it is a lot of work to run the Temple with so many diverse groups.
Carney was elected to the Temple Board in 1995 by the brethren of Parthenon Lodge and has continued as a member of that board up to and including the present. He was voted secretary for a couple years and was then elected as secretary/treasurer when the treasurer dropped out. He maintained this position for 23 years and has served the last two years as secretary.
Carney was a member of the board when the former lodge was sold and the new one purchased in the late 1990s. He was in negotiations with Bell Canada for the purchase of the current building, and along with Don Haden negotiated a reduction of $40,000 when it was discovered that the land was in fact smaller than had been represented.
Carney 's life beyond Masonry was also busy. He was a member of the Canadian armed forces for six years and was stationed in Germany for three of those.
In civilian life, Ed worked at Nestle Canada for 29 years. He was in the purchasing department for one year and then became the plant clerk for the remaining 28 years. He was also Union Representative for 25 of those years.
In 1997 Nestle closed and Carney went to work for Heinz Canada for the next nine years in accounts payable.
Carney is a member of two churches, First Presbyterian Church and St. Andrews United Church.
He is also a member of the 100 Men Who Care. This is a group of philanthropists who meet quarterly, donate $100 each to the charity of the group's choice.