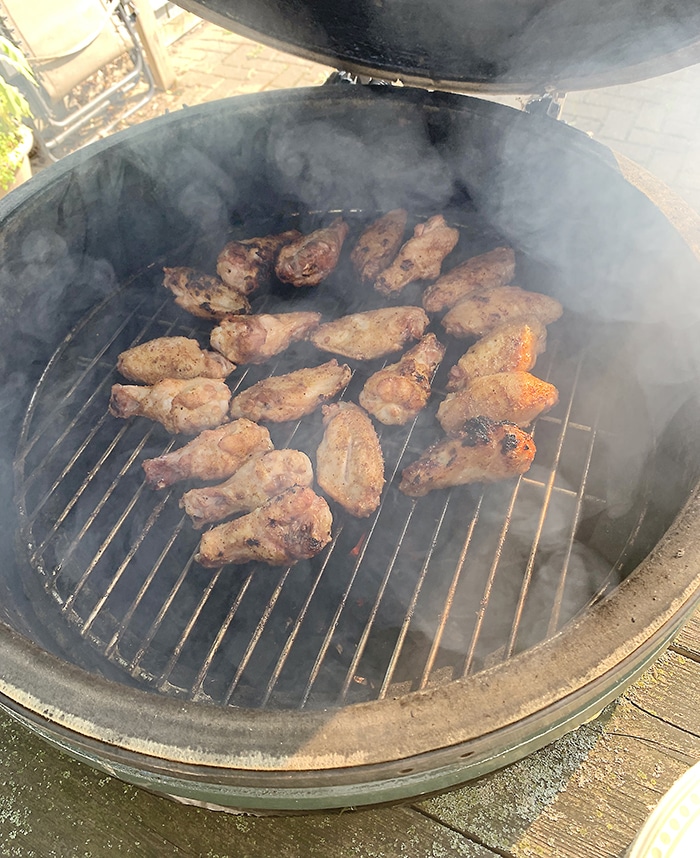 So, we bade farewell to one of our nephews on the weekend, as Connor is off to Toronto to live with his father and complete the final two years of his high school education.
How do we say goodbye and good luck at the Corcoran residence? Barbeque!
He has tasted a variety of items over the years off the Big Green Egg. Teenagers are always fun to cook for, as you can pretty much barbecue a shoe, add some spices, and watch them inhale it.
OK, kidding, no shoe. But Connor likes a lot of what we've cooked over the years.
Especially chicken wings.
Then again, he isn't and wasn't alone on Saturday.
We gave the Egg a workout it deserves. Eleven family members and friends stopped by and enjoyed the food.
It all began with some wings. I only grabbed three pounds of them from Lenovers, as I thought with all the food, it would be a nice sampling size for everyone without filling them up.
I made mistakes.
First mistake: three of the people in attendance Saturday were teenagers. They mow down wings at alarming rates. Connor and his cousin Matt are two of my biggest fans when it comes to me cooking wings.
Second mistake: I grabbed the wings from Lenovers. Actually, this is not really a mistake; the problem is I bought on weight not numbers.
I walked into Lenovers, took a look at their wings and immediately started salivating. They were huge!
Sometimes that does not necessarily translate into tasty, but I've had only excellent results from anything I've barbecued from Lenovers in the past, so I wasn't worried.
But due to the size, there were fewer wings than I anticipated, and I didn't compensate by getting more. That was my second mistake.
I dusted them up with Tsunami Spin seasoning and grilled them up at about 375 F for 24 minutes, flipping every six minutes.
One thing about Tsunami Spin is that the chicken it's on smells incredible as it's cooking. It also tastes pretty special too.
The wings went very quickly. No one even wanted sauce.
Next up, vegetable candy: Prosciutto-wrapped asparagus. A thin layer of herb and garlic cream cheese is spread on the thinly sliced prosciutto, and it is wrapped on individual sprigs of asparagus. You cook it at 375 F for eight minutes-ish, flipping once, and you have an incredibly simple and amazingly tasteful delight.
These too went very quickly.
Next up, the main courses: chicken and hamburgers.
My sister-in-law Jane did up the chicken, which she obtained from Schinkels' (best chicken breasts around). She marinated the chicken and then when we served it, it was covered in a blend of avocado, onion, jalapeno, tomato, cilantro and lime juice. Delicious.
Mary Beth made the burgers, from a recipe our daughter found on the Internet.
These burgers are stuffed with a mix of cream cheese, bacon, jalapenos and shredded cheddar cheese.
Mary Beth didn't add any seasoning, filler or binder. And they were awesome. Although, I did want to season them before putting them on the grill (habit), but was discouraged from doing so.
As good as the chicken was, we had folks waiting for the second round of burgers (only so much room on the grill).
With all of this, there was salad, home made guacamole, a meat-and-cracker plate, and local corn on the cob.
No one left hungry, despite the fact I wish I had cooked more wings and maybe more prosciutto and asparagus.
The meat-and-cheese tray didn't get completely devoured, and there was some leftover chicken (but not much).
And the next day, we cooked more chicken breasts and ate them with a spinach salad with cheese, strawberries, blueberries, carrots and balsamic vinaigrette. Healthy, and very, very tasty.
We cooked extra chicken to include in various dishes throughout the week.
And that, my friends, is a proper Big Green Egg weekend, filled with a variety of offerings and enjoyed with family and friends.
Oh, and there were a few cold beverages on hand as well.