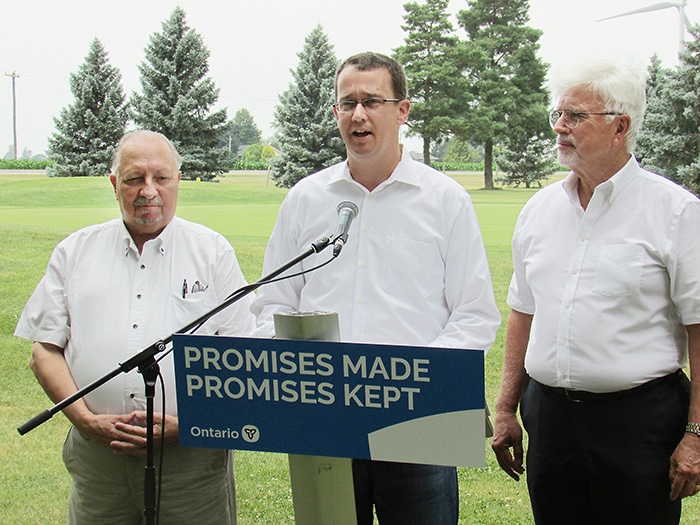 A year after making a campaign-trail promise to contaminated water well owners in north Chatham-Kent, the Ontario PC government announced a health hazard investigation into the black water and its potential health impact.
Lambton-Kent-Middlesex MPP and Minister of Labour Monte McNaughton made the announcement from Countryview Golf Course Friday afternoon to a few invited families whose wells were filled with black sediment after wind turbine construction began in Dover and Chatham townships. The black particles have been identified as Kettle Point Black Shale and are known to contain toxic heavy metals.
"This is a comprehensive investigation into the water well situation here in Chatham-Kent. This is an independent expert panel assembled that is going to operate outside of government. These are five scientists who have the background to do that, including a local voice with local geologist Keith Benn and four toxicologists," McNaughton said at the press conference. "This will be an in-depth investigation that will lead to real results that people can trust."
The MPP said the panel will take a fresh look at water samples collected from the wells of families who have complained of black water and "samples from up to 189 private wells will be taken by a third-party business and tested by a commercial laboratory."
"We've heard concerns raised by families for years and years. The former government completely ignored this situation. I remember, a few years ago, delivering to the then Minister of the Environment, a bottle of dirty water, and they ignored it," McNaughton added.
Jim and Angela Leveille of Chatham township, whose brand new well became clogged with sediment when the North Kent Wind turbine project went online, said they have spent thousands of dollars on testing their well water, water tanks and buying water, and have run out of patience and faith in all levels of government.
"This is great. I hope it does some good, but of course I don't have any faith in anybody because how long have we been going through this, and the other people? Years," Jim noted.
He said he was speaking with a man who lives close to him who has three filters on his well that he changes every other day because they are black and he can't keep doing that, so he's buying a water tank just to have water to bathe and cook with.
"This was just last week. They (wells) are dropping every day. There are people who don't tell anyone their water is bad for whatever reason. They may think its 189 wells but it's way more than that," Jim said.
When asked what they hoped would come of the investigation, Angela was very specific in her wishes.
"I'll tell you what I want: I want accountability, I want an admission, I want it to not happen to other communities like up in North Stormont. I don't want anyone else to go through this. I want people to believe what we're saying," Angela said.
Jim added he wondered what good the Ministry of the Environment was if it doesn't do anything when the environment is "wrecked." The Leveilles have been waiting months for the report on their well done by an agent of the wind company to be released from June of 2018. Angela said she had to file a Freedom of Information request to get a copy of the report from the ministry.
The five-member panel doing the investigation is tasked with determining if the well water and the sediment it contains are safe for human consumption. Members include local geologist Dr. Keith Benn, environmental health scientist Dr. Glenn Ferguson, epidemiologist Dr. Shelley A. Harris who specializes in exposure measurement, toxicologist Dr. Ron Brecher and toxicologist Mark Chappel.
Denise Shephard, representing Wallaceburg Area Wind Concerns, said she was thankful the government was acting on its principle of safe drinking water for all Ontarians and thanked McNaughton for following through on his promise.
"This study is expected to ensure that chemical analysis of the composition of the black shale particles in the well water is done and reported in a public manner. We will be closely following the studies to ensure its legitimacy and standards," Shephard said in her remarks. "The people of the former Dover and Chatham townships have experienced groundwater quality and water interference problems quite long enough. These families have sadly experienced health effects and a decrease in their quality of life and deserve the support of municipal, provincial and federal governments."
There was no timeline given for the how long the panel will take to release a final report.