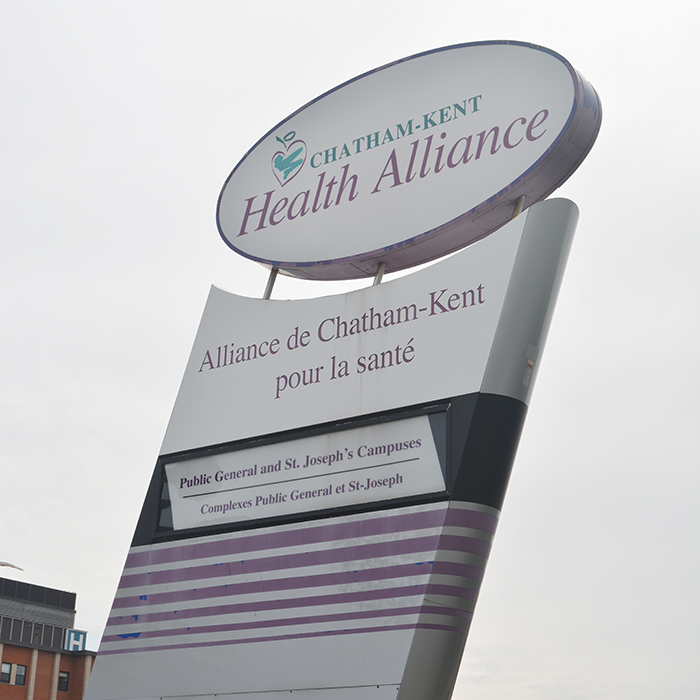 Another surplus and increasing staff satisfaction have the overseers at the Chatham-Kent Health Alliance smiling these days.
Top administrators and the chair of the hospital board met with the media recently to discuss progress at the health alliance, confirming a $2.1-million surplus from the 2018-19 fiscal year that ended earlier this spring.
Early returns on staff ratings of the hospital in terms of a quality place to work are supportive as well, officials say.
Lori Marshall, president and CEO of the CKHA, said satisfaction was quite low when the province appointed supervisor Rob Devitt in September of 2016, but as work to address the shortcomings of hospital oversight progressed, staff satisfaction improved.
The first year, satisfaction numbers sat at below 58 per cent, well below the provincial average of nearly 75 per cent. The next year, 2017-2018, the numbers rose to nearly 67 per cent, and for 2018-19, the early returns have the rate at more than 82 per cent, above the provincial average of 77.4 per cent.
Do date, only the first cohort has been polled, which is comprised largely of front-line personnel. The departments polled include both emergency departments, both medical units, housekeeping, finance, human resources and a number of smaller departments, Marshall said.
"We're exceeding the provincial average at this point and also in the top 25 per cent," she said. "Everybody in this organization can be proud."
Marshall said there is a high correlation of staff satisfaction to patient satisfaction. Greg Aarssen, chair of the hospital board, agreed, adding he experienced it firsthand as a patient in recent months.
"From a user perspective, I engaged with everybody I interacted with here, and there is a culture of improvement here. There has been a great deal of change where staff feels like their opinion matters. Everybody was saying the same thing," he said. "Under Lori's leadership, it has created an environment where it's safe for employees to speak out. This has created a culture of communication – from the top down and the bottom up."
In terms of the surplus, Aarssen said everything is tied together and that the surplus is due "almost entirely to the people who work here. Good management and good execution by the people who work here."
The bulk of the surplus will fund ongoing capital projects and purchases. A total of $1.8 million will go towards it, in fact, Aarssen said.
Much of that will be to help reintroduce urology to the CKHA in the spring of 2020.
Funds will also be utilized to bring in a staff duress system, "sort of a personal alarm system," Aarssen said.
Added to that is spending on hospital beds and ongoing infrastructure replacement, new anesthesia machines, and a health information system.
Marshall said solid fiscal standing is important for a hospital.
"I believe the fiscal health means you have dollars available to pay staff, dollars available for upkeep and dollars available for equipment," she said.
In total, she anticipates there will be about $3.5 million in capital purchases this year at the alliance.
Comments
comments