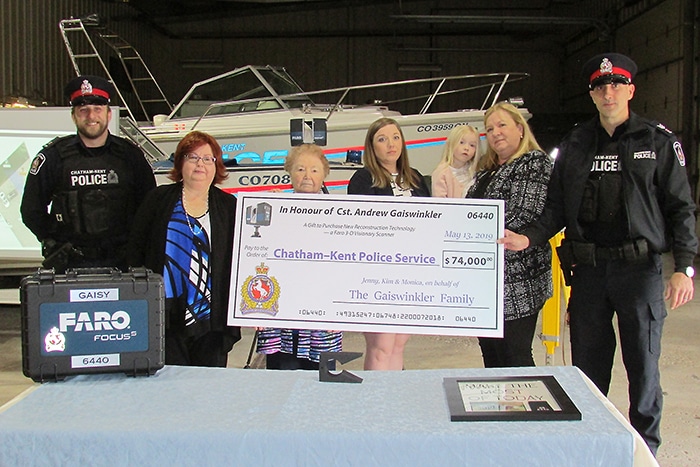 A gift from the family of well-loved and respected Chatham-Kent police officer Const. Andrew Gaiswinkler will help police reconstruct traffic accident scenes more efficiently and safely.
At a press conference Monday morning, members of the Gaiswinkler family and the Chatham-Kent Police Service Traffic Unit unveiled the new FARO Focus 3-D Visionary Scanner which replaces the decade-old Total scanner system used to reconstruct traffic accident scenes.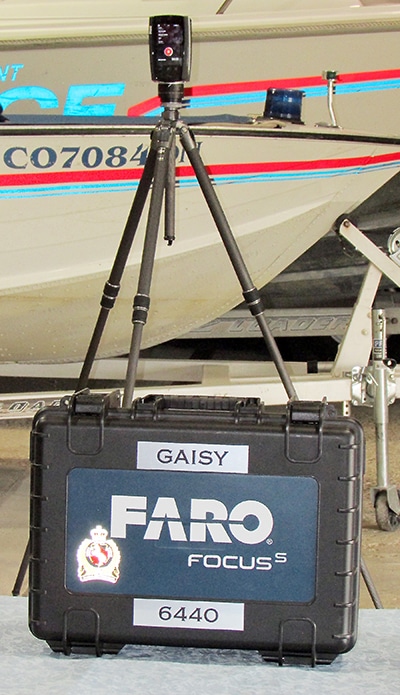 According to Traffic Unit Sgt. Matt Stezwycki, the FARO scanner will reduce the time spent by officers collecting data at a scene from about eight hours down to one and a half or two hours, increasing officer and vehicle safety in the area. He thanked the family for their generous donation in Andrew's name.
"This scanner has made our job faster, more efficient and safer," Stezwycki noted. "The unit takes a fully interactive 360-degree, 3-D image with 9,000 points per second. That allows us to open up the roadway to traffic flow sooner and makes it safer for officers and the public."
The love and respect for the late Gaiswinkler, who lost his battle with cancer in July of 2018, from his co-workers was evident Monday, as the gift of $74,000 from the family for the scanner, laptop and training of four officers was explained.
"Andrew was skilled in accident reconstruction and very passionate about it," the traffic sergeant explained. "The traffic unit is a small unit, a very close unit and Andrew was a very important part of it."
Acting Sgt. Jason Herder, who researched the FARO scanner and helped train his fellow unit officers, said the monetary gift from Andrew's family helps the CKPS move ahead with modern technology that is quicker, more accurate and provides officers with solid evidence in court if they are required to testify.
Andrew's wife Kimberly, her daughter, Lauren and granddaughter were at the press conference, with his sister Monica Gaiswinkler Easton and mom Jenny.
"It's emotional today but we're happy to do this in honour of Andrew and keep his memory going, and know that the new scanner is going to make their job so much easier," Gaiswinkler Easton explained. "My mom approached the police service to what we could do to help and they had a few ideas for us. We knew from Andrew how dangerous it was for police officers to work an accident scene for so long, sometimes right through the night."
She added that the CKPS, especially the Traffic Unit, have been incredibly kind and supportive of Andrew's family.
"Our family as a whole has been very appreciative of the support from the CKPS, especially the traffic unit, and we're thankful the Police Services Board approved this project," she said. "Andrew would have been extremely pleased we did this; he would have loved to use this scanner."