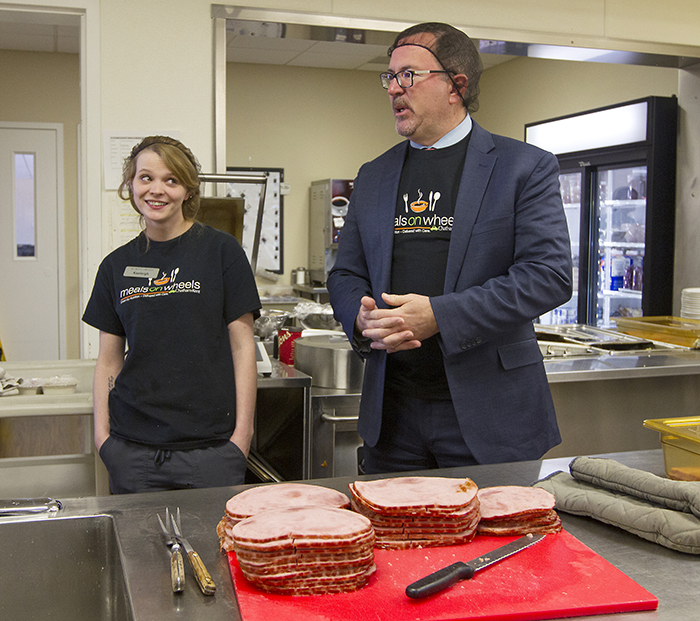 Three days a week, Meals on Wheels volunteers are hard at work in the kitchen at St. Andrew's Residence preparing and packing hot meals to be distributed.
Today, the program helps more than 371 clients by delivering balanced and affordable meals.
As part of the March for Meals Campaign, volunteers got an extra hand on Monday with Mayor Darrin Canniff stopping by to help deliver some freshly packed meals on Monday morning while raising awareness and support for the program.
"The Meals on Wheels program is extremely important. We talked about the number of people they serve each and every week. It's part of the overall network within Chatham-Kent that is a critical piece of it," said Canniff.
Servicing Chatham-Kent, the program was established in 1971, and from 2007 onwards, has been operated from St. Andrew's Residence in Chatham.
Melissa Bishop, volunteer and community services co-ordinator for St. Andrew's Residence, said the program currently enlists the help of 70 community volunteers each week.
"That includes our drivers, our runners who actually go up to the door and deliver those, and we have kitchen volunteers," said Bishop.
Commending those volunteers who give up so much of their personal time for their community, Canniff emphasized the importance of giving them support and volunteering when able.
"We lead by example, and if we want people each and everyday volunteering, you have to be a part of it," said Canniff.
Whether wanting to try the program once or long-term, a meal's cost is $6.50 and includes a dinner roll, soup, entree consisting of a protein, vegetable, rice or potatoes, and a dessert.
Bishop says seniors or those with a disability who are isolated can often be forgotten, and Meals on Wheels serves another important purpose.
"Even though we are delivering a meal to someone, it's also like a check-in point. Our volunteers get to know our clients and if they notice a change in their health, that's a good thing too," said Bishop.
Canniff agreed.
"If these individuals are at home by themselves and not getting anyone interacting, that's an important part of mental health and socializing. We want to make sure there's a great social network for seniors, particularly those who do not get out a lot. We need to connect with them as much as possible."
For more information on how to register for Meals on Wheels or how to become a volunteer, contact Melissa Bishop at 519-351-6325 or e-mail her at mbishop@standrewsresidence.com.