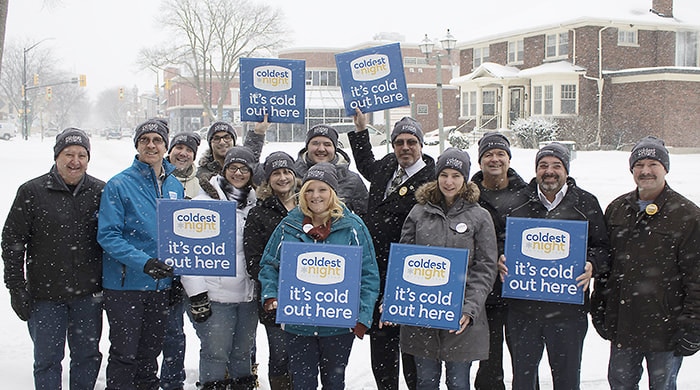 Organizers are preparing for another cold night, the Coldest Night of the Year (CNOY) actually.
The third annual event in Chatham, set for Feb. 23, is a fundraiser for NeighbourLink, a local charity.
Al Baker, network co-ordinator for NeighbourLink, said the fundraiser, which will once again start and finish at The Hub – the former Pines Chapel – is a major source of operating revenue for NeighbourLink.
"We're a charity and we've got to keep our doors open. We do this one major fundraiser and we have supporters in the community who support us throughout the year," he said.
Support for the event is gaining momentum, Baker said. He hopes to see between 150 and 200 participants this year. He added CNOY is already in excellent shape with corporate sponsorships.
"People like to get out knowing they are contributing to help solve the problem. We help people, a lot of them homeless," he explained. "People will sign up and spend a late Saturday afternoon/early evening just walking for a good cause."
The event runs between 4 p.m. and 7 p.m.
Baker said NeighbourLink also helps get people of limited means to important appointments.
"We offer free transportation for people who can't afford vehicles or can't afford cabs, especially in the rural areas. For example, we help get them to medical appointments, etc.," he said.
"We also do friendly visits – visiting shut-ins. We want to expand that element."
Baker said it's surprising how many people are all but cut off from human contact.
"A lot of people don't have regular interaction. When your trip to the doctor is your major social event, something is wrong," he said. "People get cabin fever. They may call emergency services just for social interaction. They may fake an illness or fake a break-in. It's a huge drain on emergency services resources."
The motto of NeighbourLink is "connecting people in need with people who can help." Baker said the organization provides a WrapAround program, where a support team wraps around a dysfunctional family or individual to help them get their lives back on track.
Baker said the location for CNOY, a 5K walk, is perfect.
"It's very conducive to serving a big meal, which we will do afterwards. It's also a great space for registration and gathering. It's very convenient and centrally located," he said.
Registration begins at 4 pm. The opening ceremony will begin at 5 pm with MP Dave Van Kesteren saying a few words to the walkers. The actual walk starts at 5:15 pm.
A hot chilli supper will be served after the walk shortly after 6 p.m.
For further details on how people can register or for a look at the route, visit the Chatham-Kent location page on the CNOY national web site at: https://cnoy.org/location/chatham-kent.
Comments
comments