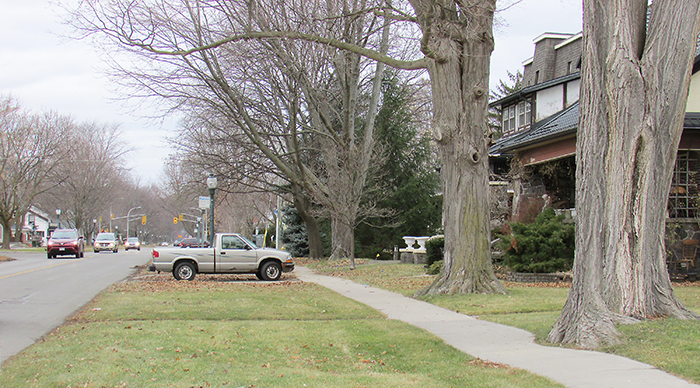 Several residents on the south portion of Victoria Avenue are worried they will lose key parking spots in front of their homes should a bike path be installed on their road.
Linda Shaw, who lives on Victoria just north of Thames Street, said her only parking spots for her home are on municipal property between the sidewalk and the street.
"I've been parked there for 15 years. It's been there probably 25 years or more before me," she said. "I was told when I bought the house, it was grandfathered in."
The concern arose when surveyors marked underground infrastructure with coloured flags. That section of Victoria is also slated to have sewer replacement work done.
But don't expect to see a bike path running along Victoria between McNaughton Avenue and Thames Street anytime soon, municipal officials said. For starters, $292,000 in provincial funding that had been pledged to help fund the work has since been pulled back by the Doug Ford government.
What will take place this year is an engineering assessment of the concept of putting in bike paths, Jeff Bray, Chatham-Kent's manager of parks and open spaces, said.
"Engineering has retained a consultant to do a detailed design study of the project area. That is just starting up. It's probably a year-long project," he said.
Bray said it's very early in the process.
"It's not a construction project; it's a design project," he said. "At the end of the project, there will be design drawings that engineering can pursue for construction."
Part of that project is looking at the possibility of installing bike paths.
Chatham Coun. Michael Bondy doesn't believe the bike paths will be installed, and he pointed to the mature trees on Victoria Avenue as the reason why.
"We do have this policy that we don't cut down healthy trees. How this (installing the bike paths) is done without cutting trees is beyond me," he said. "Those trees are safe."
Bray said the trees shouldn't be cut down.
"We want to preserve the trees, a prime concern from my perspective. But we want to have a beautiful way to tie into the lanes above McNaughton," he said.
Bray said the concept is to have a safe route for cyclists all the way along Victoria Avenue. Just how to make that happen is open for discussion.
"We're planning at least two public information sessions. They are a chance for people to hear what is in the works and voice their concerns," he said. "We just want to get people's comments."
Bondy, who lives on Victoria Avenue, encourages people like Shaw to take part in the public input process and to understand that the planning stage itself is in its infancy.
"There's nothing for anyone to be worried about in the short term. Frankly, it needs 10 council votes," he said. "I'm not worried about it. By the time this comes up, we'll be close to the next election."
Still, residents are worried as though the work is beginning in the near future.
"They put down all the little flags for the engineers. I've explained to them (concerned residents) that it's an engineering study," Bondy said.
He added area residents are happy with the current streetscape along Victoria Avenue.
Bondy also questioned the usage of the bike lanes on Victoria between McNaughton Avenue and Gregory Drive.
"I hope we have data on how many bikes use it," he said, adding that in his mind, it is underutilized.
Shaw still worries about what will happen at her address.
"I pay huge taxes and my lot is a postage stamp. I don't want them to bring my sidewalk up to my pillars," she said, concerned any work will shift the sidewalk right up to her front porch.
Comments
comments