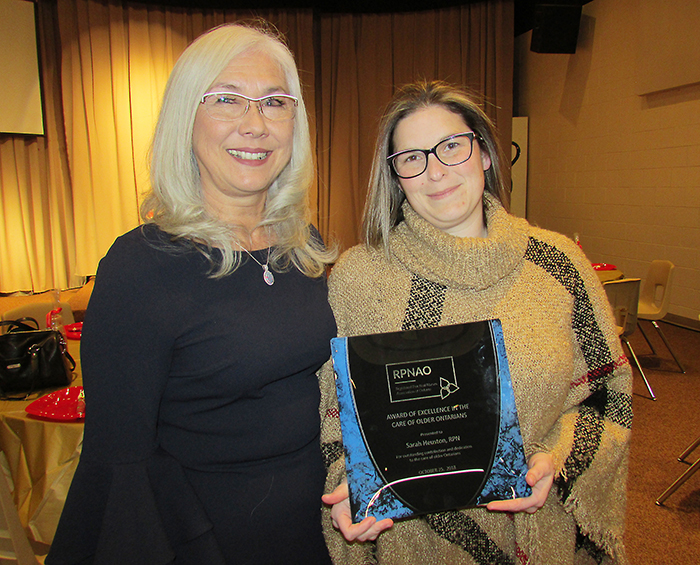 Meadow Park staff and residents are feeling proud these days of one of their own, RPN Sarah Heuston, who was the recipient of the 2018 Excellence in Care of Older Ontarians award.
The awards ceremony was held in October this year in London, but Annette Weeres, the Director of Professional Practice for the Registered Practical Nurses Association of Ontario (RPNAO), was in Chatham recently to present Heuston with the award amongst her peers.
Nominated by Jessica Francis, Co-Director of Care at Meadow Park, Heuston was acknowledged for the care and compassion she displays in her work with the residents.
"This award is very prestigious and is awarded to only one RPN in the province. It is a tremendous honour for Sarah, Meadow Park, and the community of Chatham-Kent to have one of our amazing nurses be recognized by receiving this award," Francis said in an e-mail.
Weeres, who came from Mississauga to present Heuston with the award, said it is one her family created five years ago in dedication to her husband's grandmother, Martha Thumlert, an exceptional woman who died unnecessarily from a hospital acquired infection.
"This award celebrates the dedication of an RPN who provides exceptional care to our beloved older adults in a manner that is respectful, compassionate, professional and exemplifies nursing excellence. In particular, this award acknowledges a nurse who is focused on the improvement of safety and well-being of older Ontarians by demonstrating knowledge, innovation and leadership," Weeres said in her description of the award.
Weeres said it was a way for the family to create a positive from a negative experience and encourages excellence in compassionate nursing care of the elderly.
Heuston's nomination said she is an RPN who "strives for an environment where residents feel safe, comfortable and cared for," and who is continually upgrading her skills and education.
A wife and mother of two, Heuston has been an RPN for six years and an employee at Meadow Park for 11 years. She attended St. Clair College and started her career as a personal support worker.
"I just love working in a nursing home, knowing that I can make a difference," Heuston said. "The elderly make the job. It's their home and I want to make it as comfortable for them as possible."
The RPN said she was honoured to be nominated by Francis and that when she heard she won, "it was an unbelievable feeling."
Heuston praised a very supportive management team at Meadow Park and her incredible co-workers.
"Empathy is huge when taking care of the elderly," Heuston noted, and said she is always trying to put herself in their shoes and provide them with the best care she can.
Heuston said in the future, she hopes to return to school to pursue her RN or further her education as an RPN.