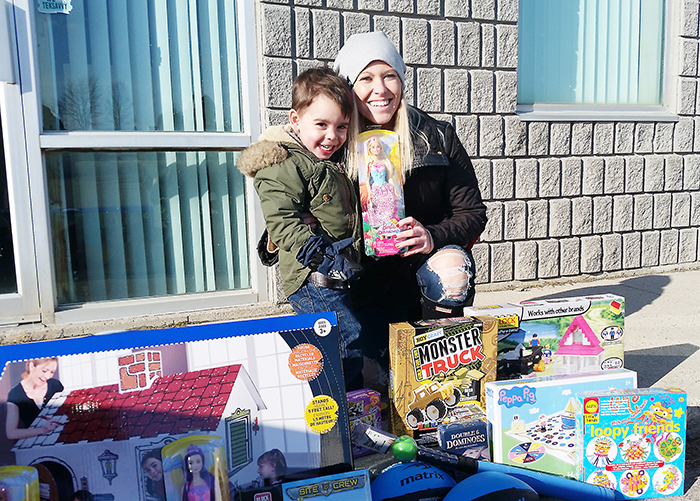 You can take the Hime out of Haiti, but you can't take the Haiti out of this young Chatham woman.
Emily Hime said she's about to have the perfect Christmas – celebrating the holidays with her two families, her blood relatives here in Chatham and then with her Haitian extended "family" at Maison Ke Kontan, her orphanage in Haiti.
She'll head to the Caribbean country on Boxing Day to deliver needed supplies and special presents to the orphans at Maison Ke Kontan (Happy Heart House) in Port au Prince.
In 2012, at the age of 20, Hime took over the orphanage after initially volunteering to help get the children's home up and running.
"I truly believed that all children have a right to the basic necessities of life. I have met so many children in Haiti, Ghana, the Philippines, who have gone through severe trauma or who were just born into extreme poverty but who are sooooo intelligent and such strong and wonderful human beings, and it absolutely breaks my heart that because of the country they were born into, they will not have the same opportunities and resources that we do to succeed."
When Hime took over the orphanage, she worked closely with the children and staff, and lived on site.
"We spent months living in unimaginable circumstances. No toilets, no running water, no furniture, no electricity, you name it," she said. "During this time, I look back and realize how grateful I am for getting the opportunity to go through that with my kids in Haiti. It allowed us to bond and get to know each other on a whole different level. They became my family, as did our staff. We did everything together and had to work together just to survive. That's a once-in-a-lifetime opportunity."
Hime returned to Canada in late 2015. Since that time, it has been a challenge.
"It's been a big adjustment being back in Canada, I think I am still adjusting. It was a life-altering move for me as I had found my calling and fell so in love with the kids and people of Haiti," Hime said. "I really struggled coming back and being away from the kids. But thankfully I've been able to continue our work in Haiti with a great board of directors who continue to help me out and who have taken on a lot of the responsibility that I was carrying on my shoulders. We also have a great team of Haitian staff on the grounds caring for the kids."
She's also facing challenges in her personal life. Hime is mother to Beau, a two-and-a-half-year-old bundle of smiles and energy. She's a single mom who has been juggling multiple jobs, as a doula and teaching at St. Clair College. She's also a volunteer firefighter.
Through it all, Hime remains committed to her Haitian kids.
"They are my family now. I have seen who they truly are and I have fallen in love with each and every one of our children and their own unique personalities. They have gone through some horrific things during their short lives, and yet continue to smile, dance, laugh, and love stronger than anyone I know. They inspire me every day and have profoundly impacted my life. They made me who I am today. The least I can do is continue to provide them with opportunities for hopeful and successful futures," she said.
Hime is so appreciative of the assistance the people of Chatham-Kent provide.
"These past six years would not have been possible without the support of Chatham-Kent. I can't even count how many times I would cry myself to sleep wondering how I would feed the kids next week or how we would pay the rent for the house to keep them sheltered, yet every single time I thought we were done and that I would have to give up, someone came through. Someone was always there with encouragement and hope to keep me going," she said. "I can't thank our community enough for giving me the opportunity to watch these children grow. It has been one of the biggest and most rewarding blessings in my life."
The support in Chatham-Kent begins at a very personal level, Hime said. Her parents have been very supportive, helping raise funds, watch after Beau when needed, such as when she heads south later this month, and they have also visited Haiti firsthand to see what drives Hime.
She is collecting toys and items to take to Haiti right up until Dec. 23. For anyone interested in donating, visit himeforhelp.org. You can also donate via eTransfer through himeforhelp@gmail.com.
In fact, Hime hopes for monetary aid that would allow her to purchase as many supplies and gifts as possible in Haiti, to help spark that country's economy any way she can.
"We are looking for donated items, but we would like financial assistance as well to purchase some items to support the Haitian economy," she said.
While her name is front and centre in her organization's name, HimeForHelp, she said it is far from a one-woman operation. She credits the charity's board members with doing some incredible heavy lifting in terms of generating funds and donations, and thanks numerous volunteers who have headed to Haiti to help out directly at the home, or in the nearby community.
Beau, Hime said, doesn't truly understand his mother's dedication to the children in Haiti, but he's supportive.
"He's said a few times, 'I want to go to Haiti too.' We actually had a talk the other night about how I used to live there and take care of the kids, and he asked why, and I told him because they didn't have anyone else to take care of them then," she said. "Our kids call Beau their 'little brother' and I really want him to have a relationship with them as well."
But for now, Beau will remain at home with his grandparents, while Hime heads to her second Christmas, a trip made possible thanks to the people at Bartlett Restoration in Charing Cross.
"They sponsored our last fundraiser, and when we were talking at the event, they asked when I was planning to go back next. I explained how I was hoping to go over Christmas as that is my only time off from work at the moment, but that I'm not able to go as ticket prices had sky rocketed. That's when Brian and Lorna said they would like to help me go over Christmas," Hime explained. "I went home and cried. I was so over the moon excited that I couldn't even put it into words.
"And then to be able to bring a Christmas to them? I was even more ecstatic! These kids deserve a good Christmas and now I am lucky enough to spend the holidays with both of my families."