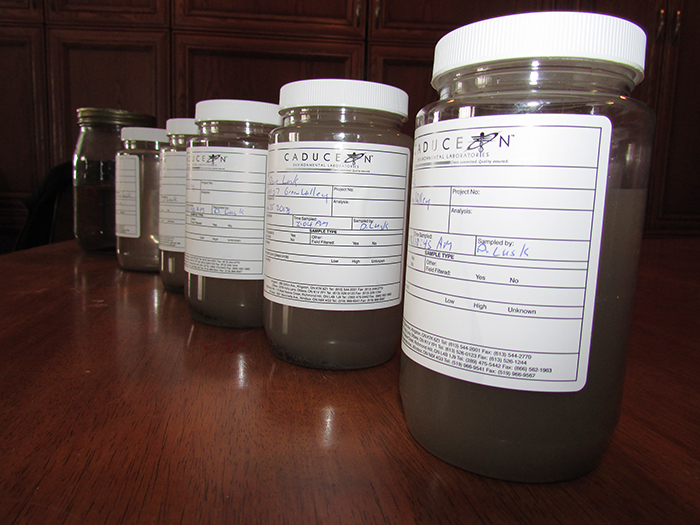 Taking matters into their own hands, members of Water Wells First delivered well water sediment samples from two Chatham township residents to the Toronto office of the Ontario Chief Medical Officer of Health last week.
According to WWF spokesperson Kevin Jacubek, his group made the trip to Toronto to ensure that Dr. David Williams has all the evidence to be considered during his review of the data collected by the Ministry of the Environment after complaints were made to them by people whose wells were being clogged with sediment, now known to be Kettle Point Black Shale. Blacks shale is known to contain toxic heavy metals such as arsenic, mercury and lead.
The sediment samples from wells contaminated with black shale and other particulate were never collected at the time of the complaints made by several residents in Dover and Chatham townships by the Ministry of the Environment or the company contracted by the wind farm company North Kent Wind, to investigate complaints in 2017 and 2018.
Local medical officer of health, Dr. David Colby, at a public meeting in the summer, said while the sediment is aesthetically unpleasing, it is safe to drink. Jakubec said at no time did Colby collect or test sediment samples himself, and at the summer meeting, characterized the sediment as sand particles.
Despite the Ford government promise to initiate a full health hazard investigation, and the request for Williams to review all the data collected during the MOE investigation, Jakubec said the WWF is frustrated with the government's refusal to acknowledge the black shale in the sediment is the health concern of local residents.
He said staff working for Williams accepted the sediment samples and promised to make sure Williams was personally handed the sediments.
"The sediment samples were delivered to the province's Chief Medical Officer to head off a possible white washing of the review the Ontario PC party recently tasked Dr. Williams to undertake of the MOECC's previously collected data on the contamination of water wells during North Kent Wind farm's construction," Jakubec noted in a release. "Water Wells First has pointed out the MOECC data is critically flawed and cannot be used solely or relied upon by Chatham- Kent's Medical Officer Dr. Colby to state whether any health risks are present or not."
He added it was fully documented during North Kent Wind Farm's construction that both the MOECC staff and the staff working for AECOM – an engineering firm working on behalf of Samsung and Pattern Energy who are the majority shareholders of North Kent Wind – repeatedly refused to collect sediments from wells reporting interference despite their staff being photographed holding samples of the sediment pollutant in their hands.
"Neither the Chatham-Kent Public Health Unit headed by Dr. Colby or the MOECC followed sediment quality guidelines when sampling was conducted by the MOECC," Jakubec said.
"In a review article discussing Sediment Quality Criteria in use around the world in a scientific journal published in 2002, I quote; ' ..Failing to identify sediment that is contaminated poses both an ecological and human health risk. The process of identifying sediments as contaminated becomes extremely critical and subject to intense scrutiny.'"
Concern is rising in both Dover and Chatham township, Jakubec added, over how the Ford government is going about keeping its election promises of conducting a proper Health Hazard investigation into the polluting sediments and holding the responsible parties accountable.
"The slow response thus far shown by the Ontario PC Party to investigate a deterioration of an Ontario drinking water supply has angered many Dover and Chatham township families and should be of a concern to every Ontarian," he said. "Samples of sediments delivered from water wells from Jessica Brooks of Brooks Line and Dave Lusk of Green Valley Line, both located in Chatham Township, to the Ontario Chief Medical Officer should send a strong message to Premier Ford and area MPPs Monte McNaughton and Rick Nicholls not to play politics in matters of health and environmental protection."
Jakubec called for sediment samples to be immediately collected by the Ontario government, and said the urgency of a proper Health Hazard Investigation conducted by a toxicologist cannot be understated for Chatham-Kent.
"Water Wells First encourages all families in Chatham-Kent with well water contaminated with sediments not to drink the water until a toxicologist has collected sediment samples, completed the Health Hazard Investigation and given proper recommendations," he added.
McNaughton, Infrastructure Minister and Lambton-Kent Middlesex MPP, stated in the Legislature that his government is fulfilling its promise to conduct a health hazard investigation with the direction to Williams.