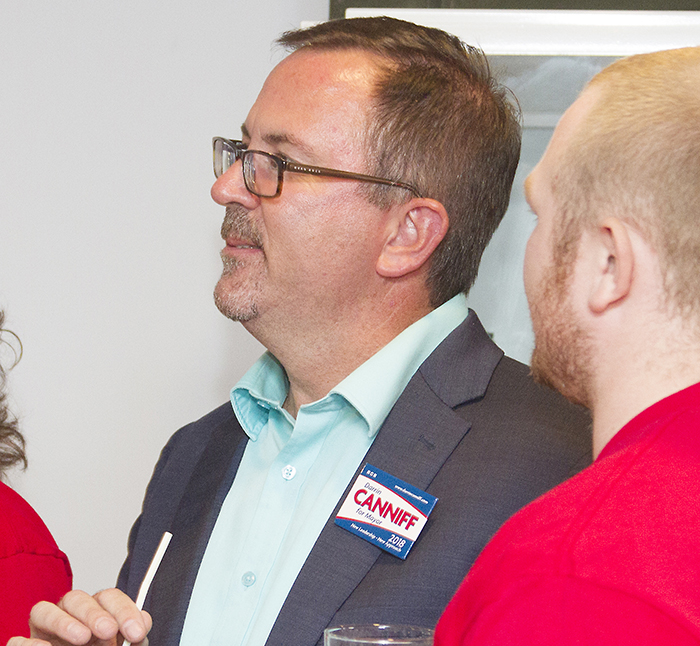 Mayor-Elect Darrin Canniff is almost ready.
As of Friday, he'll have finished his current job at Transform and will be ready to hit the ground running when he officially takes over as mayor on Dec. 3.
He has a great deal of plans for the future of Chatham-Kent, but has to pump the brakes on his enthusiasm until he and the rest of the new council – elected Oct. 22 – are sworn in.
In between is one possibly very awkward council meeting on Nov. 19. The current council, which will see a new mayor and nine new councillors, is to hold one final meeting. Canniff said he doesn't know what will be on the agenda at this point.
"November 19 will be very bizarre. I'm not sure who will be in attendance or who will not," he said. "I'll be there."
After being sworn in, Canniff anticipates a flurry of activity as he works to make good on election promises.
"One big thing over the next two months is we will be having literally hundreds of meetings with service organizations, sports groups and businesses to talk about all the red tape," he said. "We need to eliminate that. We need to make it easier for businesses to do business in the municipality; easier for individuals to step up and volunteer their time. There will be changes."
Canniff said he won't be doing it on his own, however, as he plans on inviting councillors to attend as well. If there's a meeting in South Kent, for example, he'd invite the South Kent representatives Trevor Thompson, Anthony Ceccacci and Mary Clare Latimer.
The mayor-elect said he is starting small and will expand from there.
"As you start moving out, we'll address affordable housing, infrastructure – things you won't be able to fix in two months," he said.
In terms of affordable housing, Canniff said he hopes to meet with stakeholders to examine what needs to be done to get builders putting up houses at a faster pace.
"There's a shortage of housing in Chatham-Kent. How can we best tackle this? I want to get everyone in the room and talk about how to make it happen," he said.
Canniff added he heard a number of ideas on the campaign trail and now wants to work to see them come to fruition.
His infrastructure concerns include roads and bridges, as well as municipal arenas.
He's a proponent of developing a new twin pad arena, with the help of funding from senior levels of government. But he is quick to add any addition would come with a subtraction.
"We need to have federal and provincial money to do that – replace Memorial and Erickson arenas. If the feds and the province cover 70 per cent of the cost, we could have a new facility compared to the same price we'd pay to renovate the two existing arenas," he said.
Unless the new council disagrees, Canniff said his plan would be to replace the two arenas, and not cut ice outside of Chatham.
His infrastructure concerns also include bridges and roads. He said what occurred in downtown Chatham, where essentially we were without one bridge from the summer of 2017 until late last week didn't send a good message.
"With the delay on the Fifth Street Bridge (eight months), and then the problem on the Third Street Bridge (closed from early August until late October), it can't happen again," he said.
He understands the delay on the Fifth Street Bridge was due to the contractor, and that the Third Street Bridge was closed for safety purposes, but Canniff said better information sharing in a more efficient manner can help the public understand what is transpiring.
"We will be doing a lot more communicating. We need to have an immediate release of information and explain why the bridge is closed," he said.
But Canniff defended the closing of the Third Street Bridge. It was shut following a detailed safety inspection that found corrosion in the steel support structure.
"You have to choose safety every time. There is no way I'd ever want to be explaining why a bridge collapsed," he said. "We will work with the media to help spread the word. I want to err on the side of too much communication, not too little."
The Third Street Bridge is slated for improvements in 2020.
One area where Canniff will work differently than his predecessor Randy Hope will involve trips abroad. Or in Canniff's case, a lack thereof.
"I have no plans on doing that," he said of overseas travel. "We need to work with Ontario and the feds. We need to be on top of their list when an opportunity comes across.
Hope has made numerous trips abroad, especially to China and India. Canniff said those excursions were akin to "trying to find a needle in a haystack."
"You're just taking a shot in the dark," he said. "Unless there's a very hard case, I don't foresee any overseas travel."
Instead, Canniff said the focus needs to be on Chatham-Kent first, followed by Ontario, Canada and North America for business prospects.
"We have enough business here that we need to focus on and enough business in North America that we need to focus on. When there are opportunities outside North America, there are enough people at the federal and provincial levels to work on that," he said. "We need to be more efficient."
Canniff said everything ties together, from infrastructure, to housing, to economic development and cutting red tape. With improvements and increases in efficiency, he sees the municipality growing.
"How I deem success at the end of this term is to see our population size move upward. That to me will deem success because it means people want to be here," he said. "If people are leaving, there's something wrong; if people are coming, there's something right. It's a very simple formula. With population growth, a lot of things can happen. More people paying taxes, more jobs – all those things come together with population."