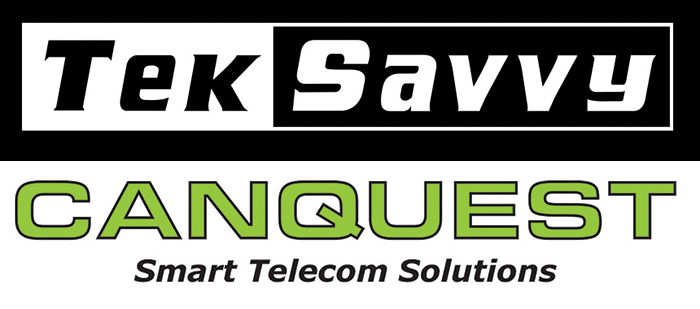 Two local companies, TekSavvy and Canquest, had deputations at last week's federal hearings on sales practices by Canada's telecommunications firms.
The CRTC (Canadian Radio-television and Telecommunications Commission) hearings lasted five days as groups, individuals and companies addressed the allegations companies such as Rogers and Bell have been using aggressive or misleading sales practices to sell their phone and/or Internet packages.
The CBC conducted an in-depth investigation into the sales practices, sparking the hearing.
According to CBC.com, more than 200 past and current telecom employees — mostly at Bell and Rogers — came forward to CBC's Go Public unit to describe intense pressure to mislead and lie to customers in order to hit unrealistic sales targets.
As well, according to a CRTC-commissioned public opinion survey, 40 per cent of respondents reported experiencing sales practices they considered to be aggressive or misleading, most within the past year.
As well, 77 per cent want governments at all levels to act to protect consumers from these sales practices and 83 per cent support a mandatory code of conduct for the telecom industry.
Janet Lo, vice-president of privacy and consumer legal affairs for TekSavvy, and John Smith, co-founder of Canquest, attended the hearings.
Both said the government ordered the hearings because of reports of questionable sales practices by Canadian telecom companies, "often naming Rogers and Bell," Lo said. The CRTC will decide if it needs to take action to help solve the issue.
"The CRTC asked us about our sales practices," she said. "We believe strongly in treating customers fairly and honestly. We advertise our best available pricing and believe in being as transparent as possible. We don't use any sales incentives or targets or rewards to pressure our sales people."
Smith, whose company sells Internet and VoIP (Voice over Internet Protocol) phone plans, said he attended the hearings to help stick up for the little guy.
"I did it for small business and for the people," he said. "We have a lot of business in Chatham-Kent. We go to quote them and we find out they have a contract with Bell and they auto renew them. My issue is the way they send the renewal notice. It's on the last page of their bill."
Smith contests people don't notice the renewals and are locked into a deal they may have not wanted, and for a period of years.
"These businesses are locked into these contracts. It's like the rat and the wheel," he said. "It's across Canada, a national issue."
Smith said he travelled to Ottawa to speak, despite the fact he only had a five-minute window to get his opinions across.
"I went down to speak up for small business and speak up for individuals. I only had five minutes, but it turned out I spoke with them for 30 minutes," he said. "When I left there, it felt good. Somebody had to say something. It's not only the dollars; it's the stress it's causing."
Lo said she was also there to highlight specific examples of sales practices of other companies who target TekSavvy customers. The local firm sells Internet and VoIP phone services that usually utilize a third party's infrastructure. It is those third parties where Lo said problems can arise.
"When a customer signs up for Internet service and has an underlying service provider, we sometimes hear during the tech call from the other company that the technician uses it as a time to try to sell their own company's service. We think that's totally inappropriate," she said. "We asked the CRTC to take some measures to make sure that's stopped."
The telecom giants spoke to the hearings on Friday. Both Rogers and Bell defended their sales practices and said any questionable practices are not widespread and will not be tolerated.
Shaw Communications alleged the problems mainly lie with the smaller third-party resellers who use questionable door-to-door sales practices.
TekSavvy is in the process of laying extensive fibre optic cabling in the urban areas of Chatham-Kent. So too is Bell.
Lo and Smith said while the CRTC decided in 2015 that service providers such as TekSavvy and Canquest are to have access to the faster fibre optic lines, nothing has been finalized.
"Consumers still don't have competitive options for fibre in Canada," Lo said.
That is not the case in Chatham-Kent, thanks to TekSavvy's initiative.
"Chatham is our home base. We believe that Chatham-Kent ought to have a world-class fibre optic network," Lo said.
The CRTC has to report its findings to government by the end of February.
Comments
comments