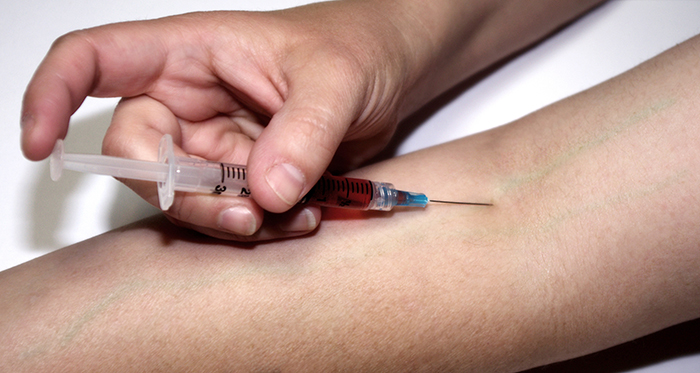 An online rant about police reaction to someone shooting up in broad daylight in downtown Chatham has led to an internal investigation by the Chatham-Kent Police Service.
Jason Church, who on Facebook is listed as the owner of JTC Construction, posted the rant earlier this month on Facebook. He said he was shocked – by the fact someone was injecting themselves in full public view, as well as the response by a police officer who drove by the occurrence.
"We came across this lady right downtown on the benches in Chatham. You could clearly tell this girl is shooting up – in broad daylight. She's behind the bushes, but you could still see her shooting heroine or meth or whatever she had," he said in his online post.
Church said the brash behaviour by the drug user left him incredulous.
"I have a little girl that I don't want to have grow up and have to see this kind of crap and think this is normal," he said in his video. "Not only that, but the business and people we're trying to bring downtown and build our community up and here we have this in broad daylight. And it happens all the time."
But he added it was observed by a police officer.
"Two seconds later, a cop drives by. We thought, 'This is going to be good.' The cop does nothing."
Church said he and the people in his vehicle at the time followed the officer to ask her why she didn't stop.
They chatted briefly as she attended another call, but he wound up calling 911. Dispatch told him there were no officers available at the moment, he said.
"Get a cop down here and help protect the society. Show people this is wrong. Make a difference today," he said online.
His video got the attention of the Chatham-Kent Police Service, specifically its chief, Gary Conn.
He said Church's concerns led the service to investigate the matter.
"We initiated an investigation. Although he didn't file a formal complaint, I, as the chief, can initiate an investigation," Conn said.
While the investigation is still underway, he said he could address several of the concerns, including why the officer didn't stop to immediately address the woman who was using the drugs.
"We found out that the female officer was en route to a priority call – the theft of a motor vehicle in progress," he said. "She continued on and Mr. Church followed her to the call. As she exited the vehicle, he approached her, and she told him to call 911."
Conn said he has heard that 911 conversation.
"I did listen to the call. We did not have a car available immediately when he contacted us," the chief said. "However, within two minutes, we had two police officers en route to deal with the call. Another two officers arrived shortly thereafter."
Conn said the officers tracked down two of three people involved, but not the woman in question.
"We did locate two males. The parties involved were searched with negative results," he said. "There were no charges as a result of it."
Conn admitted periodically they receive calls of people using illicit drugs in plain sight, but he added these incidents are "isolated."
As to how to handle such situations, Conn said citizens should call police immediately.
"Also, take a description of the individual. Don't approach them. That's the police's job," he said. "This could be an emotionally disturbed individual. It is unsafe for a citizen to try to take the law into their own hands."
Church, in his video, said he and the occupants of his vehicle went back to where the woman had shot up and confronted her.
"Me and the guys went over there and we went up to this girl and said, 'Are you guys ashamed of what you are doing right now?' The girl became combative … This girl had a needle in her arm," he said in the video.
Helping police track down offenders is part of the community policing and community mobilization initiatives encouraged by the police service, Conn said, but with serious caveats.
"Get engaged; get involved. Act as our eyes and ears, not our hands and feet," he said. "Provide us information in a timely fashion."
In a situation such as what Church encountered, Conn said calling 911 is the right thing to do.
He added the service is still trying to get a meeting set up with Church, but both sides were "playing phone tag."
"We're definitely going to sit down and discuss what actually occurred with Mr. Church and explain why the female officer couldn't deal with this matter at that time," Conn said.
Church's video has been seen close to 50,000 times. Hundreds of people have commented on it, with the vast majority in support of him.
People from Sarnia, London and Niagara Falls said the problem is in their areas as well.
To view Church's video, click here.
Comments
comments