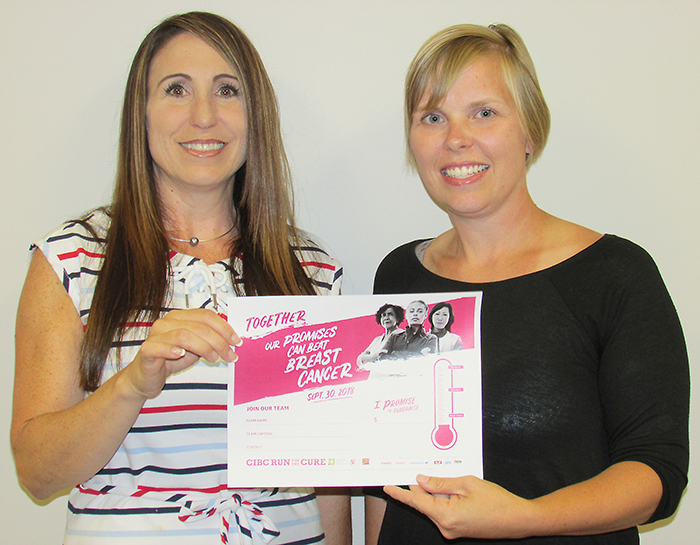 Although the CIBC Run for the Cure breast cancer fundraiser has been around for 27 years, this year marks the first year Chatham-Kent will host the family-friendly event.
Set for Sept. 30 and starting from the Union Gas IT Centre on Bloomfield Road in Chatham, the 5K (or 1K) walk or run will be a chance to raise money for breast cancer research and celebrate local women who have fought and survived the life-changing illness.
Run co-directors Rachel MacLeod and Joan Byng, and their committees, have been hard at work organizing the run and said they want it to be a family-friendly celebration that acknowledges survivors and their journey, and the family and friends who support them.
"This is the first year in Chatham-Kent and the very first of its kind in a rural area. Usually the run is in larger urban centres," MacLeod noted. "There is a walk or run option. It will be very family-friendly and really celebrates breast cancer survivors."
She said the survivors will be set up in a tent with special treats and will kick off the run with a survivors' parade to introduce them. From the start to finish, the day will be full of activities, entertainment and celebration, including face and nail painting, music and refreshments.
Last year in Ontario, the run had 85,000 total participants and raised $17 million for breast cancer research.
McLeod said the goal the committee has for their first run here in Chatham-Kent is to introduce the new event to the community and have 250 participants.
Also on the run committee as the Day Of Experience chair is 10-year breast cancer survivor and Chatham resident Rebecca Johnston, who has been participating in the run in London for the past 10 years.
"I'm very happy I can celebrate my 10-year milestone here this year with my team Becca's Bunch," Johnston said. "I was diagnosed at age 25 with Stage 3 breast cancer. I did the chemotherapy and radiation treatment and I'm doing really well now."
At the 10-year mark since her diagnosis, Johnston can now go off the final part of her treatment and truly celebrate. She said getting a cancer diagnosis so young really brought home to her that it can happen to any one at any time.
Right from day one of her diagnosis, Johnston said a whole team forms to become your support system, from her daughter and husband who run with her each year, to her workplace, medical staff, friends and the local Canadian Cancer Society staff in Chatham.
In Canada, one in eight women are expected to be diagnosed with breast cancer in their life time.
The Chatham-Kent CIBC Run for the Cure will have open registration at 8 a.m. and people can join in as individuals or as teams. Participants can self-pledge $45 to take part, or can commit to raising a minimum of $150 through sponsors.
The run start time is 9:45 a.m., and the route leaves Union Gas to follow Riverview Line 2.5 kilometres and loops back to Bloomfield Road. Closing ceremonies will be begin at 11 a.m.
MacLeod said there are still opportunities for sponsors with different levels of giving either cash or in kind, and volunteers are needed for many different roles the day of the event, from registration help to water station aides.
For more information on the run, to register or to volunteer, go to cibcrunforthecure.ca and follow the links.
Comments
comments