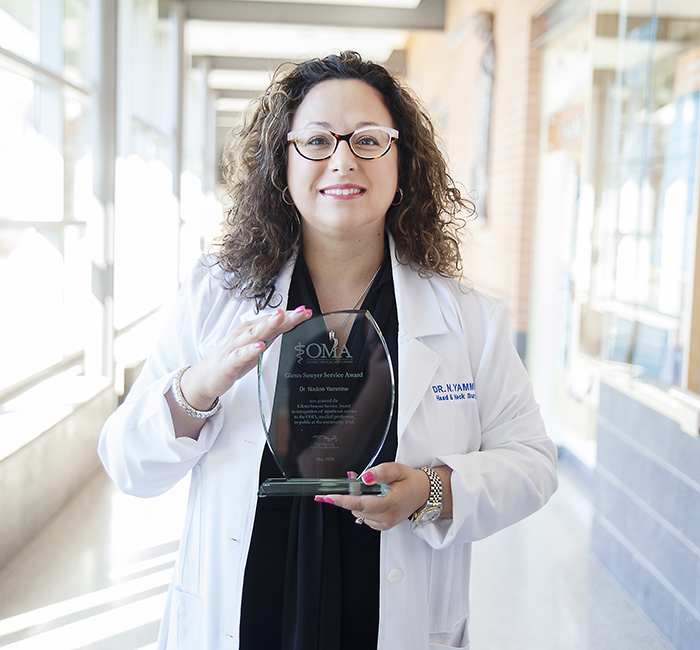 The Ontario Medical Association recently recognized local surgeon Dr. Nadine Yammine for her contributions to the OMA and the medical profession.
Yammine, a head and neck surgeon, received the Glenn Sawyer Service Award at the Association's Annual General Meeting recently. Granted in recognition of significant service to the OMA, medical profession or public at the community level, she is extensively involved in both the OMA and the Canadian Medical Association (CMA). In her roles with OMA and CMA, Yammine has brought physician insights to issues on local, regional, provincial and national levels through specific motions, media interviews, letters to editors and meetings with MPPs and MPs.
She is a past Chief of Otolaryngology and past Medical Director for Ambulatory Care at the Chatham-Kent Health Alliance.
"I am humbled to be awarded the Glenn Sawyer Service Award. Taking care of patients and bringing their issues all the way to our national and provincial regulatory bodies is a great privilege. Being nominated and awarded the Glenn Sawyer Service Award by my physician colleagues in recognition of my contribution is a tremendous honour!" Yammine said in a release.
Since 2013, she has been the District 1 Chair for OMA. During her term as Chair, she developed and delivered six physician health and wellness programs for District 1 physicians.
She is also currently the national CMA representative for the Canadian Society of Otolaryngology Head and Neck Surgery.
Locally, she is past-president and past-treasurer for Kent County Medical Society (KCMS). During her term with KCMS, she grew membership, balanced the budget and expanded community activities.
Yammine is also a passionate advocate for improving the health of rural Canadians. She has been instrumental in developing programs and delivering motions that specifically address obstacles to patients living in rural areas like Chatham-Kent.
"Dr. Yammine is an advocate for the medical profession both provincially and locally. Her commitment to addressing the challenges facing healthcare in rural communities shows her dedication to CKHA and the community we serve," said Lori Marshall, President & CEO, CKHA.
Comments
comments