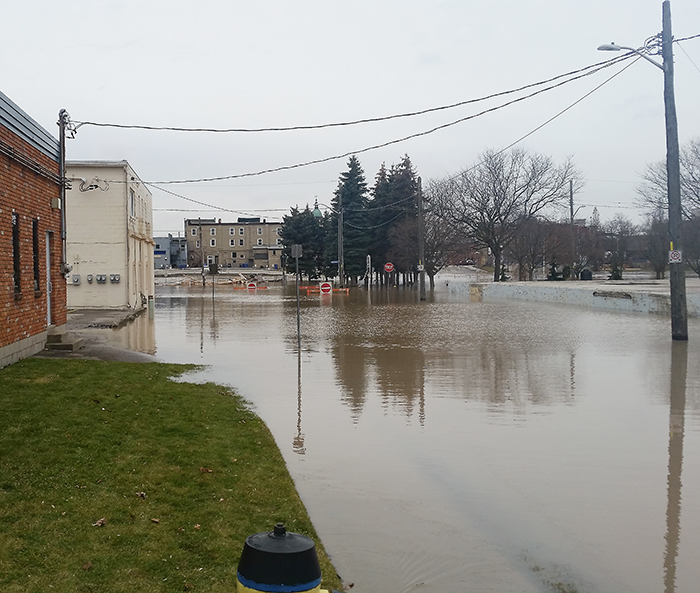 Although floodwaters continue to rise in the Thames River, the rate of the increase has slowed slightly.
The Thames River peaked at 7 a.m. this morning in Thamesville with street flooding lower than anticipated. 
Current projections call for the river to peak in Chatham between 7 and 9 p.m. tonight. Officials of the Lower Thames Valley Conservation Authority said the water is already at the level of the 1977 flood and could raise another foot, putting low-lying homes, basements and streets at risk. 
Many streets near the river have been closed and water is reported in basements. 
With a flow rate in the 800-cubic-metre-per-second range, the waterway remains extremely dangerous.
"There have been many individuals drawn to the river bank but we're urging extreme caution," said Mayor Randy Hope in a release. "A current of this magnitude can sweep you away in a second."
Fire and Emergency Services Chief Bob Crawford said the situation remains critical in Chatham.
"We remain concerned about the water level and pressure on riverbanks and dykes," he said. "Although there isn't a problem with ice, there is the possibility of the channel being partially blocked by debris which could escalate the danger."
The water level in Thamesville is expected to remain high for several days although Union Gas will begin turning on service on for some of the 400 customers which had supplies turned off yesterday due to the danger.
Entegrus has turned off service to a small number of homes in Chatham. Officials from the utility are urging anyone who has questions about their home electrical safety to contact them at http://www.entegrus.com/
For information on personal preparedness visit https://www.facebook.com/ckfiredept/
The John D. Bradley Centre will remain open through today as an emergency shelter. For more information call 1-519-360-1998.