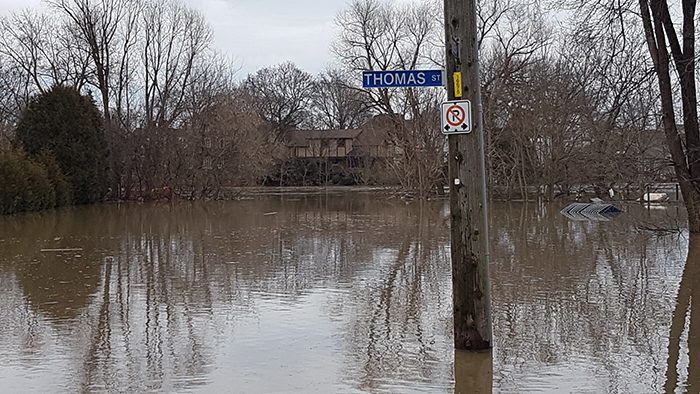 The Thames River in Chatham reached its peak at 5.25 metres (17 feet) above normal Saturday night at 9 p.m. and floodwaters remain at or above the banks in many areas.
Flooding was reported in some downtown businesses and approximately 13 individuals, including three children, were rescued from their homes.
The high water has placed significant pressure on drainage systems and dikes and Pump Road between Louden Road and Tecumseh Line has been closed for dike repair.
The municipality has closed the John D. Bradley Centre as an evacuation location.
Since water levels remain high and the flow is still extremely fast, officials are warning residents to continue to avoid waterways and use extreme caution.
The water level in Thamesville has decreased by more than one metre since its peak yesterday. In Chatham, the level had dropped about 10 cm as of 11 this morning.
According to the Lower Thames Valley Conservation Authority, "high winds out of the west are causing fluctuating water levels around the mouth of the Thames River at Lighthouse Cove and through the lower reaches of the river downstream of Chatham. At this time there appears to be enough room in the river through the dyked portion and in the community of Lighthouse Cove that we don't expect to see any significant flooding there.
"High water levels can be expected on the Lower Thames into the middle of next week for areas through Chatham-Kent and Lakeshore."