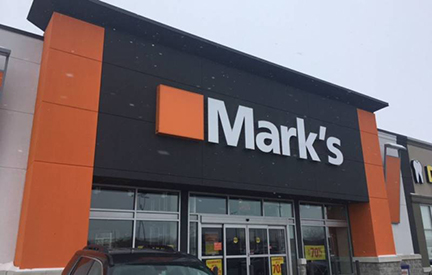 The Mark's clothing store in Wallaceburg is closing its doors for good later this month.
Company officials with Mark's said it was strictly a business decision to close the Wallaceburg location.
Karlie Beiko, a communication advisor for Mark's, says the company decided not to renew the lease.
"We are focusing on our stores in Chatham and Sarnia to serve our customers," Beiko said. "Occasionally we re-evaluate the district. It's not like we didn't like the area. It was a business decision not to renew the lease."
Staff at the 68 McNaughton Ave. business confirmed that Jan. 20 would be the final day the store will be open.
Beiko says it was not a performance issue at the Wallaceburg store that led to the closure.
"It was doing fine," she said.
"We decided at this time not to renew. When leases come up, it gives us an opportunity to re-look at everything, make changes and take it forward… we're not ditching the area."
Beiko said the decision to close the Wallaceburg store was made before the new minimum wage legislation came into effect, and did not have an impact on the decision.
An employee, who asked to remain anonymous, said the staff found out in November that the lease was up and it would not be renewed.
Mark's, formerly known as Mark's Work Wearhouse, has been located in Wallaceburg for 10 years.
They currently employ nine people.
Wallaceburg Coun. Carmen McGregor says she was "truly sorry" to hear about the closure.
"I shop there often," she said. "It is never good to hear about businesses closing and leaving our town. It's difficult and leaves fewer options for locals who then will need to travel to larger centres."
Karen Debergh, president of the Wallaceburg and District Chamber of Commerce, said whenever a business closes, it impacts everyone in the community.
"I know many people shopped there, especially the men, and when we have limited places to shop for our needs it just sends people out of town," she said.
"We all need to shop as local as we can."
Mark's has stores in Sarnia and Chatham.
Comments
comments