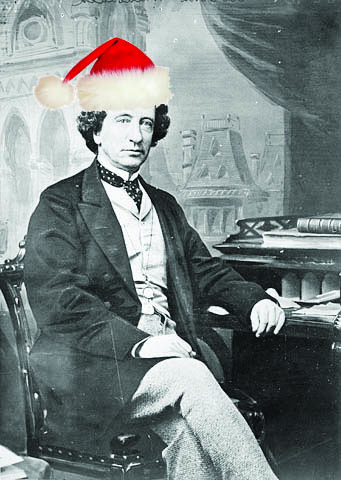 An annual historic Christmas show will return to the Chatham Cultural Centre for its ninth year on Nov. 25, when A Confederation Christmas will be presented at 2 p.m. and 7 p.m. in Studio One.
According to one of the organizers, Doug Robinson, the program features old-fashioned storytelling and carol singing in a candle-lit setting and is organized by a local family to serve as a benefit show for the Salvation Army's food programs across Chatham-Kent.
Robinson said this year's theme is Christmas night of 1867. Christmas that year was an especially joyous time. The long process of Confederation was over, and folks were preparing to celebrate their first Christmas as a new country.
The story will be told in three parts. "A Smoky Yuletide Surprise!" tells of a young printer's apprentice who was always fascinated with the new-fangled railroads. Times were tough, and when it seemed like his life was falling apart, he received a wonderful, unexpected gift.
In "A Beau for Christmas?" viewers will meet a young lady who's just learning about love. When she begins to receive Christmas cards from several local chaps, her father and older brothers have other ideas. Would any of these seasonal suitors stand up to the men of the family?
Finally, in "John A.'s Happy, Happy New Year!" we'll catch up with a very tired John A. MacDonald. With the weight of Confederation resting upon his shoulders, he could be forgiven for being too weary to celebrate the holidays. But when an 'old acquaintance' makes a surprising return into his life shortly before Christmas, his plans for union become most wonderfully personal.
"Between the stories we'll share some lovely old carols, and finish up with a classic that the whole family will love," Robinson said.
Admission is by free-will offering only. Performances take place at 2 p.m. and 7 p.m. in Studio One of the Cultural Centre, 75 William St. N. in Chatham. Guests are encouraged to bring non-perishable food items for a chance to win prizes that have been donated by area merchants.
To learn more, or to reserve seats for your family or group, please call 519-436-6220 or e-mail storyteller@mdirect.net.
Comments
comments