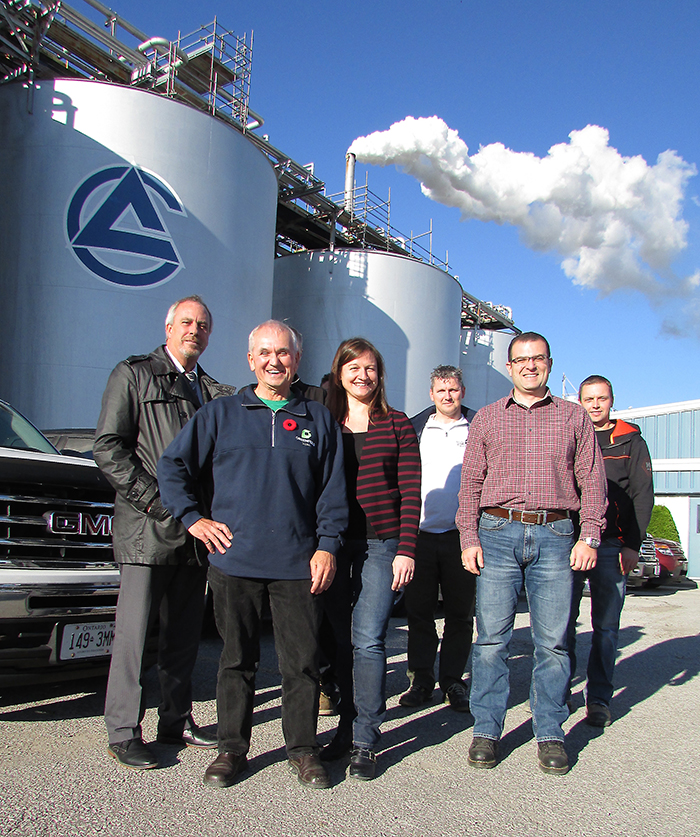 Energy-sharing plan to help both companies
Bc
Chatham's dominating skyline landmark, Greenfield Global's steam stack, might look a little different this week.
Greenfield staff will begin to pump heat and carbon dioxide under Bloomfield Road and into Truly Green Farms' greenhouse facility.
The $10-million investment aids both companies, and will cut down on the amount of steam vapour that pours out of the stack.
Currently, about 30 tons of water vapour – the equivalent weight of six large elephants – billows out of the stack every hour, plant officials said.
They also admit they're curious just how much the shifting of heat and carbon dioxide to Truly Green will impact the plume. It won't vanish, but should be a great deal less visible.
The collaboration takes advantage of a new Dutch technology that transfers heat and carbon dioxide using pipes.
Truly Green's Greg Devries said the heat from the water from Greenfield will cut the greenhouse's heating costs in half.
For Greenfield, the diversion of heat and carbon dioxide means a reduction in the plant's carbon footprint.
Angelo Ligori, senior advisor with Greenfield Global, said the idea of utilizing the waste heat and carbon monoxide for an agricultural project nearby first came to light in 2001, but no one appeared interested in partnering up for the project.
"We weren't going to build the greenhouses ourselves," he said.
Nine years later, Cedarline Farms (which later evolved into Truly Green) came along, and the partnership was formed. Cedarline had for years supplied corn to Greenfield and in turn purchased DDGS (distillers' dried grains with solubles) animal feed from the plant.
"We are concluding our journey that goes back to 2010," Ligori said. "I'm so pleased to watch this happen."
Devries said the joint effort is impressive.
"Two groups came together for what was once a simple idea," he said. "We're turning that into a reality. Two groups of like-minded people who live and breathe innovation. There were lots of challenges faced getting to this point. But we found solutions every time we found an obstacle."
Hilco Tamminga, also of Truly Green, said such obstacles included the archaeological discoveries on their property, as well as the evolving design of the delivery system.
The water was initially going to come to Truly Green at a temperature of 40C, but Tamminga said it will now flow at a much warmer 65C.
That necessitated several trips to Europe to view similar heat transfer operations to work out a solution.
"It's all about how to get the energy out of it (the water) and then send it back to Greenfield," he said.
Ligori looks at the process as an agricultural loop. Greenfield takes corn grown by local famers, and beyond, to create ethanol and specialty alcohol, and in turn pumps the waste heat and carbon dioxide to help grow tomatoes at Truly Green's 45-acre greenhouse.
"We do some high-tech work. But at the end of the day, it's all about corn and fields and cows," he said.
Kim Cooper, an economic development officer with the municipality, said management at Truly Green and Greenfield is to be commended.
"You guys have been phenomenal to work with. Talk about a team working well together," he said. "You know how to get things done."
Mayor Randy Hope described the tag-team effort as innovative.
"This is the first in North America to pull this off. That says a lot about the companies involved," he said. "This is people working together with a common interest with a common goal. It shows how industries can work together."
The timing is significant as well, as in November of 1997 – 20 years ago – Greenfield was grinding its first corn and just going into production, Ligori said.
When Greenfield first began operations, nearby residents complained of the smell that came with the steam plume. Some corn oils would be lost with the steam and cause a burnt-popcorn-like odour. Over the years, the stack height was increased and a regenerative thermal oxidizer was installed to help to further reduce the odour.
Ligori said they now receive only one or two complaints a year, typically in mid-summer when high-humidity and low wind conditions have the plume lingering longer than usual.
"We've cleaned it up as much as we could. Now we're going to take it significantly higher, as the odour will be significantly reduced," he said of the diversion of water to Truly Green.
Instead of rising into the sky, the water vapour elephants will run under the roadway.