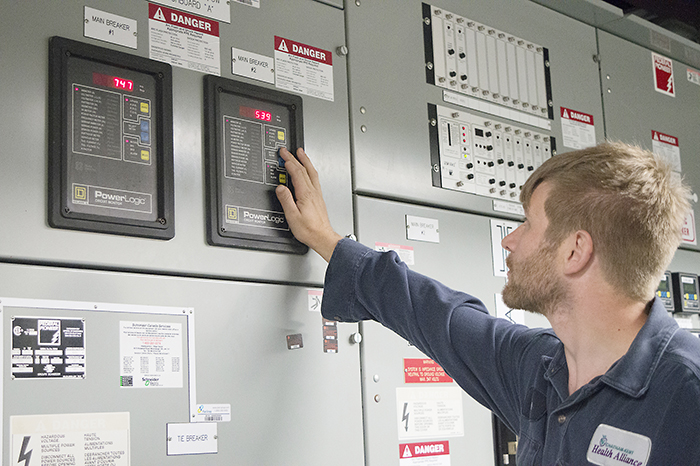 Not happy with your electricity bill? Imagine if you were a major power user such as the Chatham-Kent Health Alliance.
Over the past five years, the CKHA has seen its annual electricity costs rise by nearly a quarter of a million dollars, from just over $1.23 million in the 2012-13 fiscal year to nearly $1.48 million for the 2016-17 fiscal year that ended in March.
Jerome Quenneville, vice-president and chief financial officer for the alliance, said it could have been even worse.
"We've certainly put a lot into our energy management efforts. It's helped to temper the impact a little bit," he said. "If we used it at the same rate as we used to, our increase would have been even higher."
Quenneville said changes in electricity management, as well as cogeneration – including the solar panels on the hospital rooftop – have helped.
"It takes planning to deal with such an inflationary impact. It certainly is a bit of a challenge to handle that kind of an increase in our basic service environment," he said. "Maintaining the buildings and keeping the lights on is certainly something people expect."
Quenneville said hospital management is always looking for savings and increases in efficiencies.
"Going forward, we are continuing to look at energy management strategies. We're taking a good look at all possibilities," he said.
With changes in hospital services in Wallaceburg, Quenneville said the top two floors at Sydenham District Hospital are not used the same way, allowing the alliance to save on some energy consumption.
Having a steady supply of electricity to the hospitals is crucial, Quenneville said, and he credits Entegrus with doing an excellent job.
"We depend on having a good utility service into our facilities. Everything from the CT scanner to nuclear cameras to our computers rely on that good flow of electricity," he said.
But when there is a power interruption, there are onsite generators to pick up the slack.
"You never know when that storm is going to hit and we're going to have to switch to emergency power," Quenneville said.
While the CKHA has experienced a hike of about 20 percent, Woodstock Hospital, by comparison, saw electricity costs soar by nearly $620,000 over the same time period, a cost increase of about 60 per cent.
According to documents obtained by the Canadian Taxpayers Federation (CTF), in the last five years, bills for the Woodstock hospital rose from $1.03 million to $1.65 million.
"The more the hospital has to spend keeping their lights on, the fewer resources they have for patients," said CTF Ontario Director, Christine Van Geyn in a media release. "This is yet another example of how the Ontario government's failed energy policies are hurting communities across the province."
Ontario has seen dramatic increases to the cost of electricity, with bills for residential consumers more than doubling in the last decade.
"Families across the province all feel the pain of rapid increases to the cost of electricity when they pay their home electricity bill. But what many people don't think about is the cost of the Ontario government's failed electricity policy to the institutions we all rely on, like the Woodstock Hospital," continued Van Geyn. "Instead of paying more than $619,871for higher electricity bills, that money could have paid for 77 hip replacements.  That's what Ontario families expect hospitals to spend money on, rather than wasting money on this government's hydro rip-off."
Comments
comments