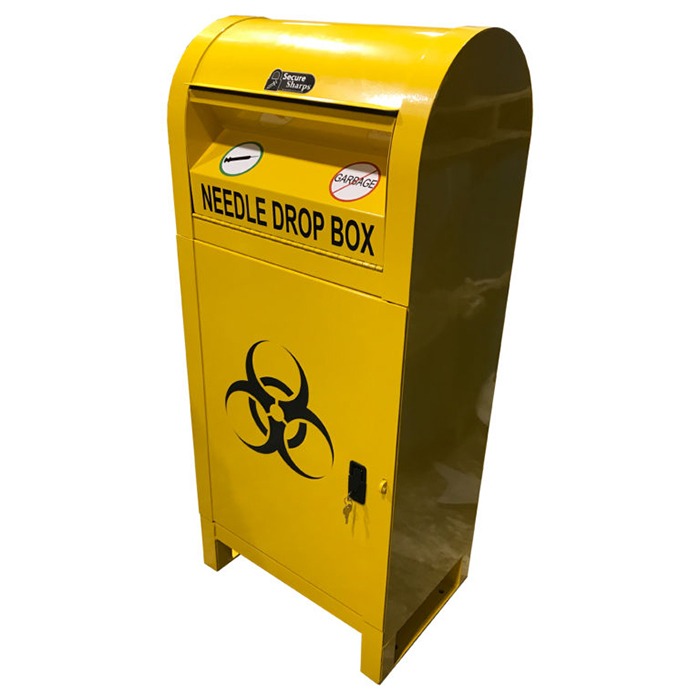 The Chatham-Kent Public Health Unit, in partnership with AIDS Support Chatham-Kent, is piloting an outdoor after-hours needle disposal drop box in Chatham.
The sharp disposal kiosk is located on the property of AIDS Support Chatham-Kent at 67 Adelaide St. S. and is meant for people to have the ability to safely dispose of needles and syringes 24/7.
The sharp drop box unit is securely mounted in a highly visible area on the exterior of the building and monitored 24/7 by security cameras for the protection of property and personal safety. It includes a large chute to ensure all needles, syringes and containers are deposited without the ability to be retrieved.
Steve Pratt, Harm Reduction Program Manager with AIDS Support Chatham-Kent said the system has worked elsewhere.
"The provision of safe and secure sharps disposal units has proven effective in other communities in Ontario to reduce the number of needles discarded in public spaces. We applaud the initiative and are proud to be hosting the pilot of this new program in our community," he said in a release. "We also look forward to the implementation of even more harm reduction best practices in collaboration with our community partners".
Jordynne Lindsay, a Chatham-Kent Public Health Nurse specializing in harm reduction, believes from the research evidence that is available, the units will aid in preventing the spread of blood-borne infections, such as HIV and Hepatitis C.
"In 2016, there were 50 confirmed cases of Hepatitis C in Chatham-Kent, which is nearly double the provincial rate. The year before we saw a peak of 70 cases. For the past eight years the incidence of Hepatitis C in our community has been higher than the rest of Ontario" Lindsay said. "The new sharps kiosk will increase access to a safe sharps disposal option. Harm reduction is about understanding that substance use disorder is not a choice; it is a complex health concern."
Comments
comments