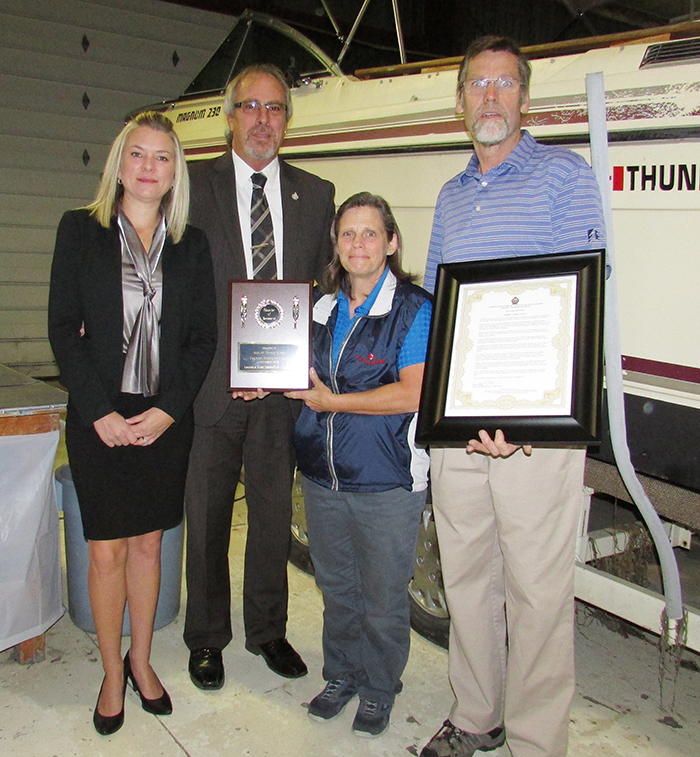 It took a knee injury more than 30 years ago to change Charlie Manders' career path, but he and his wife, Susan, owners of Quality Custom Covers, wouldn't have it any other way.
Charlie, fresh out of college with a certificate in horticulture 36 years ago, badly injured his knee while on the job in his profession.
"I went to work for Susan's father for the winter… it was a damned long winter," he said, as he shifted into the trim industry.
Shortly thereafter, the Manders moved to Chatham to establish their business here. They have no regrets.
"It is a great place to live, a great place to work and a great place to raise children," Charlie said.
Quality Custom Covers manufactures tarps, boat tops, awnings, and custom covers for the transportation and agriculture industries. In terms of the awnings, they are a wholesale manufacturer for a network of dealers across the province.
The Manders acquired a trim business more than 30 years ago, and it has morphed into the operation it is today.
They have expanded twice since 1987, and are currently located on Leeson Drive in Chatham in an 11,000 square-foot facility.
Charlie said the business has evolved over the years, as it was once almost exclusively servicing the agricultural sector. While they still manufacture a great deal of custom tarps and covers for that sector, the business has expanded to serve the commercial and private sectors as well, providing product from Windsor to Ottawa and from Niagara Falls to Sault Ste. Marie.
As the business evolved, so too did the work schedule. Charlie said there used to be a late spring rush on tarps needed in the agricultural sector, but that has spread out, as covers for feed boxes, a key element of their business, see orders throughout the year now.
Commercial awnings, he added, have no specific season.
As a result, their summers are quite busy. To the Manders, a summer vacation is turning a three-day long weekend into a four-day mini-vacation.
"We work harder now than we did 10 years ago," Susan said.
Through it all, the Manders raised three daughters, two of whom work for them.
Chamber representative Sarah Wagenaar complimented the Manders for the hard work and dedication they and their staff have shown, which has resulted in the business being part of Chatham for more than 30 years.
Mayor Randy Hope said the quality shines through.
"It takes skilled labour and hand-craftsmanship to produce a quality product," he said. "We're proud you've chosen Chatham-Kent as your home."
Hope added Chatham-Kent is an excellent location, as there is local demand for Quality Custom Covers products.
"We're the ones who get the most sunlight, meaning we need shade awnings, and with two lakes, we have boats," he said, referring to two elements of Quality Custom Covers' business offerings. "We recognize years of your providing service to the people of Chatham-Kent."
Comments
comments